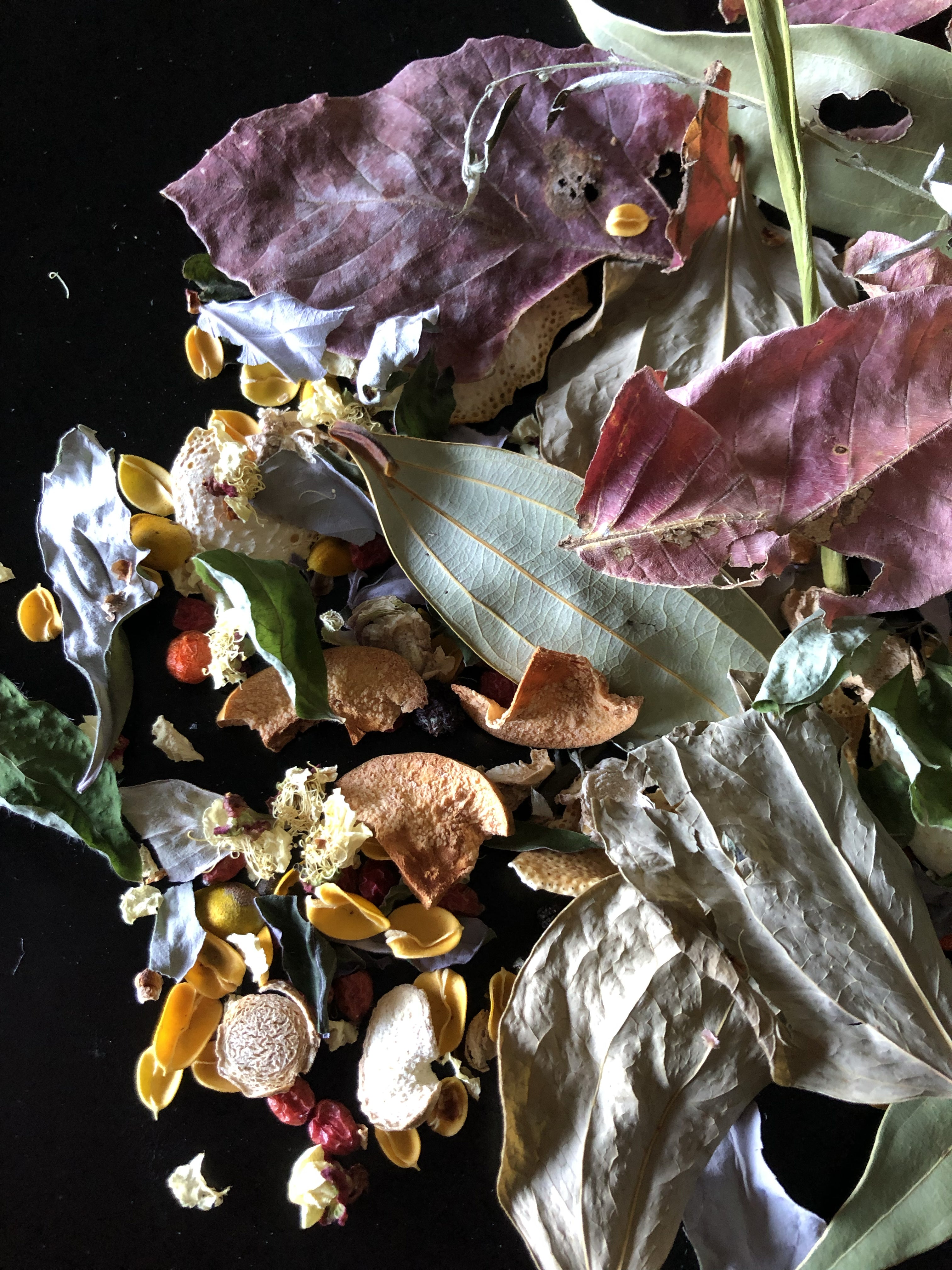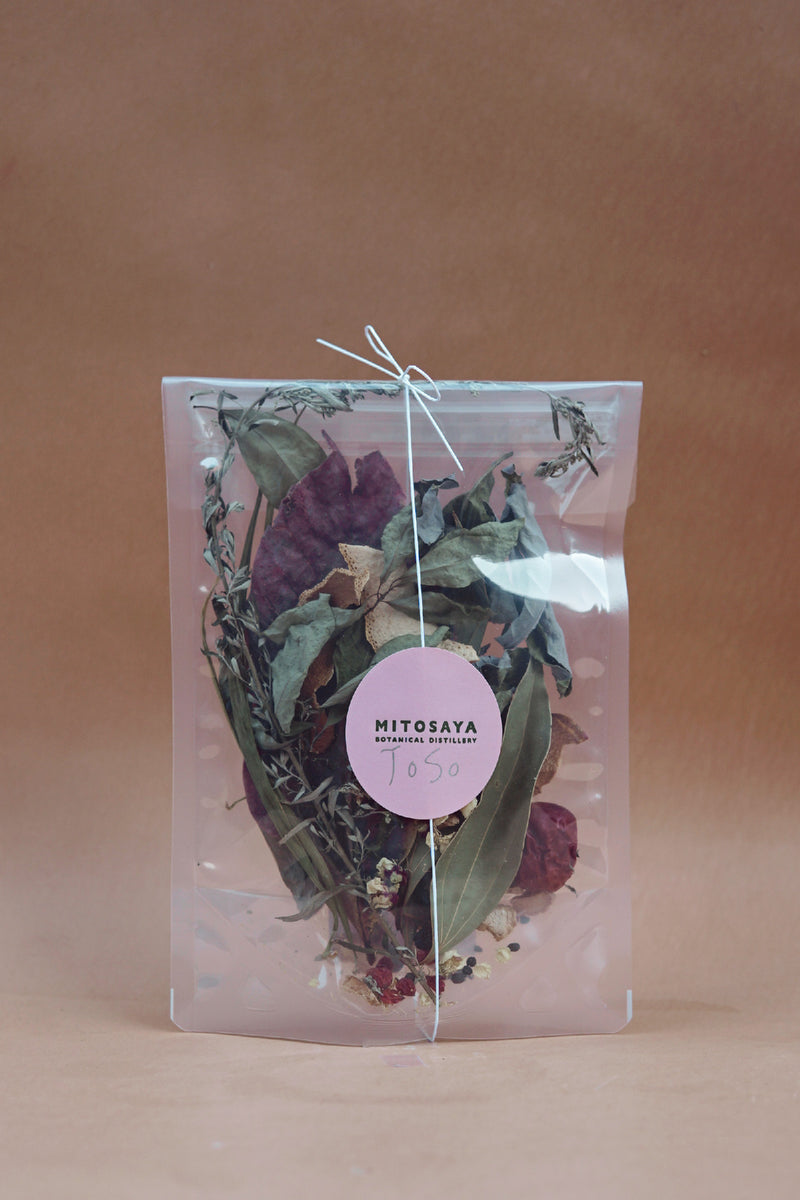 12/20(火)20:00〜販売開始
一年の最後に作る屠蘇散には、一年のmitosayaの庭の季節そのものが詰まっています。
古来屠蘇散は特定の薬草をみりんやお酒に漬け込んでお正月のお屠蘇として楽しんでいたもので、薬草にも決まりごとがありました。
しかしその種類そのものを再現するのではなく、mitosayaらしい薬草のラインナップに年々変化しているオリジナルの屠蘇散の形ができてきました。
一袋につき、だいたいお酒やみりん、ワインボトル一本分が目安です。すこし甘めのお酒があいます。植物をそのまま、もしくはすこしちぎっていれるとより香りが移りやすくなります。保存できる瓶に入れて、お好みのお酒を注ぎます。
一晩おいて、お正月のお祝いに、濾してからどうぞ。その後、漬けておけばより濃い味わいになっていきますが、濾してしまった後は冷蔵庫で冷やしてゆっくりお召し上がりください。
また、裏技ですが、ミルクでTOSOを煮出して砂糖を加えて、チャイにするのもおすすめですよ。
それでは良いお年を。
原材料:サルトリイバラ、メグスリの葉、ニッケイ、ヨモギ、ハマゴウ、黒文字、橙皮、生姜、生姜の葉、花梨、梅の花、いずれか一種(棗、ツルウメモドキ)、ガマズミ、アロニア、サクラケムシのふん、山椒の種
内容量:10g
お一人様あたり1商品(1サイズ)につき2点まで。
20 December (Tue.) 20:00 - on sale
The tokoso, made at the end of the year, is filled with the seasons of the mitosaya garden itself. Since ancient times, tokoso-sanso was made by soaking certain medicinal herbs in mirin (sweet sake) or sake and enjoying them as tokoso for the New Year, and there were rules about the herbs. However, instead of reproducing the types of herbs themselves, we have developed an original form of tokoso that has changed over the years to a lineup of herbs that is unique to mitosaya. Each bag contains approximately the same amount of sake, mirin, or a bottle of wine. A little sweet sake goes well with it. If you crush or tear the pieces into pieces, the aroma will be more easily absorbed. Pour the sake into a preservable bottle and pour in the sake of your choice. Leave it overnight and strain it before serving at the New Year's celebration. After that, the flavor will become more intense if you let it marinate, but once strained, refrigerate and serve slowly.
As a back-up, you can also boil TOSO with milk and add sugar to make chai. Have a happy New Year!
Ingredients: Sartori barbara, megsuri leaf, Nikkei, mugwort, Hamagou, Kuromonji, orange peel, ginger, ginger leaf, Japanese pear, plum flower, any one of the following (jujube, tsutsuri leaf, Chinese date, plum flower, and one of the following), any one of the following (jujube, Japanese honeysuckle), toadstool, aronia, cherry psyllid feces, sansho (Prunus sansho) seeds
Contents: 10g
Purchase quantity is limited to two items per product, per size.
Regular price
Sale price
¥1,080
Unit price
per
In Stock
Out of Stock
View full details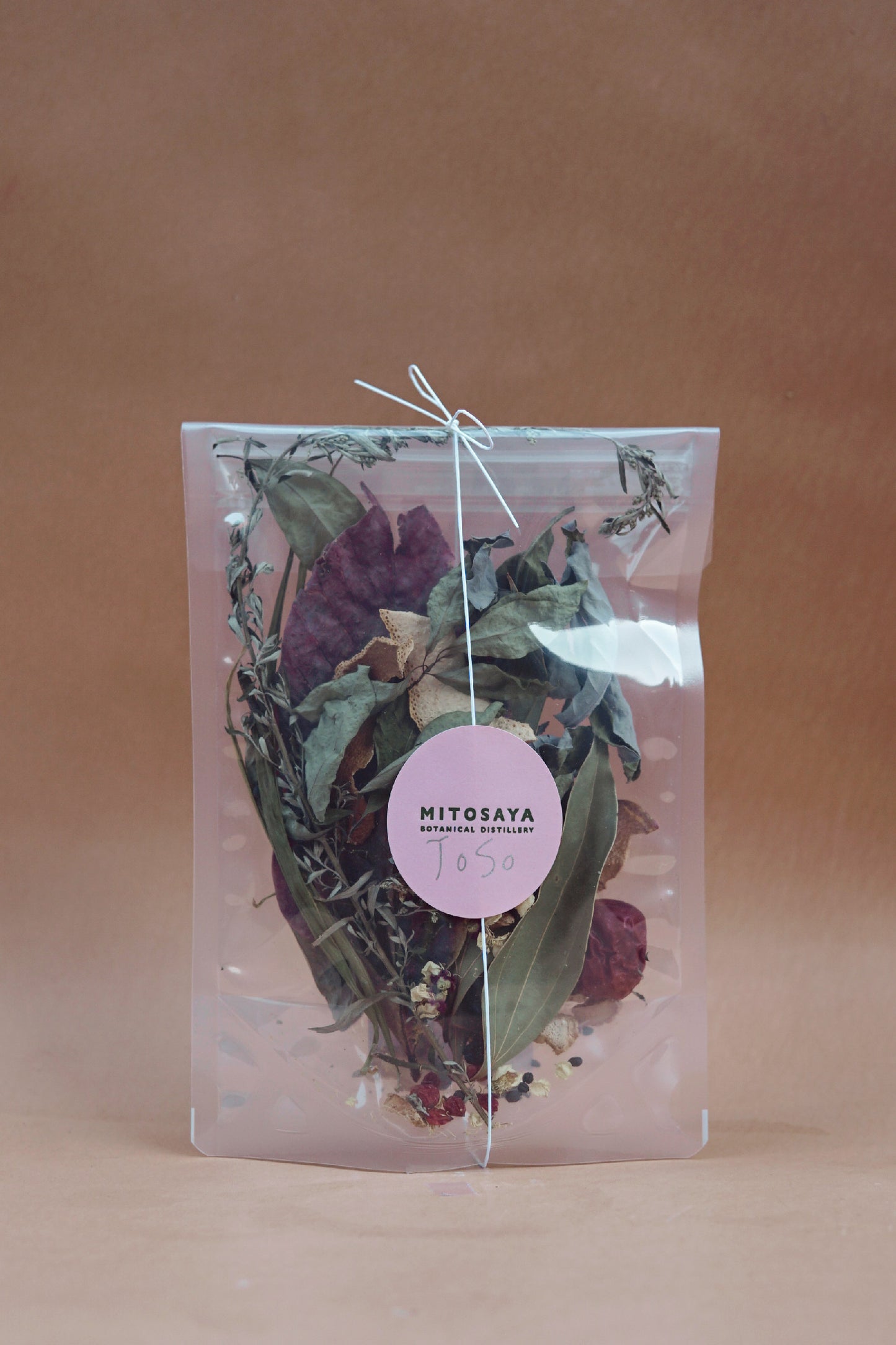 ---
mitosaya薬草園蒸留所
〒298-0216
千葉県夷隅郡大多喜町大多喜486
e-mail. cs@mitosaya.com
tel. 0470 64 6041
mitosaya botanical distillery
486 Otaki, Otaki-machi, Isumi-gun, Chiba 298-0216 Japan
e-mail. cs@mitosaya.com
tel. +81(0)470 64 6041