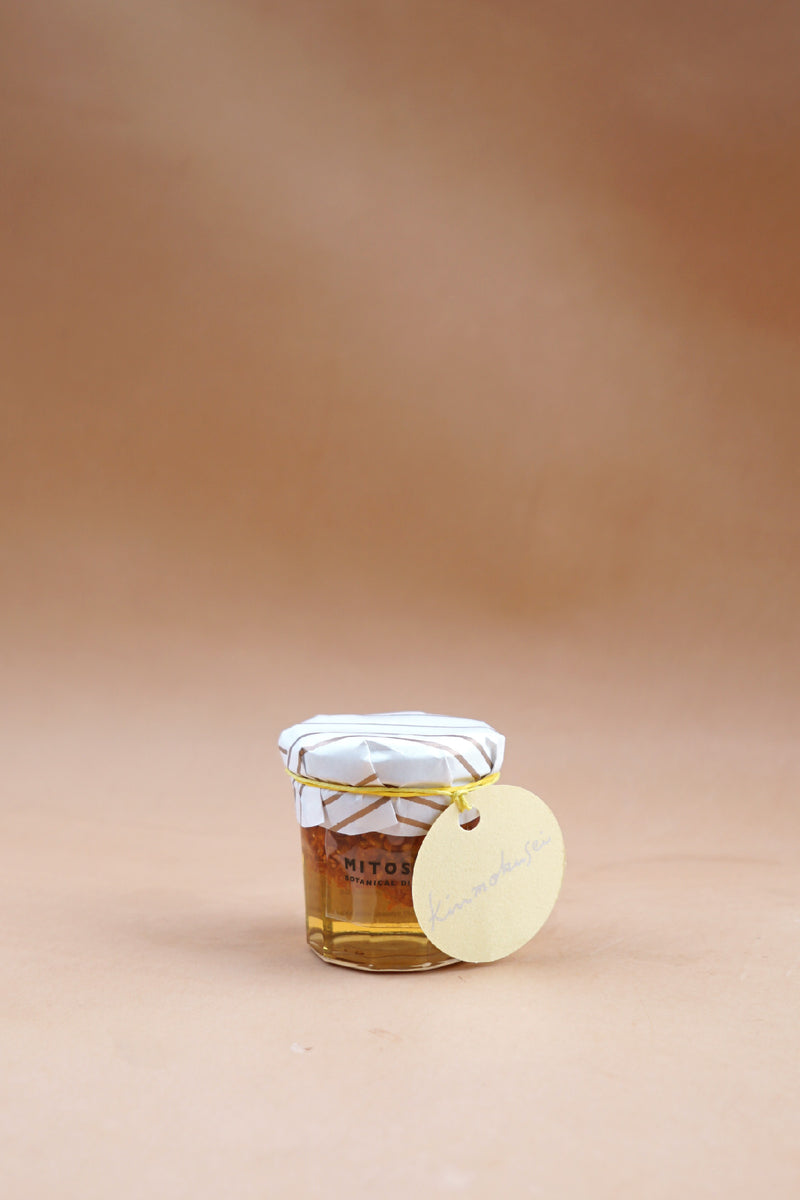 11/20(日)10:00〜販売開始
まだまだ暑さを感じる午後、ふと、空気の中のどこかに香り出すこの香り。そう、金木犀の香りが漂いはじめると、いよいよ季節が巡ったことを、気づくことになるのです。
mitosayaの庭は一年の中で秋が一番にぎやかになるかもしれません。そのことを知っているからか、この金木犀の香りはなんとなくそわそわと、いても立ってもいられない香りとして、スタップ全員の気持ちをざわつかせます。
今年は金木犀の開花と週末のお天気がぴったりと合い、たくさんの方々にご協力いただいて金木犀の収穫ができました。
みなさんおのおのの場所で、ざるいっぱいにオレンジの花を摘み、香りに満たされながら幸せな時間を過ごしました。
その時間、あたたかなお日さまの温度、色、匂いもろとも、金木犀と一緒に瓶に詰め込んでおすそ分けすることができました。
ヘビーシロップに生花のまましばらく漬込み、ビン詰をしてから加熱しているので香りもそのまま瓶の中に。
仕上げには蒸留酒の「KINMOKUSEI」を数滴加え、さらに濃厚な香りを楽しんでいただけます。
濃厚な花の蜂蜜にも似た黄金色、すこしずつ、スプーンですくってお楽しみください。
原材料:金木犀、グラニュー糖、レモン、「KINMOKUSEI」(蒸留酒/mitosaya)
内容量:70ml


お一人様あたり1商品(1サイズ)につき2点まで。
20 November (Sun.) 10:00 - on sale
In the afternoon when it is still hot, you suddenly smell this fragrance somewhere in the air. When the fragrance of kinmokusei begins to waft in the air, you realize that the season has finally come around.
The garden at mitosaya is probably the most lively in the fall of the year. Perhaps because we know this, the fragrance of the fragrance of the fragrant rhinoceros makes all of us in the staff feel a little nervous, as if we cannot stand still.
This year, the weather coincided perfectly with the blooming of the golden osmanthus, and we were able to harvest the rhinoceros trees with the help of many people.
Everyone spent a happy time picking orange blossoms in their own place, filling their colanders with the fragrance.
We were able to share the temperature, color, and smell of the warm sun, along with the fragrance of the osmanthus, in a bottle.
The fresh flowers are soaked in heavy syrup for a while, then bottled and heated, so the fragrance is preserved in the bottle.
A few drops of KINMOKUSEI, a distilled spirit, are added as a finishing touch for an even richer aroma.
The golden color is similar to that of rich floral honey, and is to be enjoyed spoon by spoon.
Ingredients: Kinmokusei, granulated sugar, lemon, "KINMOKUSEI" (distilled spirit/mitosaya)
Contents: 120ml
Purchase quantity is limited to two items per product, per size.
Regular price
Sale price
¥1,080
Unit price
per
In Stock
Out of Stock
View full details
---
mitosaya薬草園蒸留所
〒298-0216
千葉県夷隅郡大多喜町大多喜486
e-mail. cs@mitosaya.com
tel. 0470 64 6041
mitosaya botanical distillery
486 Otaki, Otaki-machi, Isumi-gun, Chiba 298-0216 Japan
e-mail. cs@mitosaya.com
tel. +81(0)470 64 6041