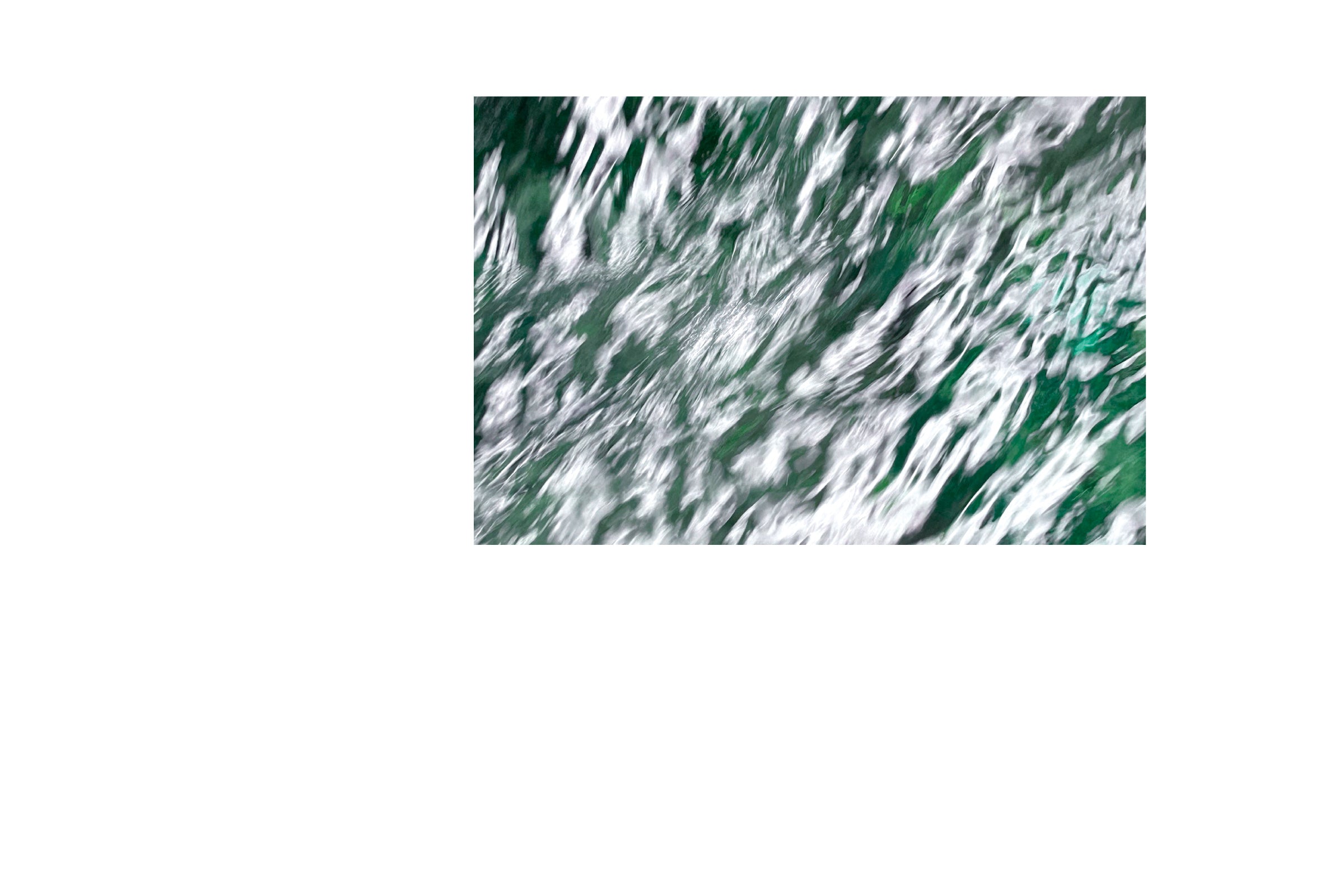 159 WHITE PEACH NECTAR
Eau de Vie with Fresh Ichimiya Peach
14.0% vol
500ml ¥5,720 Out of Stock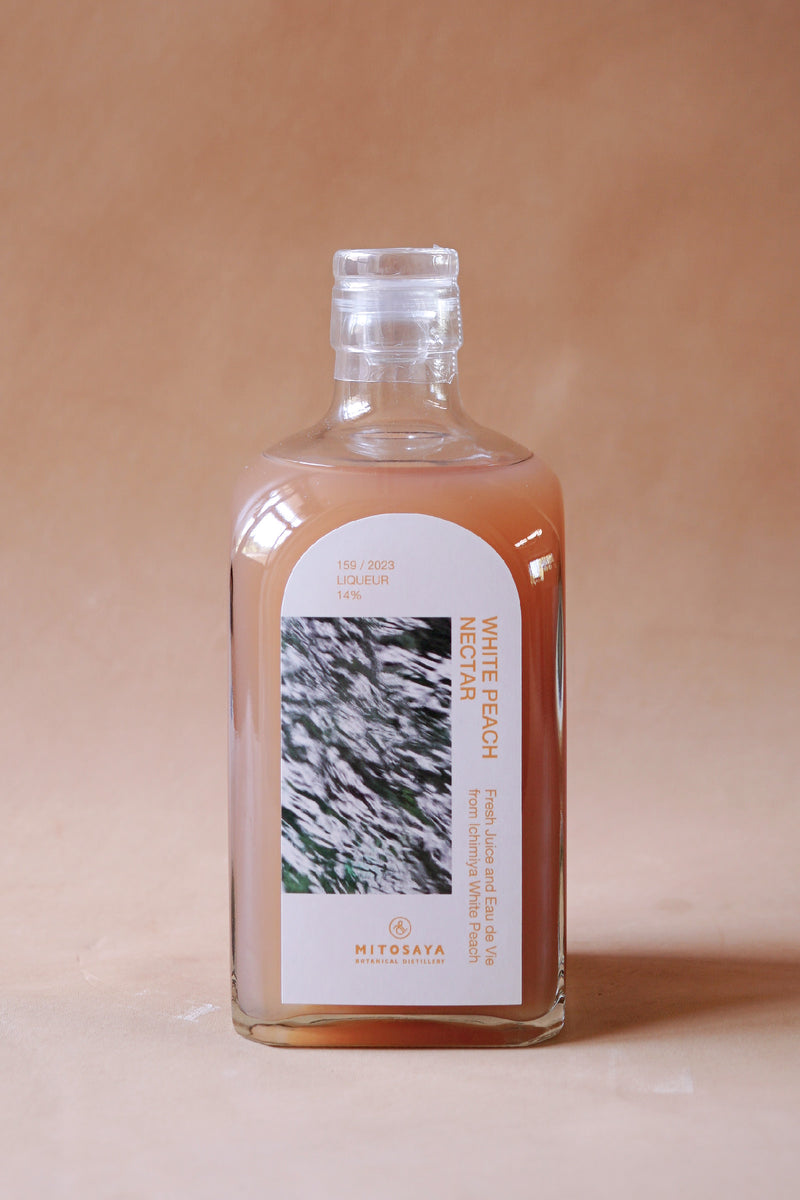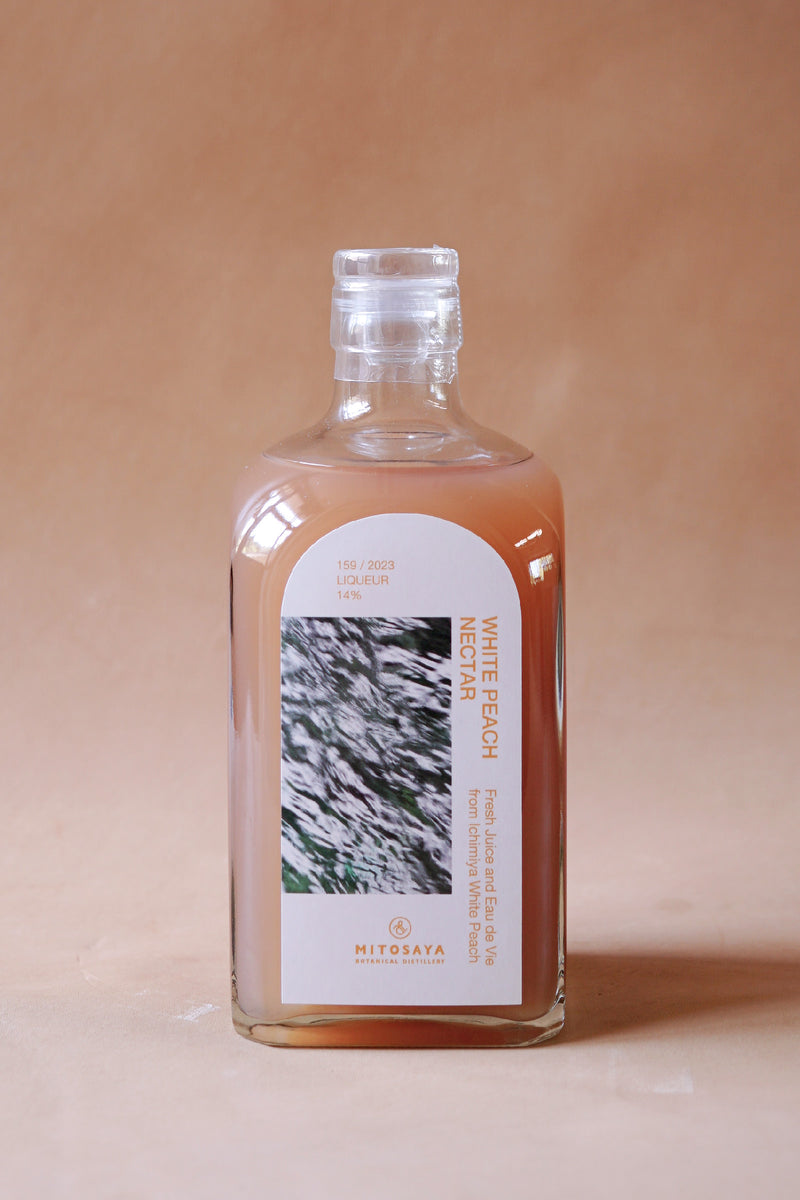 7/30(日)10:00〜販売開始
今年採れたばかりの白桃のフレッシュジュースの甘くフルーティな味わいに、同じ白桃のオー・ド・ヴィーの深い味と香りをブレンドした甘口のリキュール。
用いた桃は、山梨県笛吹市一宮町にある岩間農園の日川白鳳(ひかわはくほう)。フルーツ王国山梨県の中でも、扇状地にあるこの地域は日当たりとともに排水も良好で、桃の生産の最適地として知られています。昨年6月、岩間農園にお邪魔して、100キロの桃を引き取らせてもらいました。日差しをたっぷり受けた果実を天然酵母で2週間の醸造の後蒸留。一年間ガラスフラスコで10ヶ月間熟成したオードヴィーは香りの密度高く、透明感のある味わいが特徴。
さらに今年採れたばかりの桃のみずみずしくてさらっと甘いジュースをブレンドしています。
ボトリング直前にmitosayaで採れたばかりのハッカを一晩だけタンクに入れて、さわやかな香りをプラス。
桃のおいしさを味わいと香りの両面から楽しめる、食前から食後酒までシーンを選ばずお飲みいただける一本です。
仕様
品目:リキュール
原材料:桃(山梨県産 日川白鳳)、ハッカ(千葉県産)
アルコール度数:14%
エキス分:8%
容量:110ml / 500ml
アートワーク:サム・ゲンデル / マルセラ・チトリノヴィッチ
お一人様あたり1商品(1サイズ)につき2点まで。
30 July (Sun.) 10:00 - on sale
This sweet liqueur blends the sweet, fruity flavor of fresh white peach juice picked this year with the deep taste and aroma of eau-de-vie, the same white peach.
The peaches used were Hikawa Hakuho peaches from Iwama Farm in Ichinomiya-cho, Fuefuki-shi, Yamanashi Prefecture. This area, located in a fan-shaped region of Yamanashi Prefecture, is known as one of the best areas for peach production due to its good drainage as well as sunshine. Last June, I visited Iwama Farm and was allowed to pick up 100 kg of peaches. The fruit, which received plenty of sunlight, was distilled after two weeks of brewing with natural yeast. After one year of aging in glass flasks for 10 months, the eau-de-vie has a dense aroma and a clear taste.
It is also blended with the fresh and lightly sweet juice of peaches just picked this year.
Just before bottling, freshly picked peppermint from mitosaya is added to the tank overnight to add a refreshing aroma.
You can enjoy the deliciousness of peaches in both taste and aroma, and this bottle is suitable for any occasion, from pre-dinner to after-dinner drinks.
SPECIFICATIONS
Type:Liqueur
Ingredients:Peach (Nichikawa Hakuho from Yamanashi Prefecture), Mulberry (Chiba Prefecture)
Alcohol content: 14%.
Extract Content: 8%.
Volume:500ml
Artwork : Sam Gendel / Marcella Cytrynowicz
Purchase quantity is limited to two items per product, per size.
Regular price
Sale price
¥5,720
Unit price
per
In Stock
Out of Stock
View full details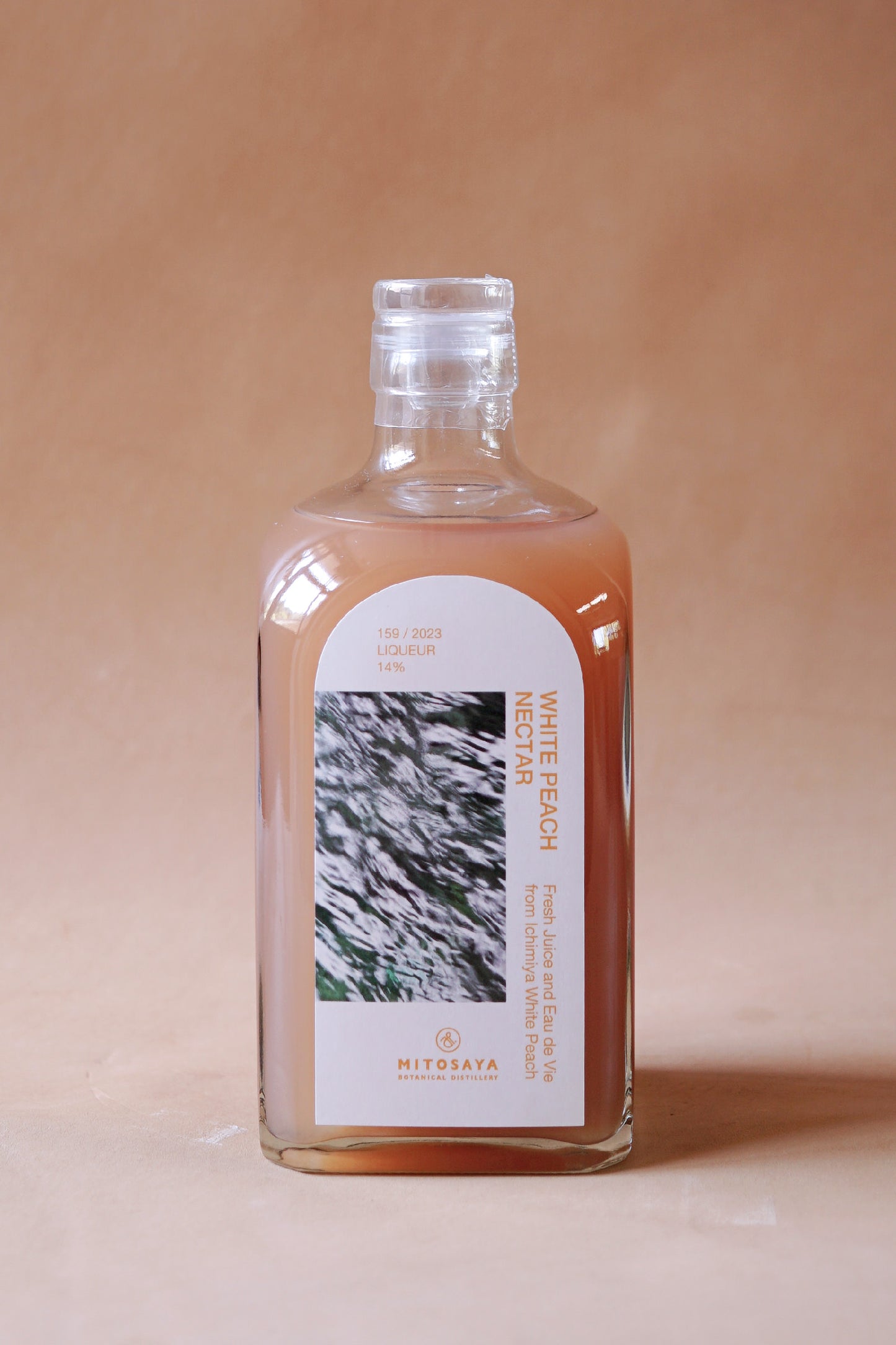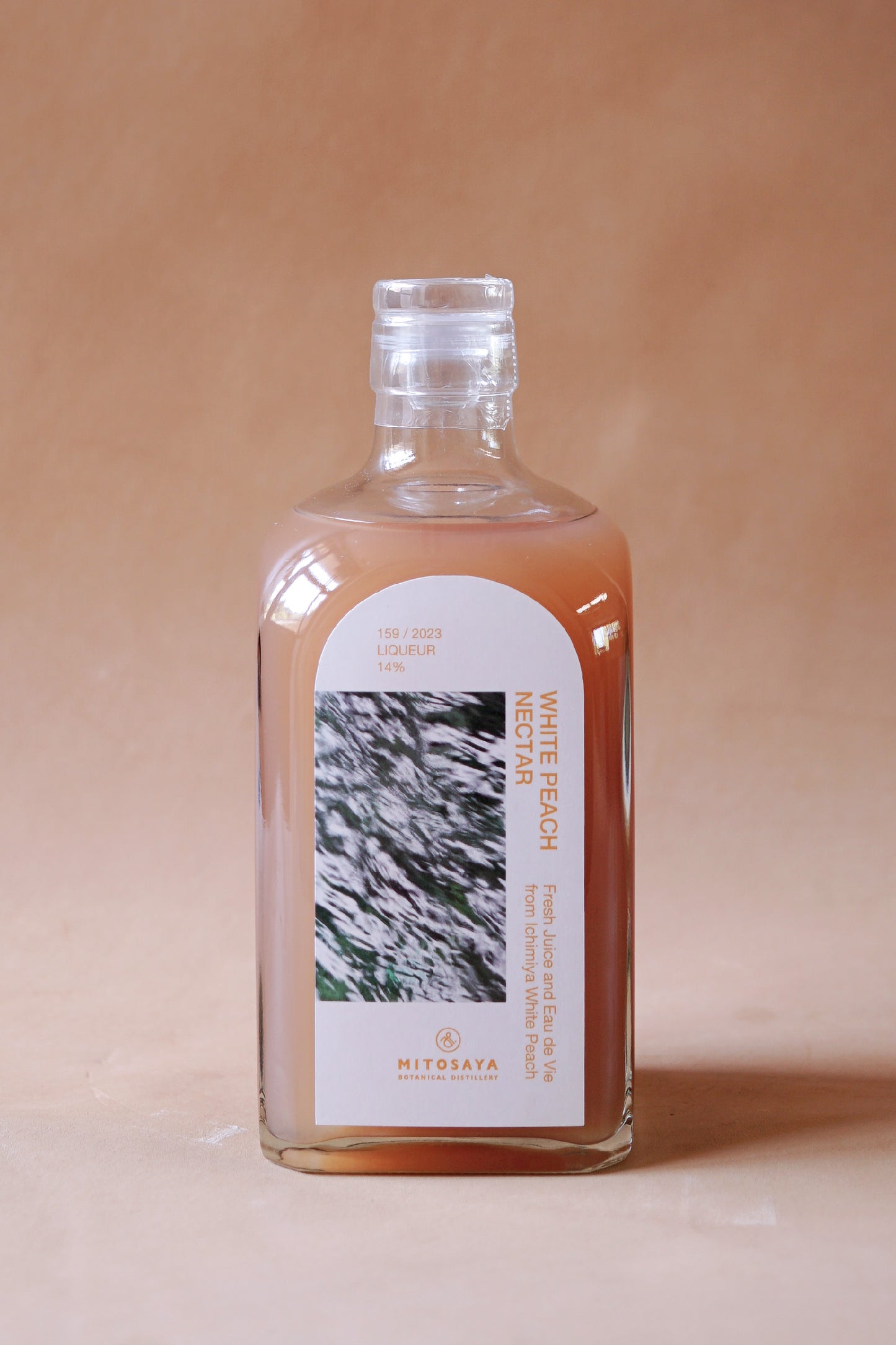 ---
mitosaya薬草園蒸留所
〒298-0216
千葉県夷隅郡大多喜町大多喜486
e-mail. cs@mitosaya.com
tel. 0470 64 6041
mitosaya botanical distillery
486 Otaki, Otaki-machi, Isumi-gun, Chiba 298-0216 Japan
e-mail. cs@mitosaya.com
tel. +81(0)470 64 6041