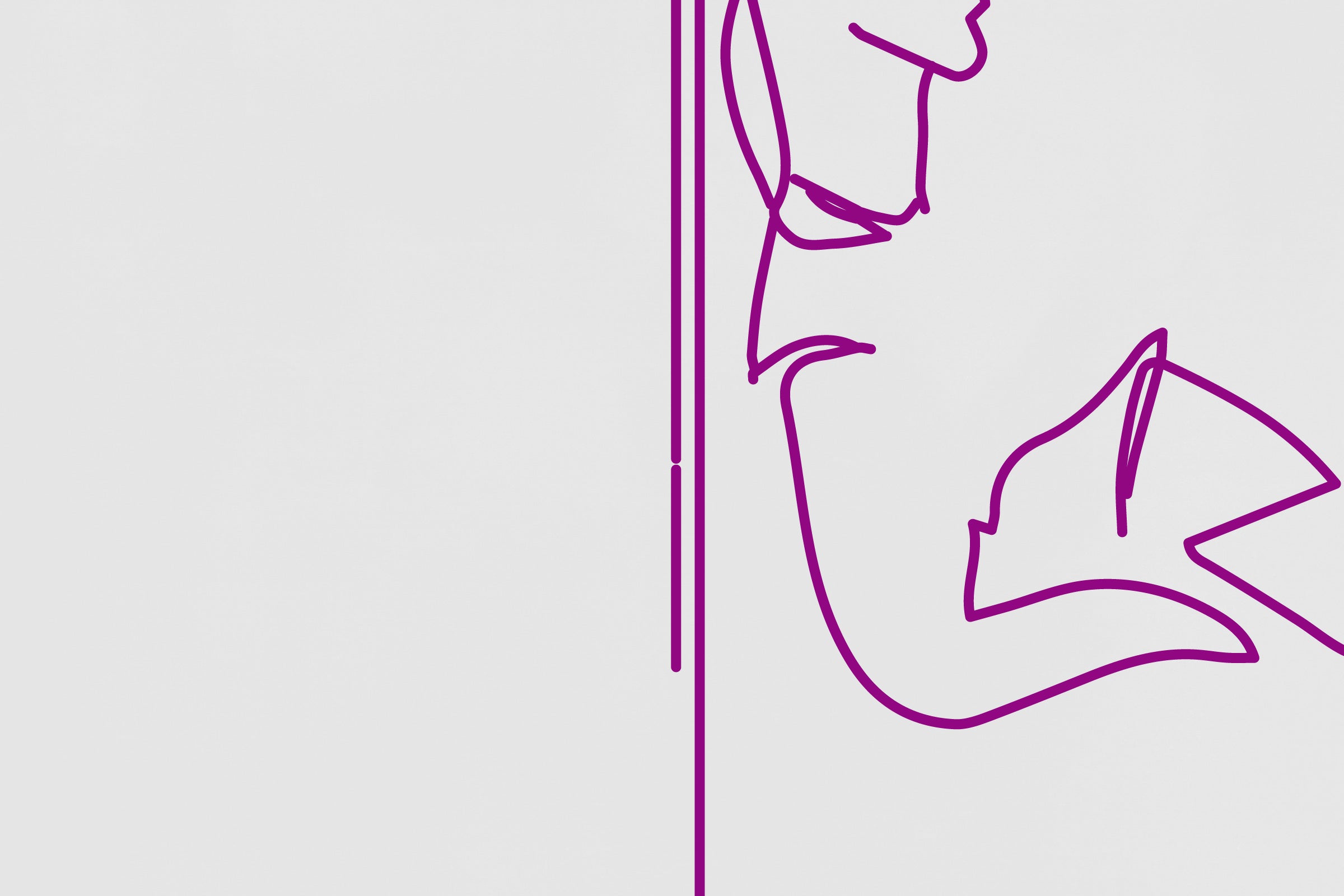 139 GRAPPA KYOHO
Pomace From Le bois d'azur
42.0% vol
110ml ¥2,200 Out of Stock
500ml ¥9,680 Out of Stock
1/27(金)20:00〜販売開始
茨城県つくば市のワイナリー、le bois d'azur(ル・ボワ・ダジュール) の巨峰を使ったワイン「mon petit rouge」のポマースから作ったグラッパです。
フランスのジュラ、ブルゴーニュでの研修を経て、帰国後に実家のある茨城県つくば市でワイナリーを開業した青木さん。「青い森」を意味する le bois d'azurでは、筑波山麓の耕作放棄地を開墾しぶどうの苗を植え、実家で栽培していた巨峰を使用したワイン醸造を行っています。
つくばの名酒屋、葡萄酒蔵ゆはらの湯原さんの紹介でこの場所を訪れた私たちを、実家のガレージを改装したワイナリーに鎮座したプレス機と共に迎えてくれました。
大粒の巨峰は搾った後にも香りもそのまま粒の中に残っているようで、帰りの車の中に漂う芳香と共に持ち帰り、フレッシュなうちに蒸留。ガラスのフラスコで3ヶ月間熟成しました。
低めのアルコール度数もあり、スムースで甘やか、飲み口のいいグラッパです。
仕様
品目:ブランデー
スタイル:グラッパ
原材料:ぶどう(巨峰)(茨城県産)
アルコール度数:42%
酵母:天然酵母
容量:110ml / 500ml
アートワーク:サム・ゲンデル / マルセラ・チトリノヴィッチ
お一人様あたり1商品(1サイズ)につき2点まで。
27 January (Fri.) 20:00 - on sale
This grappa is made from the pomace of "mon petit rouge," a wine made from grape grapes from the winery le bois d'azur in Tsukuba City, Ibaraki Prefecture.
After training in Jura and Burgundy in France, Mr. Aoki opened a winery in Tsukuba City, Ibaraki Prefecture, where his parents live, after returning to Japan. At le bois d'azur, which means "blue forest," he cultivated abandoned land at the foot of Mt. Tsukuba, planted grape seedlings, and brewed wine using grapes grown by his family.
We visited this place through an introduction by Mr. Yuhara of the famous Tsukuba sake brewery, Budoshuzura Yuhara, and were greeted with a press sitting in the winery, which was renovated from the garage of his parents' house.
The large grapes seemed to still have some aroma left in the grapes after pressing, so we took them home fresh, distilled them, and aged them in glass flasks for three months.
It is a smooth, sweet, and pleasant to drink grappa with a low alcohol content.
SPECIFICATIONS
Type:Brandy
Style: Grappa
Ingredients:Grapes (Kyoho grapes) (Ibaraki Prefecture)
Alcohol content: 42%.
Yeast: Natural yeast
Volume:110ml / 500ml
Artwork : Sam Gendel / Marcella Cytrynowicz
Purchase quantity is limited to two items per product, per size.
Regular price
Sale price
¥2,200
Unit price
per
In Stock
Out of Stock
View full details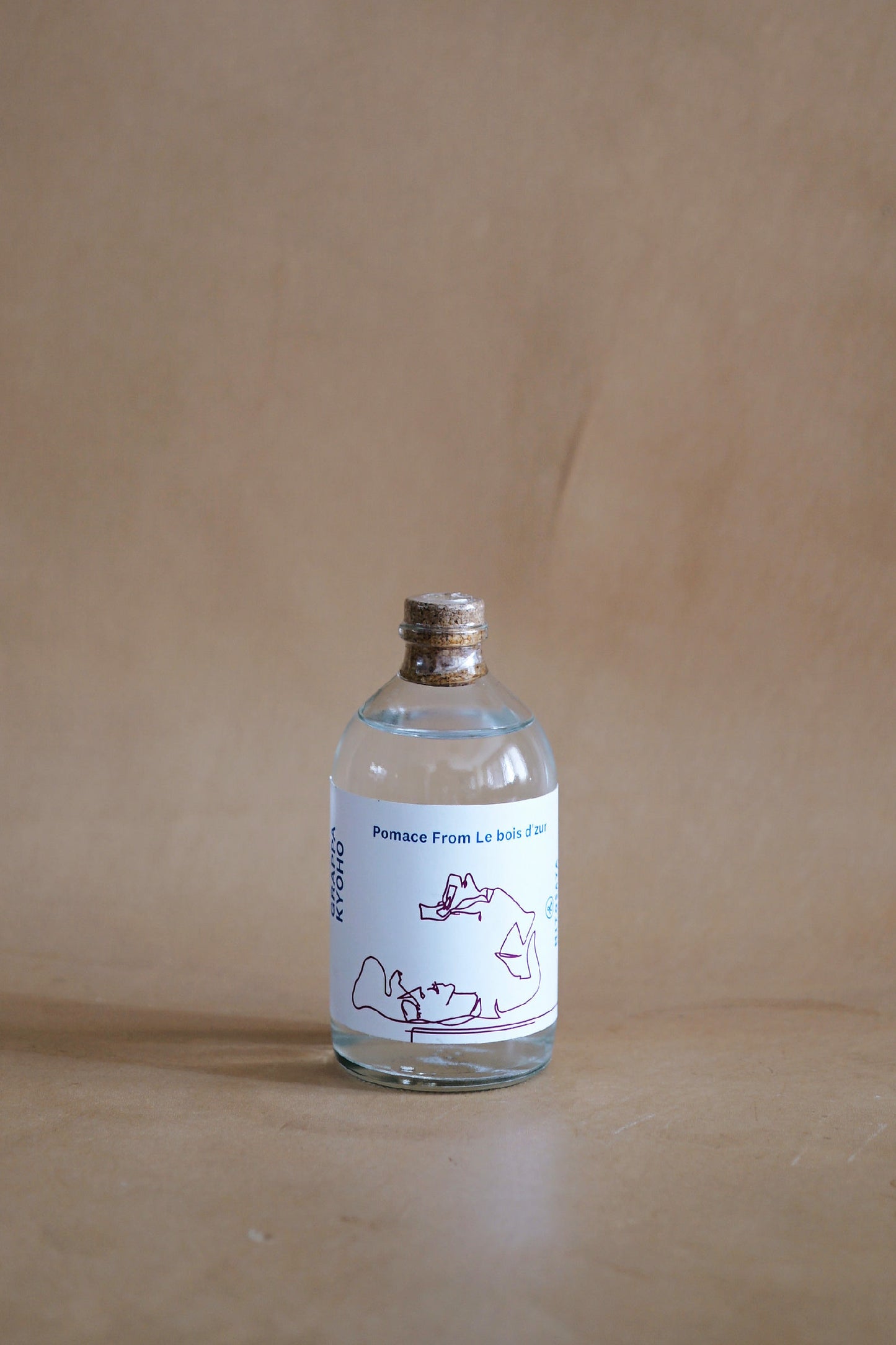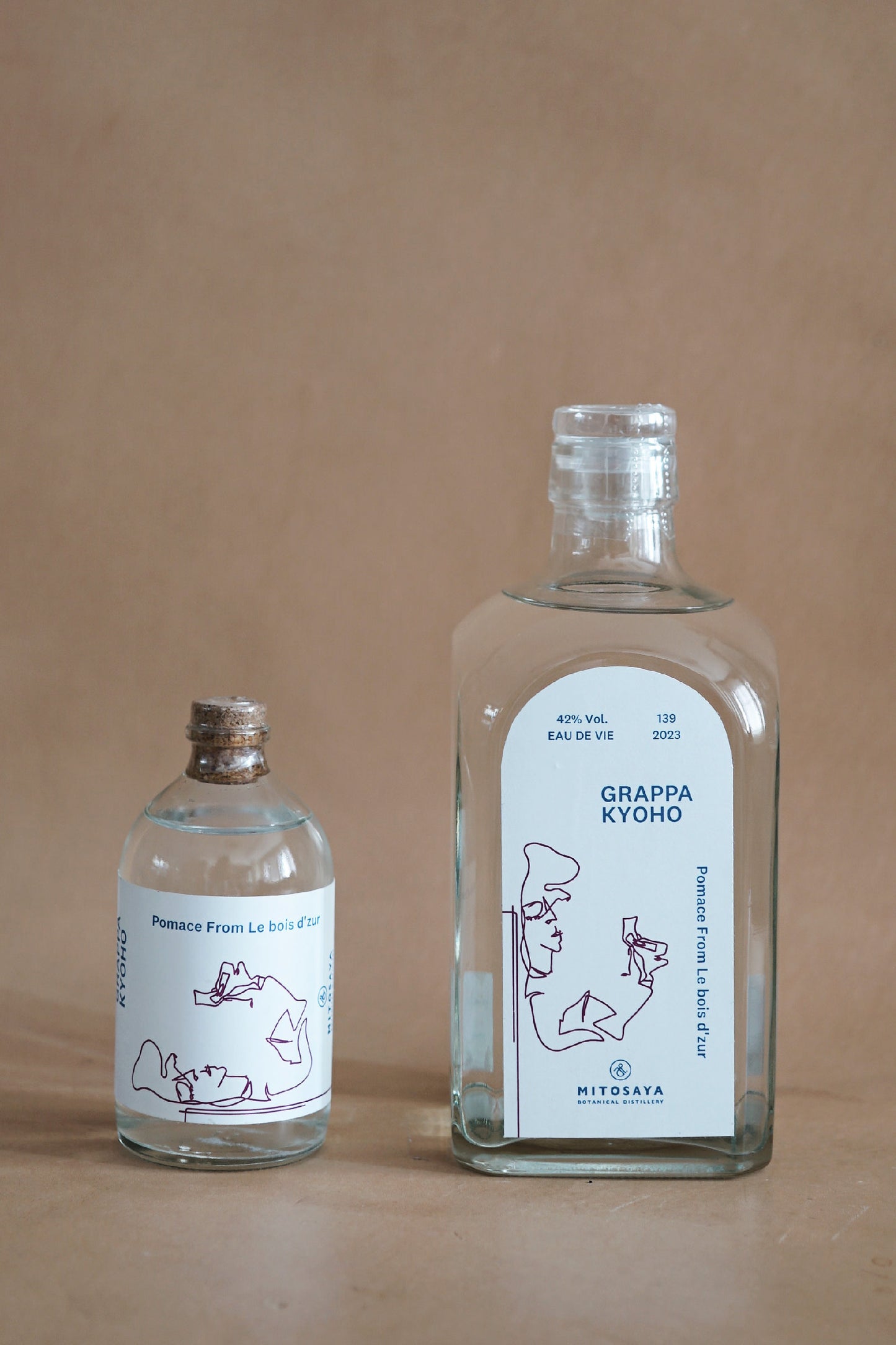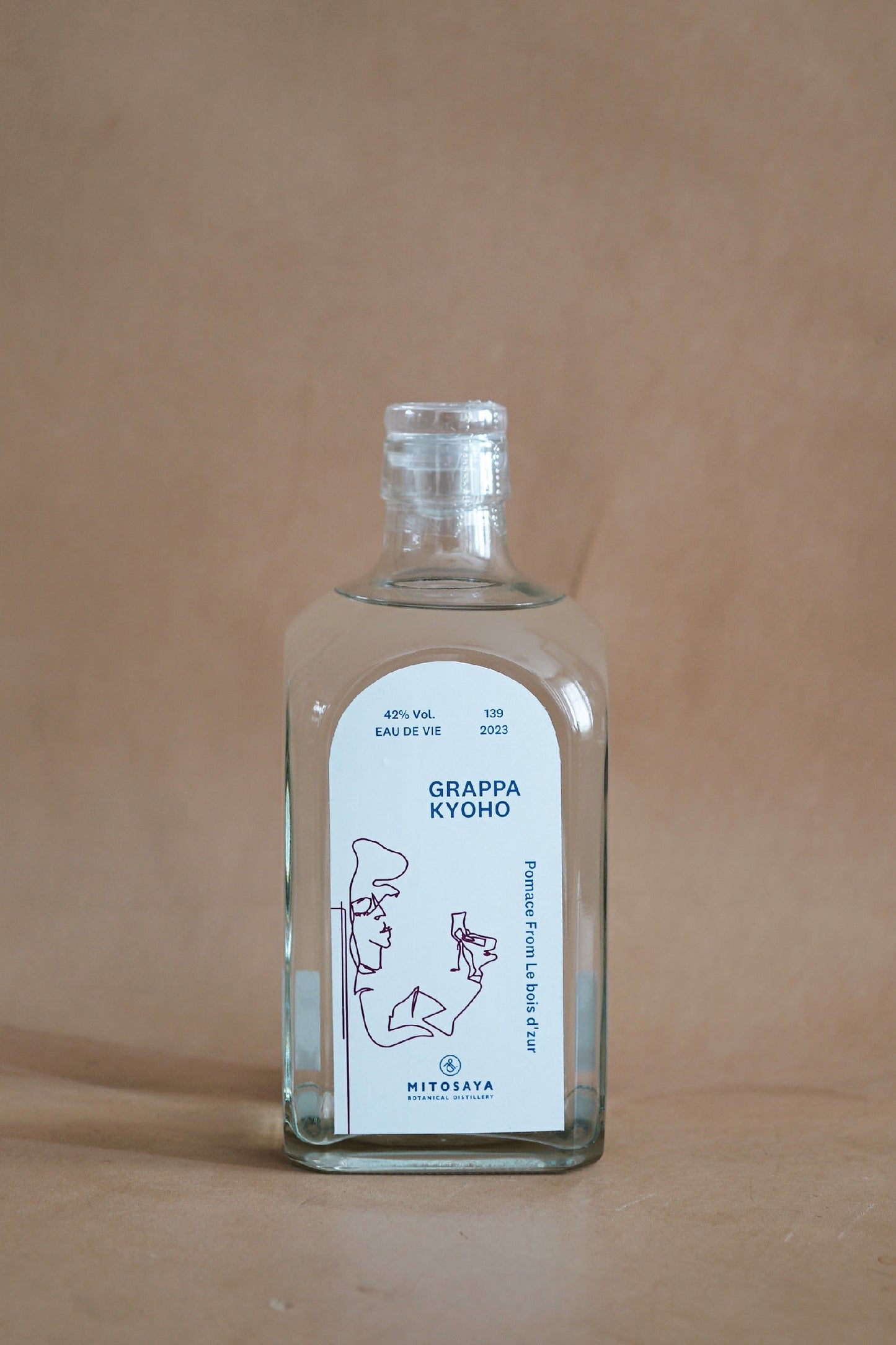 ---
mitosaya薬草園蒸留所
〒298-0216
千葉県夷隅郡大多喜町大多喜486
e-mail. cs@mitosaya.com
tel. 0470 64 6041
mitosaya botanical distillery
486 Otaki, Otaki-machi, Isumi-gun, Chiba 298-0216 Japan
e-mail. cs@mitosaya.com
tel. +81(0)470 64 6041