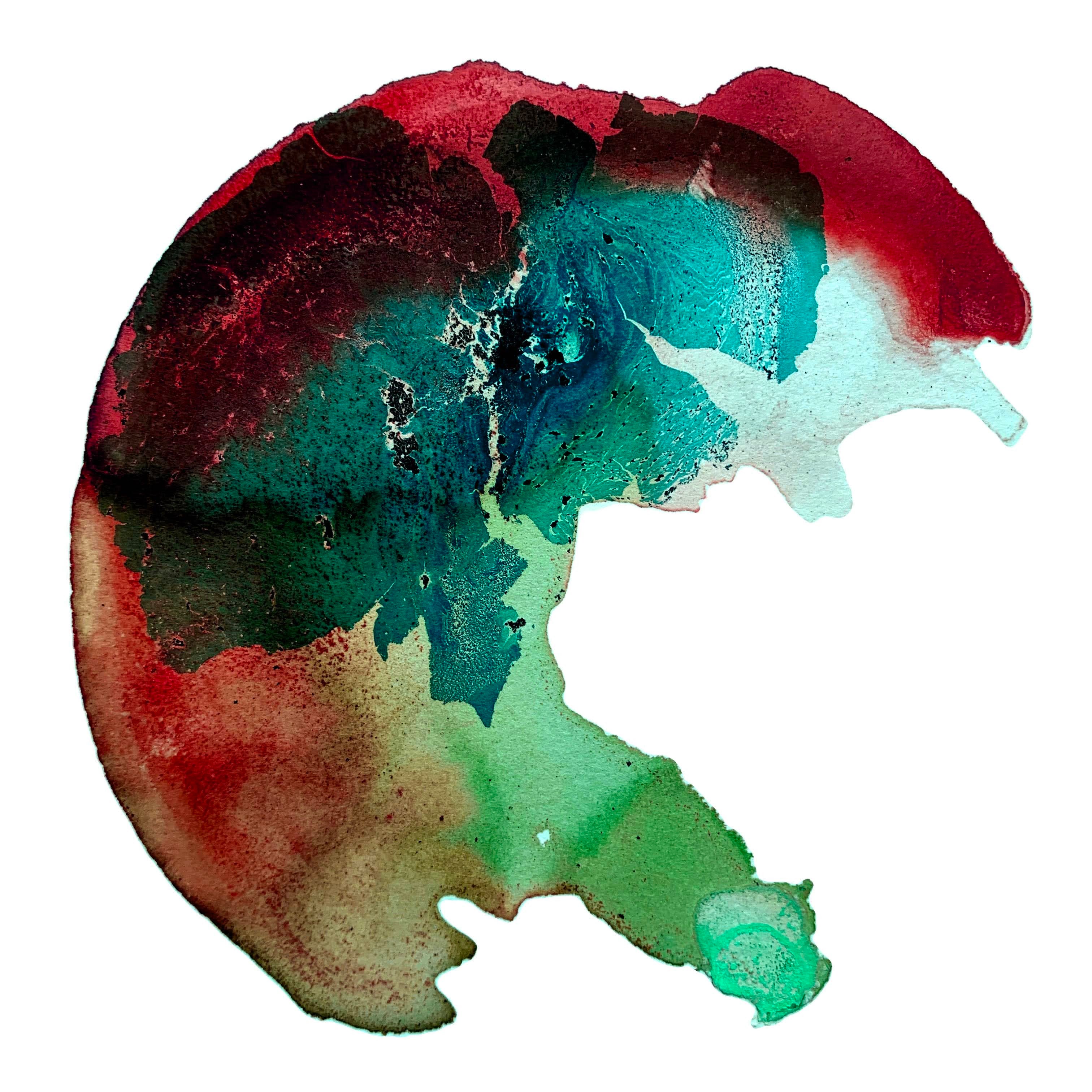 131 FREISE DE BOIS
Local Field Strawberry with Bitterness of Hop
34.0% vol
100ml ¥1,650 Out of Stock
500ml ¥7,480 Out of Stock
9/22(木)20:00〜販売開始
千葉県いすみ市の山間に居を構え、ご夫婦で自給自足の生活を行うR工房の、露地栽培のいちごを使ったリキュール。

30年前に株分けしてもらった三株のいちごを増やし、畑一面のに育った 無農薬無化学肥料のいちごは、今どきのいちごを見慣れた目からすると、あまりに小さくてまんまる。そのくせ赤みはしっかり強くて、手に取ると果汁がにじむほどに柔らかい、まるでフランスの野いちご、FREISE DE BOIS(フレーズ デ ボワ)のよう。

口に入れると甘みと同時に酸味がしっかりあります。 皆で収穫させてもらい、砂糖とライススピリッツに浸漬、ゆっくりと香りと色を引き出しました。最後にホップの軽やかな苦味を加えました。
鮮やかなルビー色も目にうれしい、美しい飲みものです。
品目:リキュール
原材料:いちご、ホップ、ライススピリッツ、砂糖(国産)
アルコール度数:34%
容量:100ml / 500ml
Artwork by Jason Logan
お一人様あたり1商品(1サイズ)につき2点まで。
22 September (Thu.) 20:00 - on sale
This liqueur is made from strawberries grown in the open fields of R-Kobo, a couple who live a self-sufficient lifestyle in the mountains of Isumi City, Chiba Prefecture. The strawberries, which are grown without pesticides or chemical fertilisers, are very small and round to the eyes that are used to seeing strawberries nowadays. They are so soft that when you pick them up, their juice oozes out, just like the French wild strawberry, Freise de Bois. When you put them in your mouth, they are sweet and sour at the same time. We were all allowed to harvest it and soak it in sugar and rice spirits to slowly bring out its aroma and colour. Finally, a light bitterness from the hops was added.
The bright ruby colour is also pleasing to the eye, making it a beautiful drink.
Item: liqueur
Ingredients: strawberries, hops, rice spirits, sugar (domestic)
Alcohol percentage: 34%
Volume: 100ml / 500ml
Artwork by Jason Logan
Purchase quantity is limited to two items per product, per size.
Regular price
Sale price
¥1,650
Unit price
per
In Stock
Out of Stock
View full details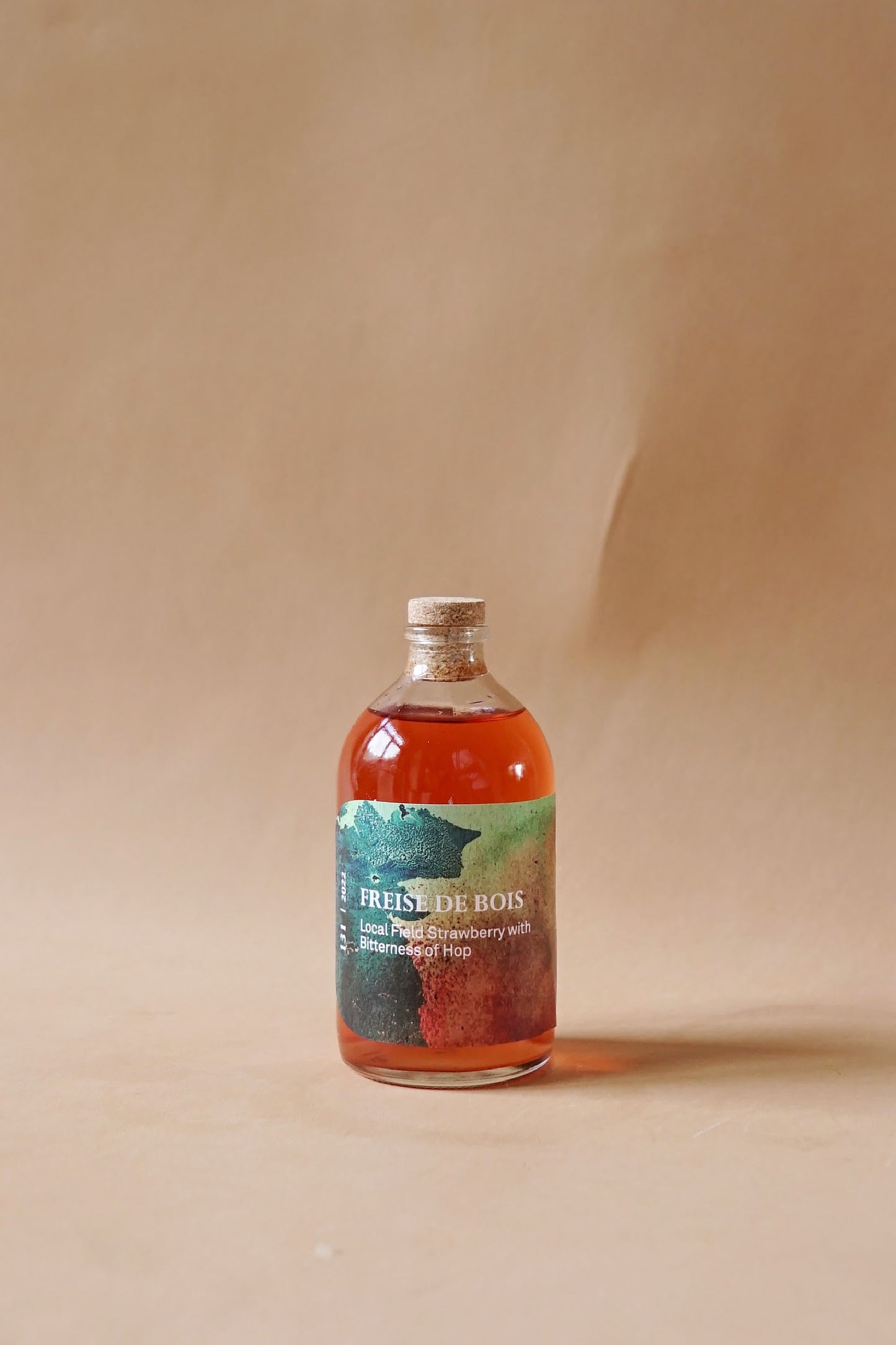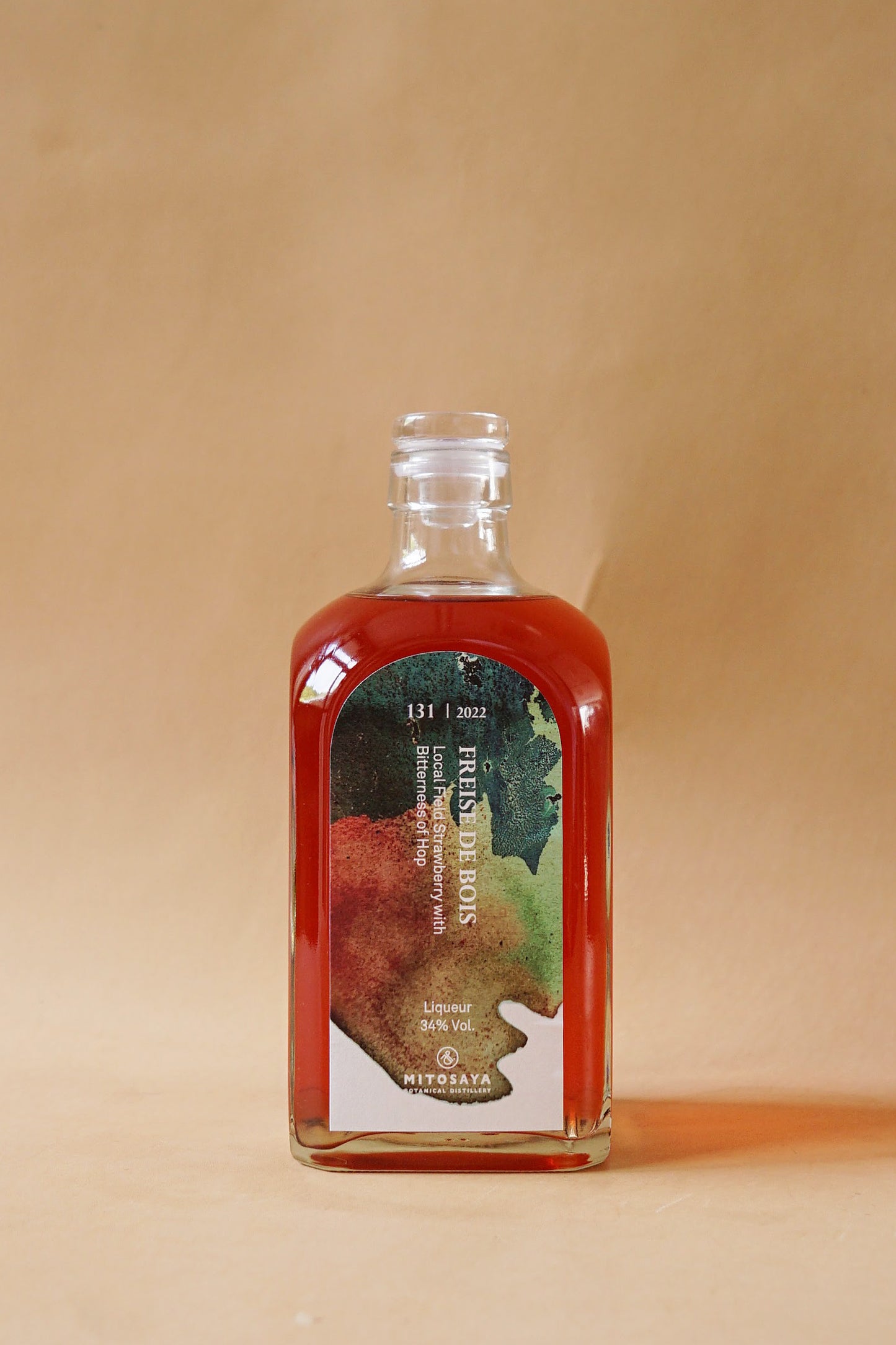 ---
mitosaya薬草園蒸留所
〒298-0216
千葉県夷隅郡大多喜町大多喜486
e-mail. cs@mitosaya.com
tel. 0470 64 6041
mitosaya botanical distillery
486 Otaki, Otaki-machi, Isumi-gun, Chiba 298-0216 Japan
e-mail. cs@mitosaya.com
tel. +81(0)470 64 6041