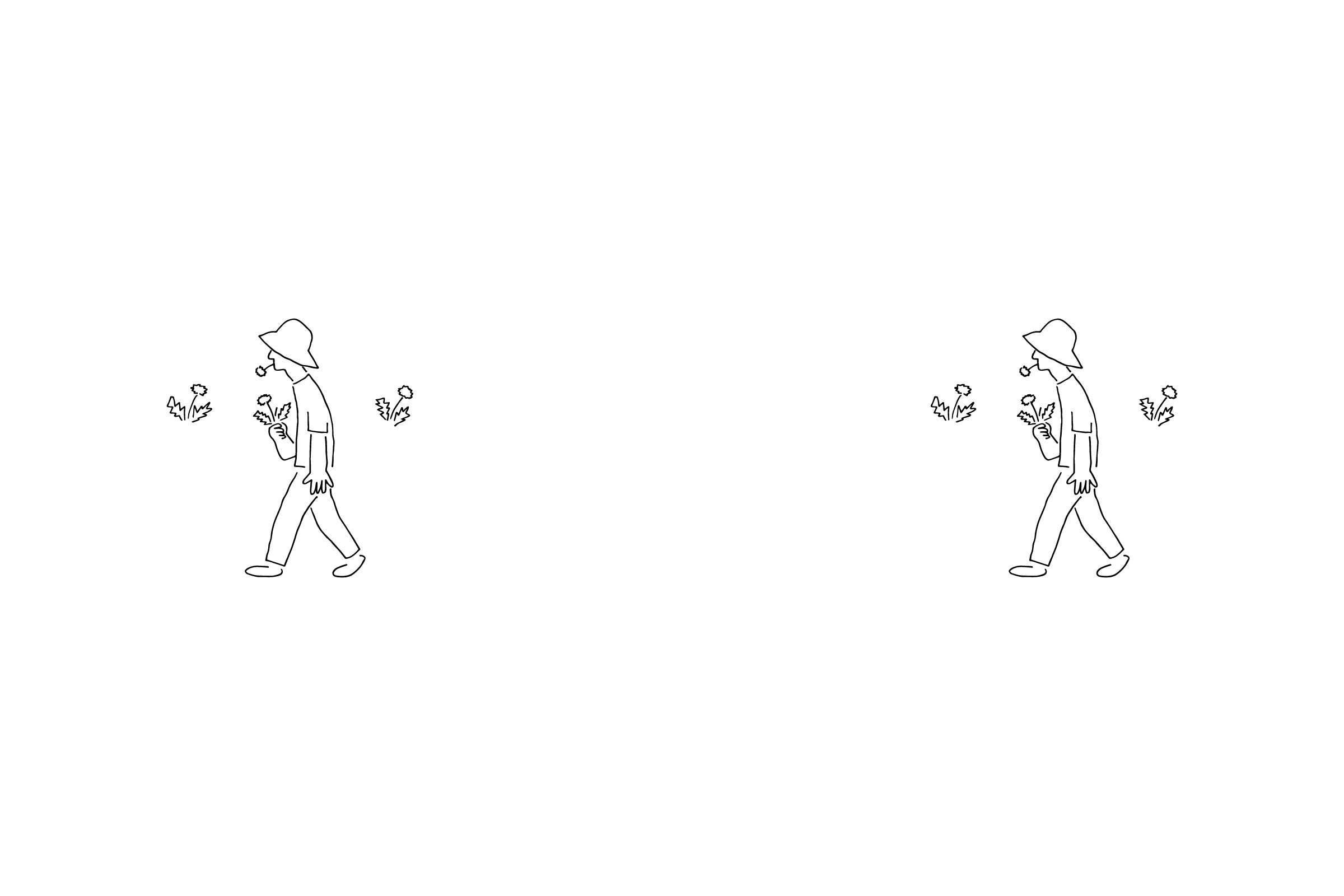 117 DANDELION WINE
11.0% vol
White ¥3,960 Out of Stock
Red ¥3,960 Out of Stock
Orange ¥3,960 Out of Stock
9/24(日)10:00〜 Orange 販売開始
アメリカを代表するSF作家のレイ・ブラッドベリが、少年の頃を描いた物語『たんぽぽのお酒』で、12歳の少年ダグラスは、おじいさんに提示された、たんぽぽの花を一袋集めるごとに10セントのお駄賃にひかれて、広場に咲く無数のたんぽぽを収穫します。
たんぽぽを受け取ったおじいさんは、地下室に運び、言います。
『地下室の暗闇は、たんぽぽが到着すると明るく燃えるのだ。ぶどう絞り器が、冷たく、口をあけて立っている。花がどっと投げいれられると、それが温まる。』
「明るく燃え」て「それが温まる」ってどんなことだろう。そんな興味から私たちはたんぽぽの花を集めることにしました。春のある日、廃校になった旧老川小学校の校庭に集まったFarming Fridayチーム。一面に咲くたんぽぽの花を、かごを手に無心でつみます。
採ったそばから背後で新しい花が咲いているのではないかと疑うほどに地道で果てしない作業ですが、かごいっぱいの花を花びらとがくに分けると、まさに「明るく燃え」るような黄色のやわらかなかたまりが現れました。
熱湯で成分を抽出したのちに絞り、そこに同じ時期に隣のタンクで仕込み途中だったレモンのもろみ、いちごのもろみ、糖分を加えて様子を伺います。
数日後、旺盛な発酵がはじまり、液体から泡が立ち熱を帯びてきました。これがおじいさんの言っていた「それが温まる」ってことなのか。
発酵が落ち着いた頃に、砂糖を少量加えて瓶内発酵を促し瓶詰め。黄と赤に色づいたたんぽぽのお酒が完成しました。
たんぽぽらしい苦味やほのかな香り、果物由来の酸が溶けあいます。
『たんぽぽのお酒。この言葉を口にすると舌に夏の味がする。』
ブラッドベリが書いた夏の味。ぜひあなたも試してみてください。

Whiteはレモンの酵母で、RedとOrangeはいちごの酵母で発酵させています。
WhiteとRedは瓶内で発酵させた発泡性のもの、
最後まで発酵したOrangeは、微発酵でアルコール度数も高めです。


仕様
品目:リキュール
原材料:White:たんぽぽの花、レモン、砂糖、水 / Orange: たんぽぽの花、いちご、砂糖、水(すべて国産)/ Red: たんぽぽの花、いちご、砂糖、水(すべて国産)
アルコール度数:9%(White)/11% (Orange) / 9% (Red)
容量:750ml
アートワーク:Yuko Yamamoto
炭酸により吹き出すことがありますので、よく冷やしてゆっくり開栓ください。

お一人様あたり1商品(1サイズ)につき2点まで。


In "Dandelion Wine," a story by Ray Bradbury, one of America's leading science fiction writers, about his boyhood, a 12-year-old boy named Douglas is offered 10 cents by his grandfather for every bag of dandelion flowers he collects, and harvests countless dandelions that bloom in the square.
After receiving the dandelions, the old man took them to the basement and said,
"The darkness of the basement is the only place where you can see the dandelions.
The darkness in the cellar burns brightly when the dandelions arrive. The grape press stands cold and open-mouthed. When the flowers are thrown in, they warm it."
What does it mean to "burn brightly" and "warm itself"? With this interest, we decided to collect dandelion flowers. One spring day, the Farming Friday team gathered in the schoolyard of the abandoned former Aikawa Elementary School. With baskets in their hands, they mindlessly picked the dandelion flowers that were blooming all over the area.
The work was so steady and endless that one might have suspected that new flowers were blooming behind them as they were being picked, but when the basket full of flowers was separated into petals and buds, a soft yellow muddy mass appeared that seemed to "burn brightly.
After extracting the ingredients with boiling water, we squeezed it and added lemon mash, strawberry mash, and sugar, which were in the process of being prepared in a neighboring tank at the same time.
After a few days, a vigorous fermentation began, and the liquid began to bubble and heat up.
Is this what grandpa meant when he said "it warms up"?
When the fermentation settled down, a small amount of sugar was added to promote fermentation in the bottle and bottled.
The yellow and red colored dandelion liquor was completed.
The dandelion-like bitterness, subtle aroma, and fruit-derived acidity blend together.
"Dandelion wine. When I say the words, my tongue tastes summer."
The taste of summer, Bradbury wrote. We hope you will try it too.
SPECIFICATIONS
Type:Liqueur
Ingredients:White: dandelion flowers, lemon, sugar, water / Orange: dandelion flower, strawberry, sugar, water (all domestically produced) / Red: dandelion flower, strawberry, sugar, water (all domestically produced)
Alcohol content: 9% (White) / 11% (Orange) / 9% (Red) 
Volume:750ml
Artwork : Yuko Yamamoto
Purchase quantity is limited to two items per product, per size.
Regular price
Sale price
¥3,960
Unit price
per
In Stock
Out of Stock
View full details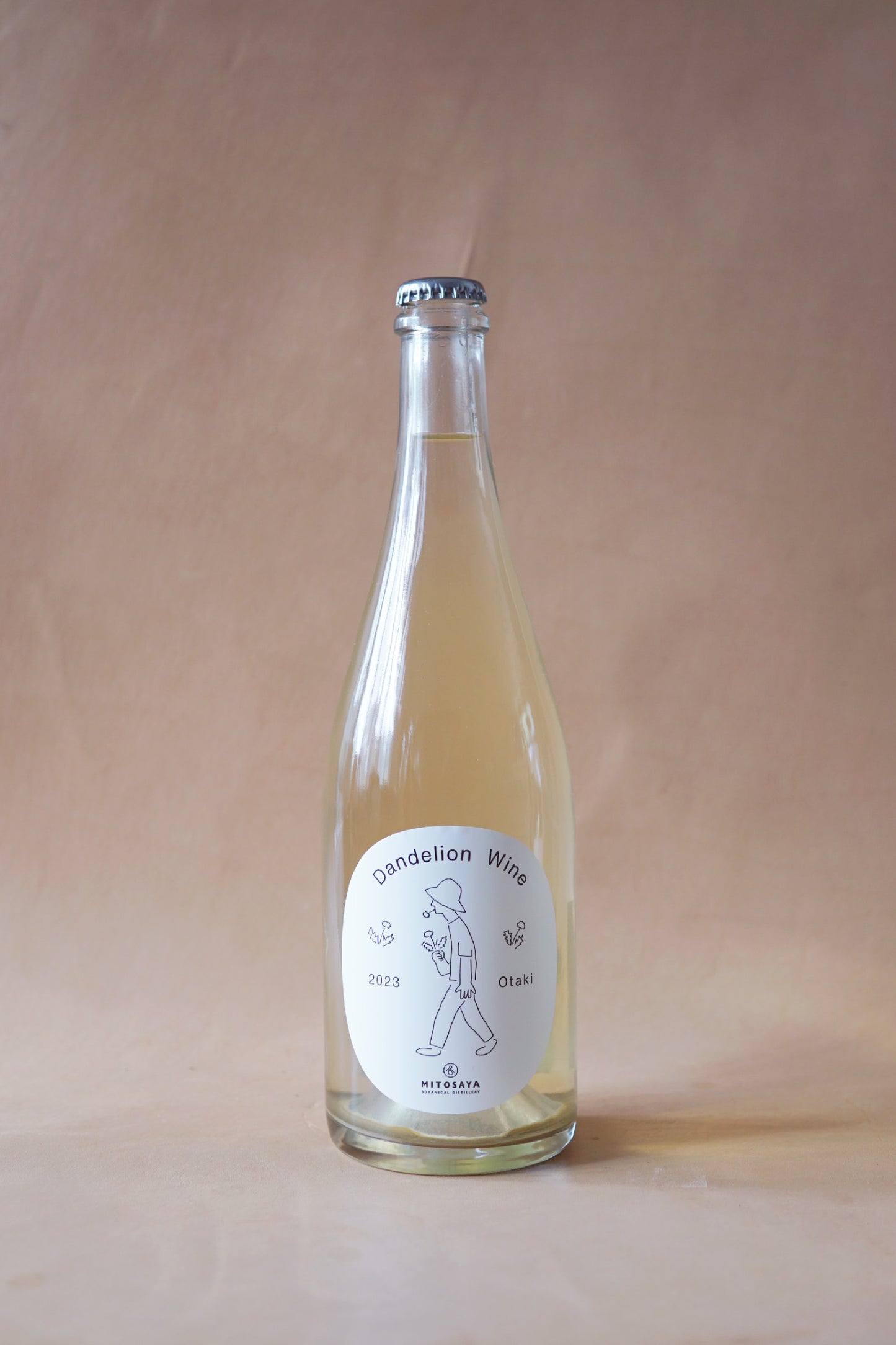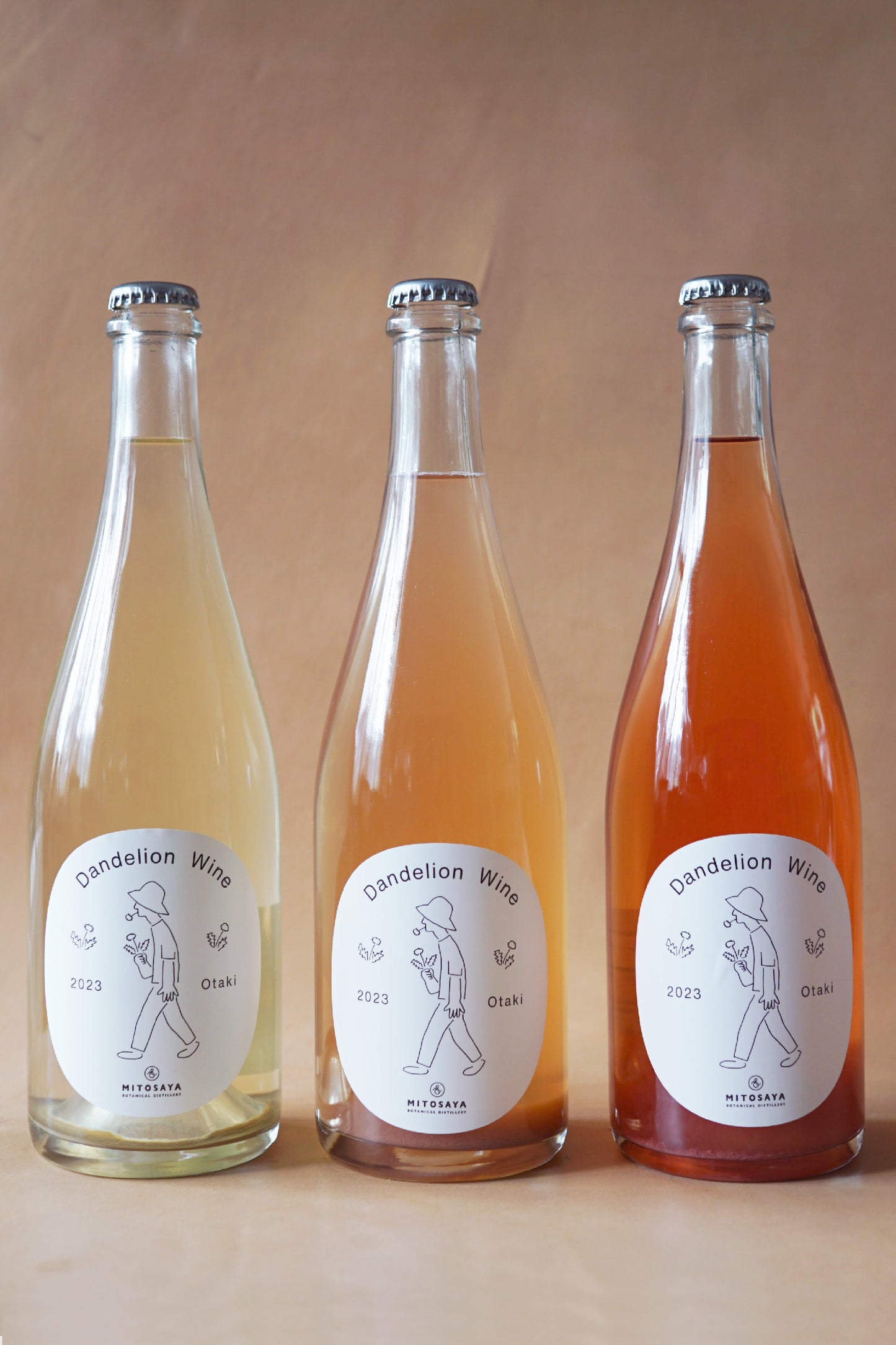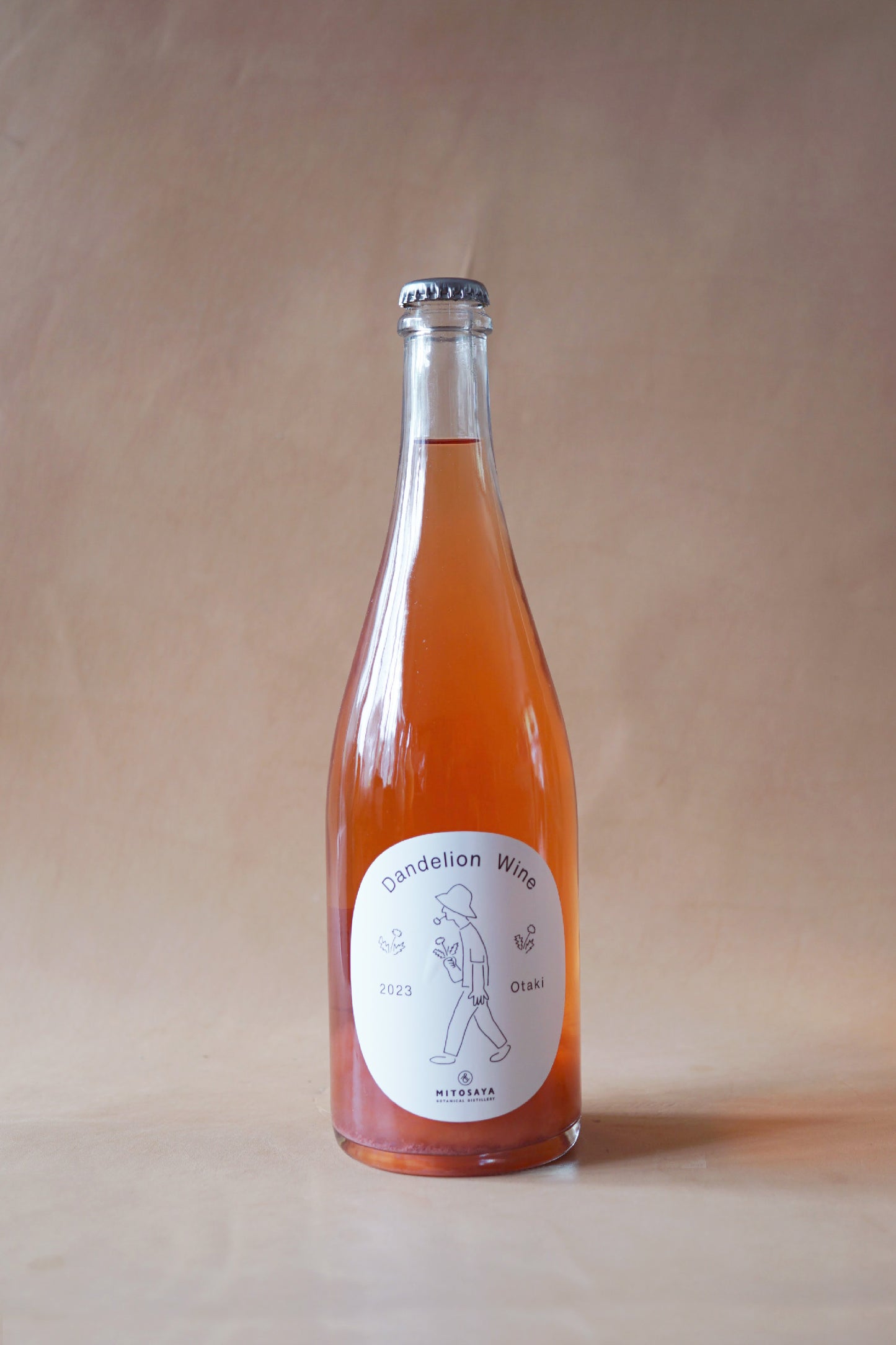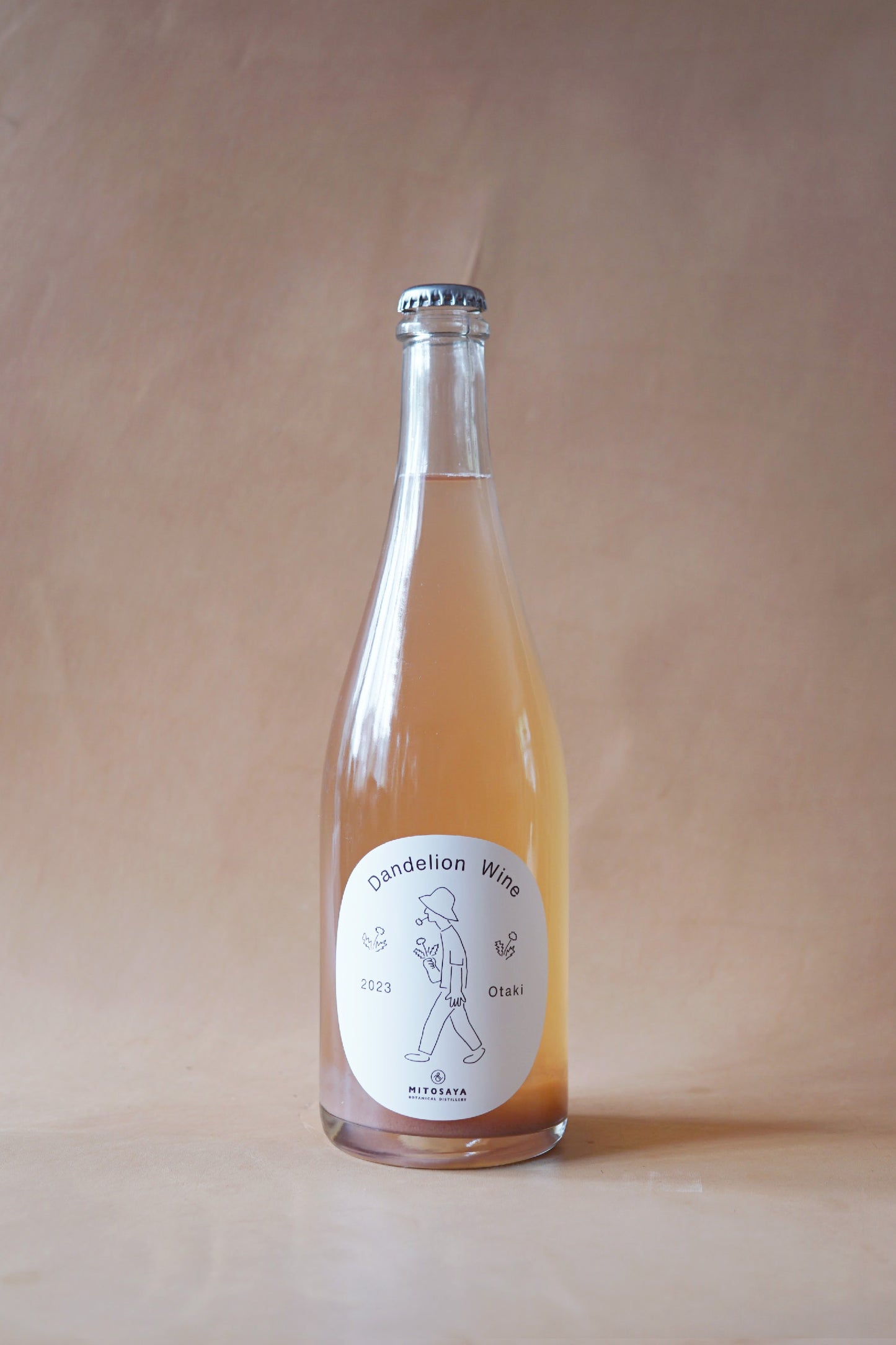 ---
mitosaya薬草園蒸留所
〒298-0216
千葉県夷隅郡大多喜町大多喜486
e-mail. cs@mitosaya.com
tel. 0470 64 6041
mitosaya botanical distillery
486 Otaki, Otaki-machi, Isumi-gun, Chiba 298-0216 Japan
e-mail. cs@mitosaya.com
tel. +81(0)470 64 6041