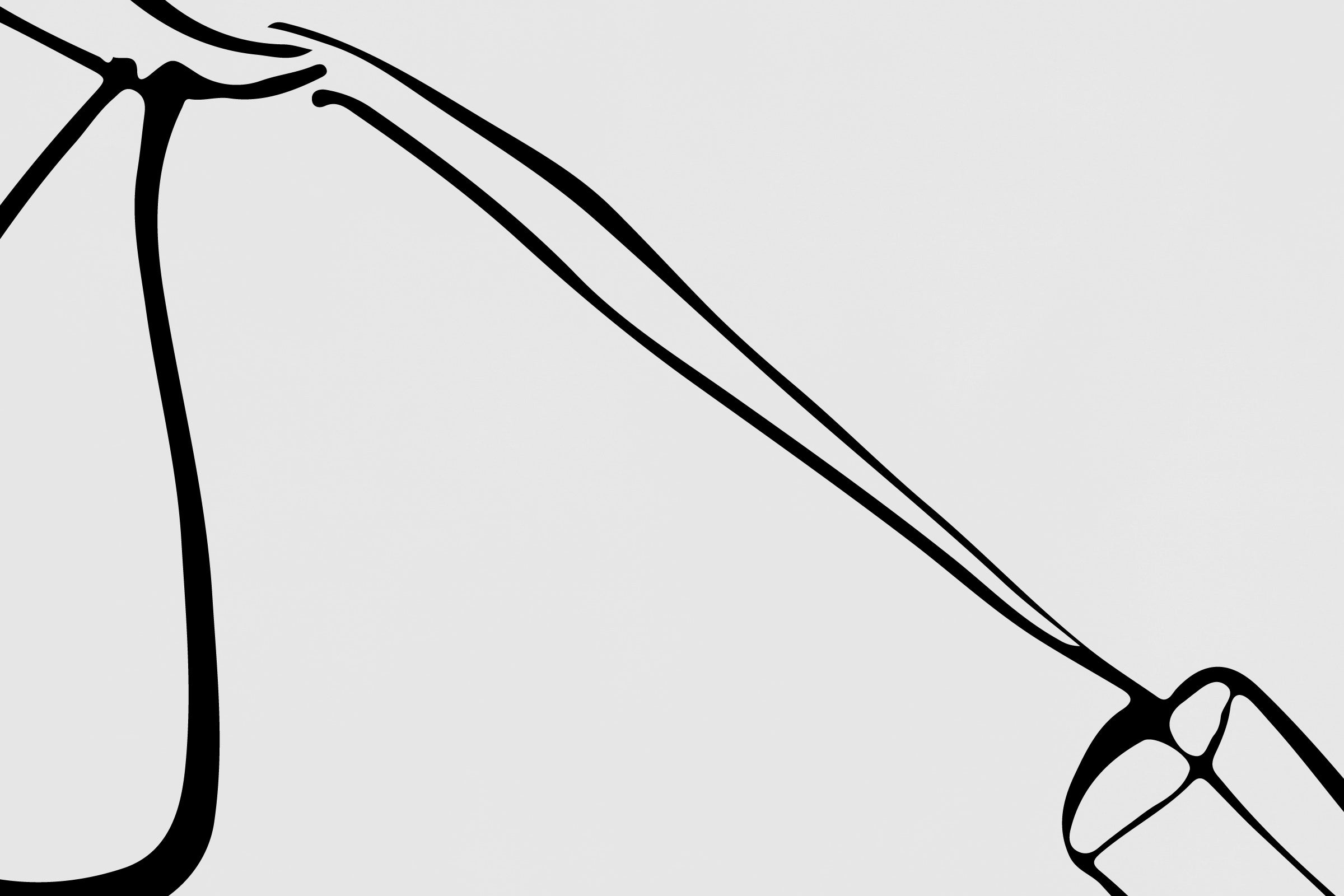 068 FINE DE MICHINOKU
Variety Grapes from Tohoku Vineyards
42.0% vol
110ml ¥2,200 Out of Stock
500ml ¥9,680 Out of Stock
3/6(月)10:00〜販売開始(お届けは 3/10頃を予定しています)
東北6県で採れたぶどうを混醸して作るワイン、VIN de MICHINOKUの搾ったあとのぶどうのもろみを蒸留後、熟成したFINE DE MICHINOKU。5年目になる今年は、2021年のVIN de MICHINOKUのぶどうを蒸留後、16ヶ月間ステンレスタンクで熟成しました。
醸造を手掛ける山形県のタケダワイナリーのテクニカルノートによると、2021年のぶどうは例年より生育が早く収穫も全体的に早め。しかし、果実の肥大期に雨が少なかったことで、果実は引きしまった小粒のものが多く、果皮も厚く色素がしっかり、糖度は申し分なくありながら、9月10月の夜温が低いことから、酸もしっかりと残っていたそうです。
タケダワイナリーからmitosayaに届いた、自重のみ一晩かけて引き抜かれたフリーラン後のもろみは、輸送で動いたためかいまだ発酵していて、果実味たっぷりの状態だったためなにも加えず一週間後に蒸留、ステンレスタンクで16ヶ月間熟成しました。
希釈には、同じ東北の岩手県釜石の山の中腹から採水した天然水を使用しています。ろ過を行っていないため温度によっては薄いにごりがあります。
アプリコットなどの甘く香るフルーツや、ハーバルな清涼感が複雑に香り、時間が経つにつれて、スミレ、ムスク等の華やか且つ温かみのある香りが立ち込めます。
1年間静かに熟成させたフィーヌは調和がとれ、香り高く、アフターにぶどう由来の甘みを感じることができます。
仕様
品目:ブランデー
スタイル:オー・ド・ヴィー(グラッパ / マール)
原材料:ぶどう スチューベン(青森県産)、山ソーヴィニョン(岩手)、ワイングランド(秋田)、メルロ(宮城、山形)、マスカット・ベーリーA (山形、福島))、水(岩手県釜石産)
アルコール度数:42%
容量:110ml / 500ml
アートワーク:サム・ゲンデル / マルセラ・チトリノヴィッチ
お一人様あたり1商品(1サイズ)につき2点まで。
6 March (Mon.) 10:00 - on sale
FINE DE MICHINOKU is a wine made from a mixture of grapes from six prefectures in the Tohoku region, VIN de MICHINOKU, which is aged after distillation of the mash after pressing. The grapes are then aged in stainless steel tanks for 16 months.
According to the technical note from Takeda Winery in Yamagata Prefecture, which handles the winemaking, the 2021 grapes grew earlier than usual and were harvested earlier overall. However, due to the lack of rainfall during the ripening period, many of the berries were small and firm, with thick skins and good pigmentation and perfect sugar content, while acidity remained strong due to the low nighttime temperatures in September and October.
The free-run mash arrived at mitosaya from Takeda Winery after an overnight pull under its own weight, and was still fermenting, probably due to transportation, so it was distilled a week later without adding anything and aged in stainless steel tanks for 16 months.
For dilution, natural water from the mountainside in Kamaishi, Iwate Prefecture, also in the Tohoku region, was used. Since the water is not filtered, there may be a thin cloudiness depending on the temperature.
It has a complex aroma of sweet-smelling fruits such as apricot and herbal coolness, and as time goes by, gorgeous and warm aromas of violets, musk, and other aromas emerge
After a year of quiet aging, the finesse is harmonious and fragrant, with a sweet aftertaste derived from the grapes.
SPECIFICATIONS
Item: Brandy
Style: Eau-de-vie de Marc (Grappa)
Ingredients: Grapes: Steuben (Aomori), Yama Sauvignon (Iwate), Weingrand (Akita), Merlot (Miyagi, Yamagata), Muscat Berry A (Yamagata, Fukushima)), Water (Kamaishi, Iwate)
Alcohol content: 42%.
Artwork : Sam Gendel / Marcella Cytrynowicz
Purchase quantity is limited to two items per product, per size.
Regular price
Sale price
¥2,200
Unit price
per
In Stock
Out of Stock
View full details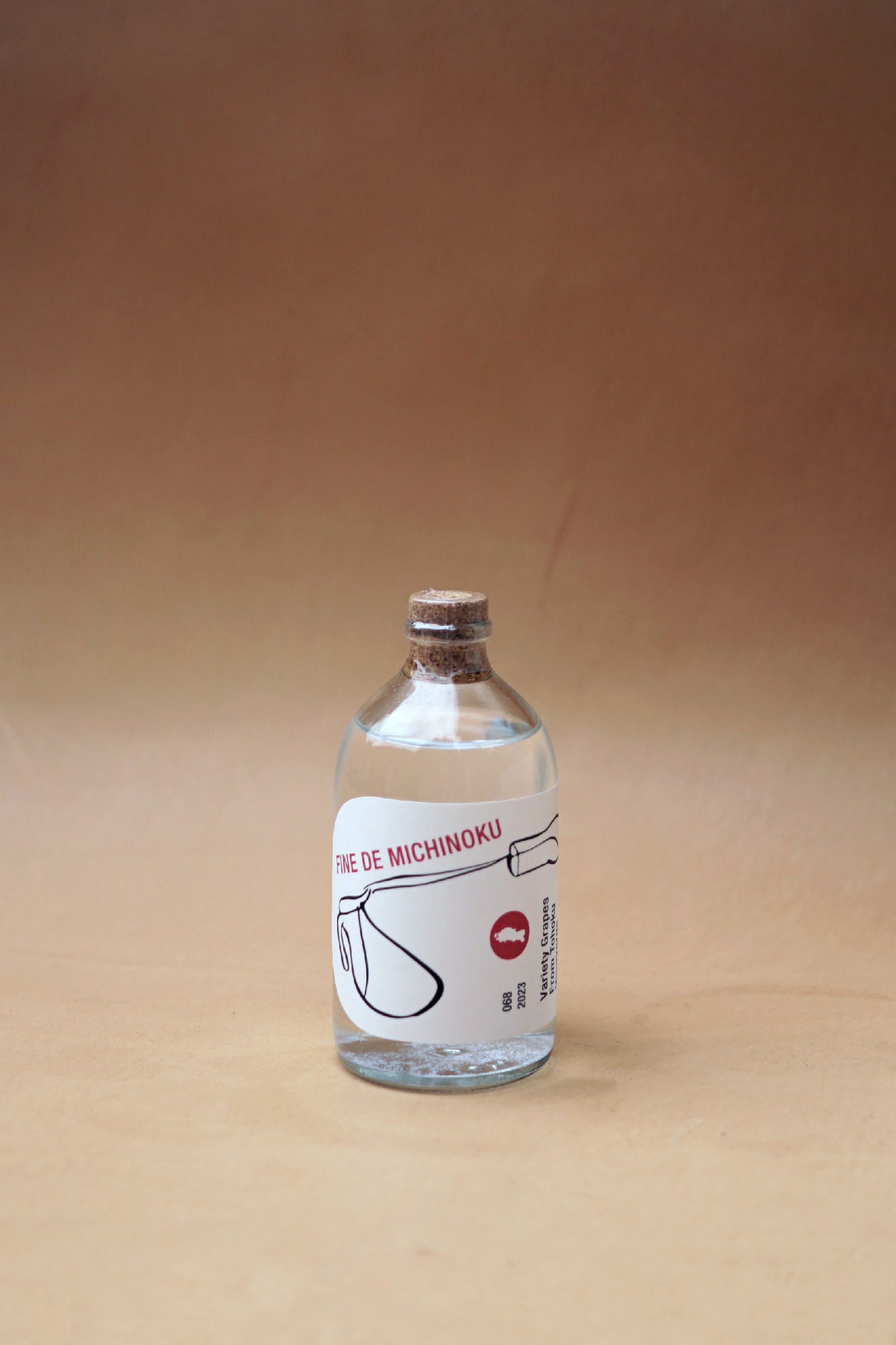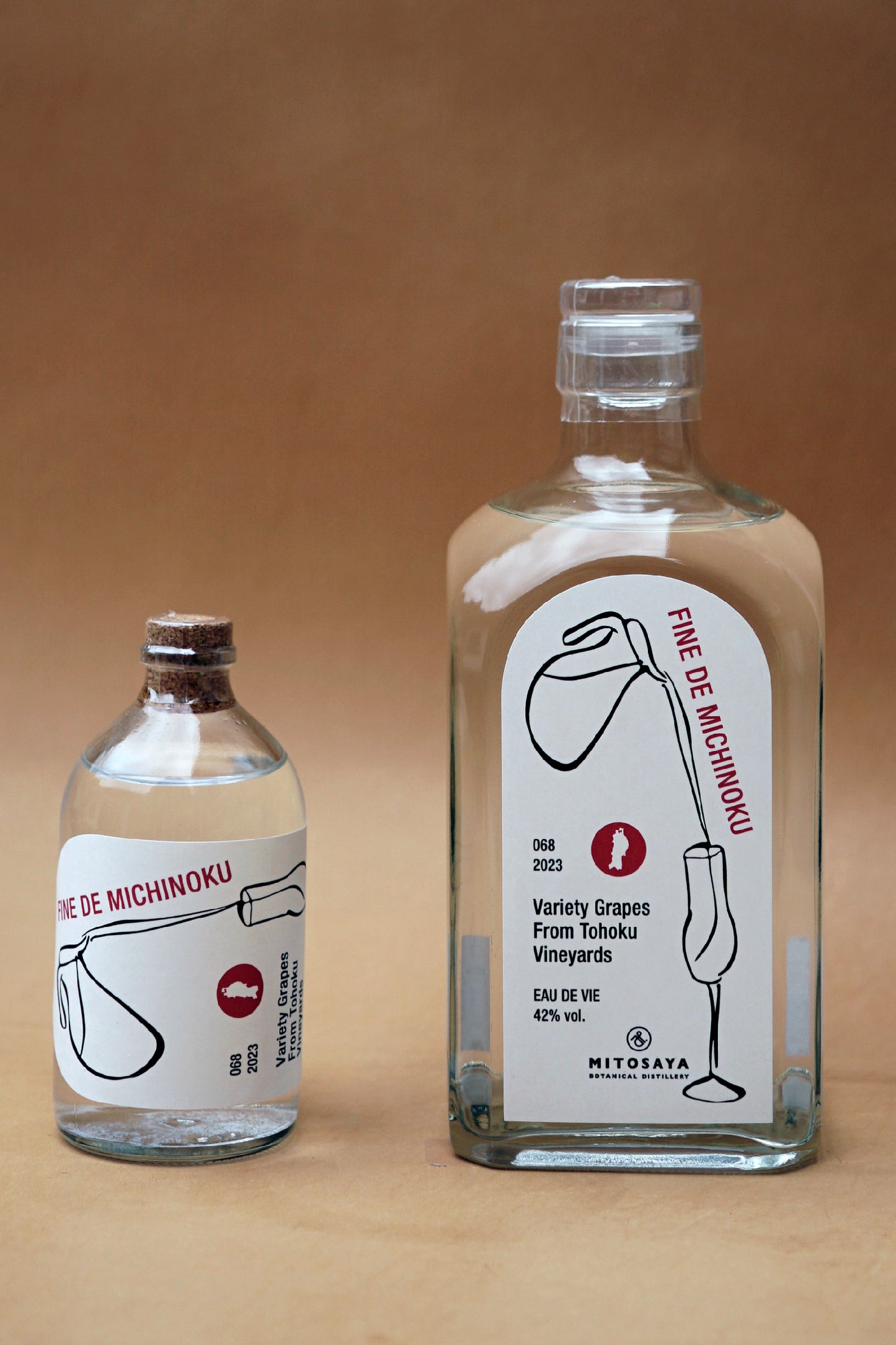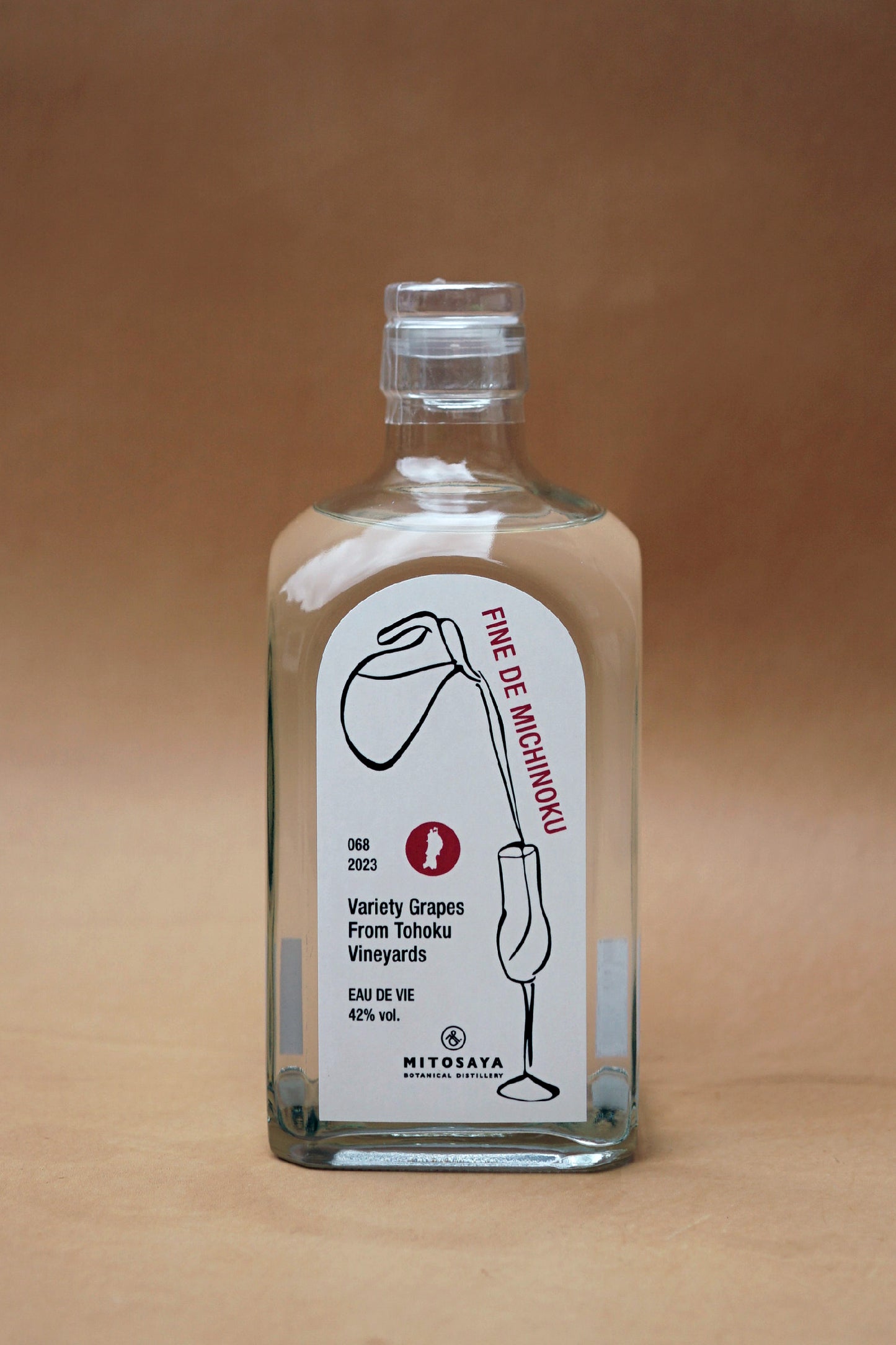 ---
mitosaya薬草園蒸留所
〒298-0216
千葉県夷隅郡大多喜町大多喜486
e-mail. cs@mitosaya.com
tel. 0470 64 6041
mitosaya botanical distillery
486 Otaki, Otaki-machi, Isumi-gun, Chiba 298-0216 Japan
e-mail. cs@mitosaya.com
tel. +81(0)470 64 6041