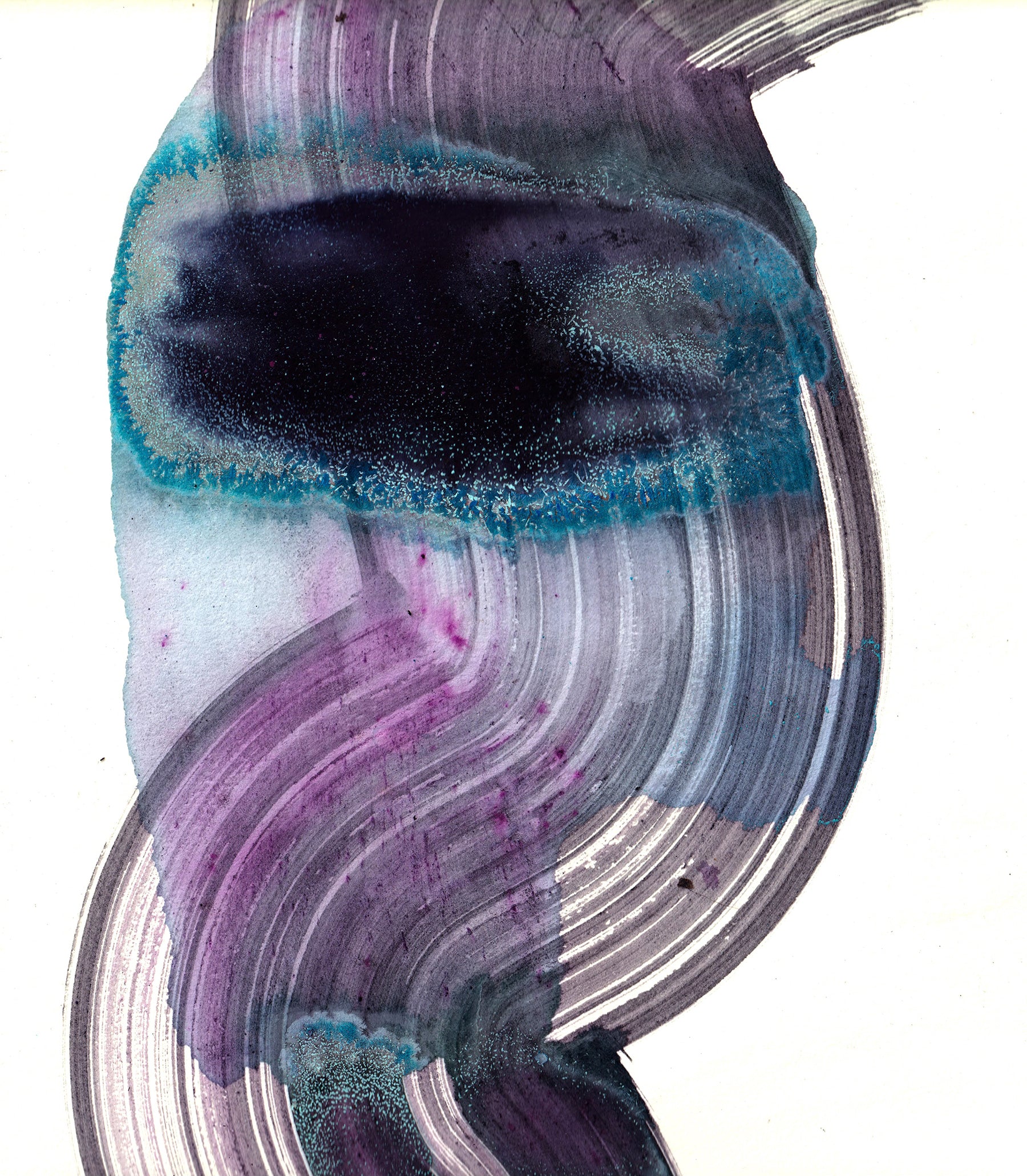 068 FINE DE MICHINOKU
Variety Grapes from Tohoku Vineyards
42.0% vol
100ml ¥2,200 Out of Stock
500ml ¥9,680 Out of Stock
今年3年目になるFINE DE MICHINOKUプロジェクト。東北6県で採れたぶどうを混醸して作るワイン、Vin De Michinokuのもろみを使わせてもらっています。
醸造を手掛ける山形県のタケダワイナリーのテクニカルノートによると、2021年のぶどうは例年より生育が早く収穫も全体的に早め。しかし、果実の肥大期に雨が少なかったことで、果実は引きしまった小粒のものが多く、果皮も厚く色素がしっかり、糖度は申し分なくありながら、9月10月の夜温が低いことから、酸もしっかりと残っていたそうです。
11月、タケダワイナリーからmitosayaに1tのタンクが届きました。
自重のみ一晩かけて引き抜かれたフリーラン後のもろみは、輸送で動いたためかいまだ発酵していて、果実味たっぷりの状態だったためなにも加えず一週間後に蒸留、4ヶ月間ステンレスタンクで熟成しました。
希釈には、岩手県釜石の山の中腹から採水した天然水を使用しています。フリーランをうけてこちらもろ過を行っていないため、薄いにごりがあります。
アプリコットなどの甘く香るフルーツや、ハーバルな清涼感が複雑に香り、時間が経つにつれて、スミレ、ムスク等の華やか且つ温かみのある香りが立ち込めます。
グラスに注いで少し経ってから飲んでみてください。
みるみる香りが変化し、アフターにぶどう由来の甘みが広がります。
品目:ブランデー
内容量:100ml/500ml
原材料:ぶどう スチューベン(青森県産)、山ソーヴィニョン(岩手)、ワイングランド(秋田)、メルロ(宮城、山形)、マスカット・ベーリーA (山形、福島))、水(岩手県釜石産)
アルコール度数:42%
Artwork by Jason Logan
お一人様あたり1商品(1サイズ)につき2点まで。
This is the third year that FINE DE MICHINOKU has allowed us to use mash from Vin De Michinoku, a wine made from a mixture of grapes from six prefectures in the Tohoku region.
According to the technical note of Takeda Winery in Yamagata Prefecture, which handles the winemaking, the grapes for 2021 will grow earlier than usual and the harvest will be earlier overall. However, due to the lack of rainfall during the ripening period, many of the berries were small and firm, with thick skins and good pigmentation and perfect sugar content.
In November, a 1-ton tank arrived at mitosaya from Takeda winery.
The free-run mash, which was drawn overnight under its own weight, was still fermenting, perhaps because it had been moved during transportation.
For dilution, natural water from the mountainside in Kamaishi, Iwate Prefecture was used.
The water is free-run and unfiltered, so there is a thin cloudiness to the beer. It has a complex aroma of sweetly scented fruits such as apricot and herbal coolness, and as time goes by, gorgeous and warm aromas of violets and musk come into play.
Pour it into a glass and drink it a little later.
The aroma changes rapidly, and the sweetness from the grapes spreads in the aftertaste.
Item: Brandy
Contents: 110ml / 500ml
Ingredients: Grapes: Steuben (Aomori), Yama Sauvignon (Iwate), Weingrand (Akita), Merlot (Miyagi, Yamagata), Muscat Berry A (Yamagata, Fukushima)), Water (Kamaishi, Iwate)
Alcohol content: 42%.
Artwork by Jason Logan
Purchase quantity is limited to two items per product, per size.
Regular price
Sale price
¥2,200
Unit price
per
In Stock
Out of Stock
View full details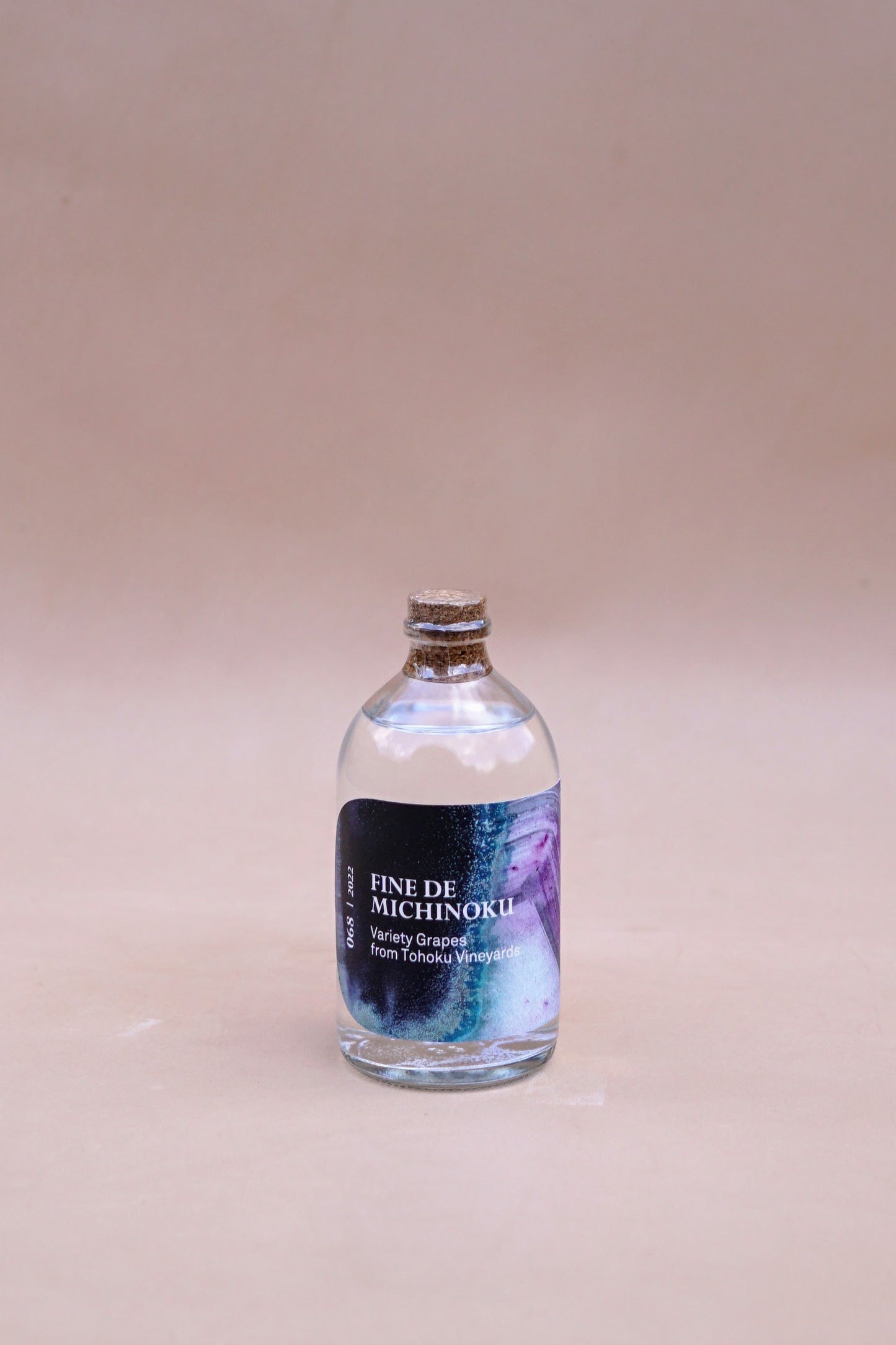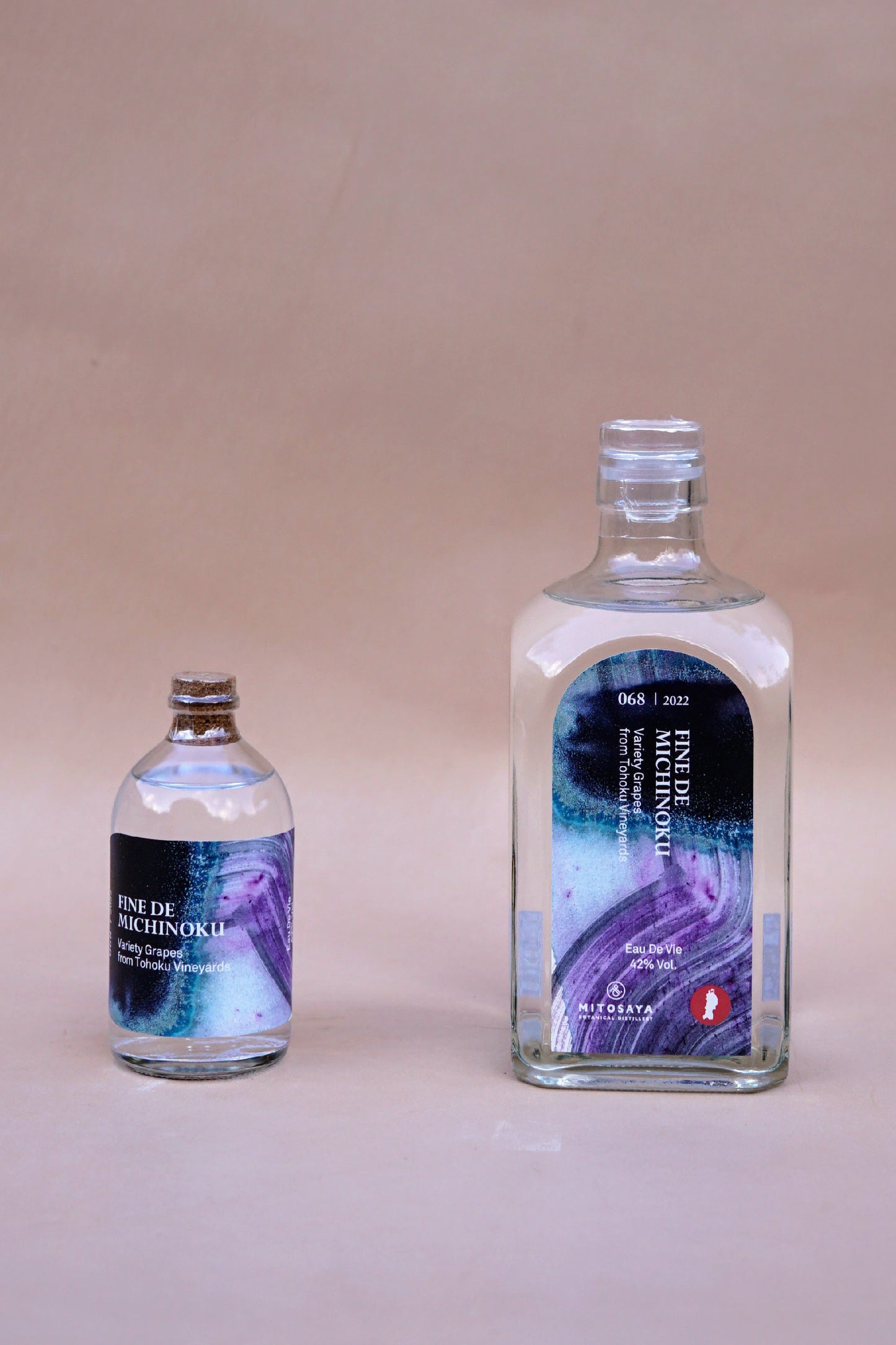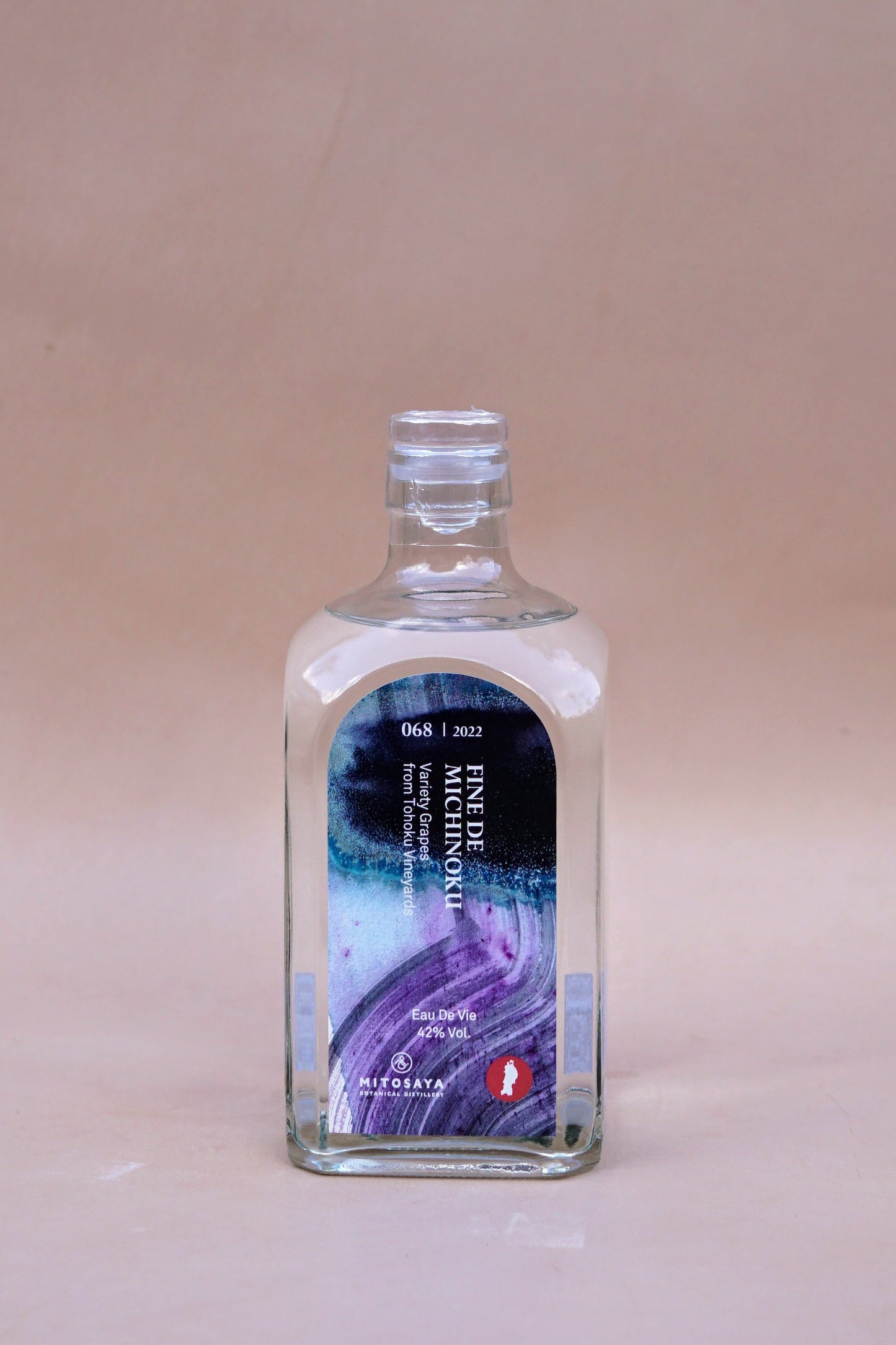 ---
mitosaya薬草園蒸留所
〒298-0216
千葉県夷隅郡大多喜町大多喜486
e-mail. cs@mitosaya.com
tel. 0470 64 6041
mitosaya botanical distillery
486 Otaki, Otaki-machi, Isumi-gun, Chiba 298-0216 Japan
e-mail. cs@mitosaya.com
tel. +81(0)470 64 6041