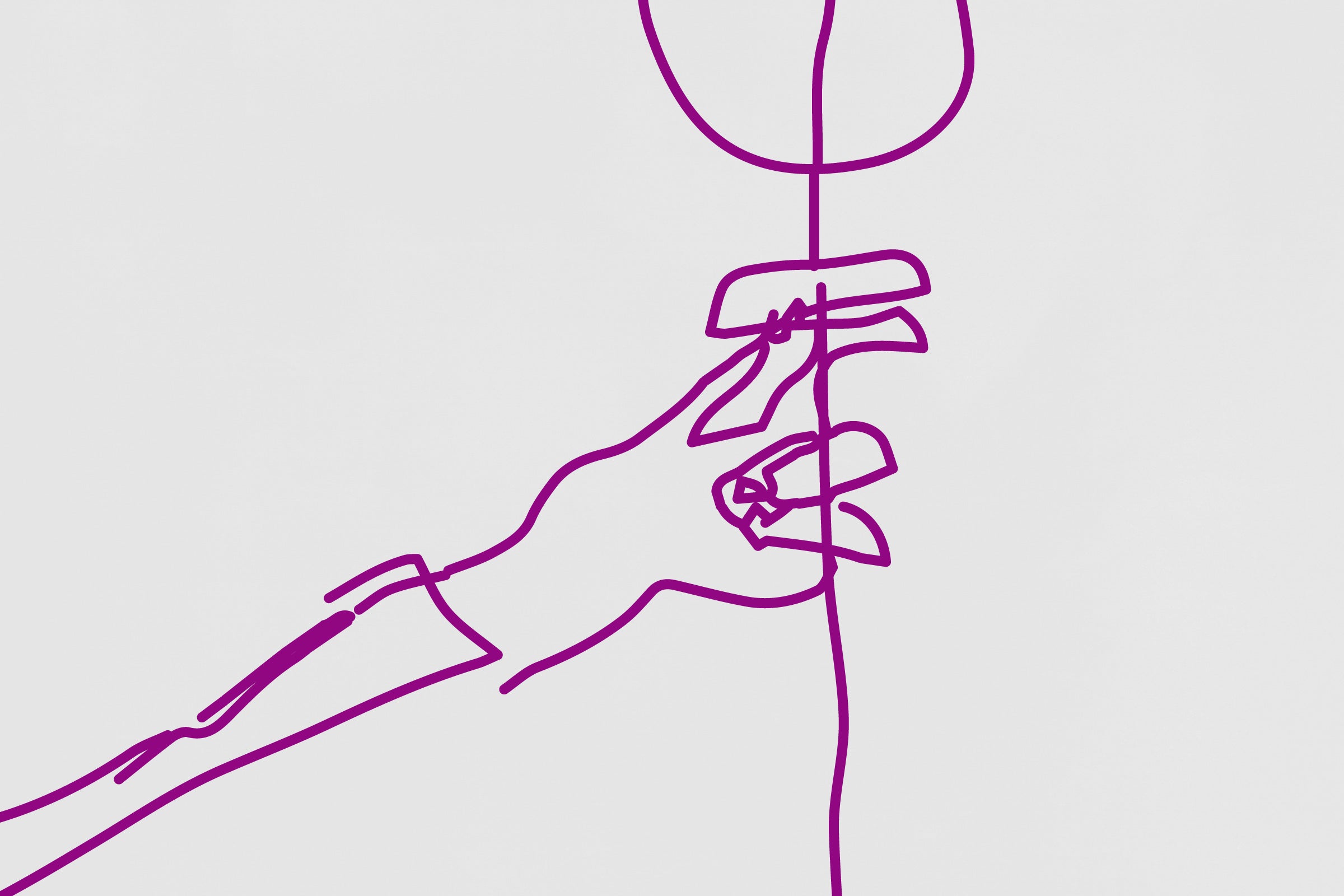 065 GRAPPA DELAWARE
Pomace From Yellow Magic Winery
42.0% vol
110ml ¥2,200 Out of Stock
500ml ¥9,680 Out of Stock
1/27(金)20:00〜販売開始
D&DEPARTMENTが、山形県南陽市のイエローマジックワイナリー(YMW)と作ったワイン「YMW オレンジワイン2022・デラウェア100%」のポマースからつくったグラッパです。
ぶどうは山形市の生産者「ぶどうと活きる」のデラウェア。​徹底的にクリーンな環境で15度に保たれた醸造所内で、天然酵母での醸造を行っています。香り高く糖度もしっかりとしたデラウェアを、全房のままのものと除梗したものを積層して低温でゆっくり発酵を促した、辛口でありながらキュートな香りが特徴のワインです。
搾ったばかりのポマースをバンに積み込んで、YMWからmitosayaまで運んでくれたD&DEPARTMENTの二人には、蒸留の現場にも立ち会ってもらい、蒸留のヘッドとハート、テイルのカットは彼らの判断で行いました。

デラウェアの軽やかさと爽やかさが際立つ、クリーンな味わいをお楽しみいただけます。
仕様
品目:ブランデー
スタイル:グラッパ
原材料:ぶどう(デラウェア)(山形県産)
アルコール度数:42%
酵母:天然酵母
容量:110ml / 500ml
アートワーク:サム・ゲンデル / マルセラ・チトリノヴィッチ
お一人様あたり1商品(1サイズ)につき2点まで。
27 January (Fri.) 20:00 - on sale
This grappa is made from the pomace of "YMW Orange Wine 2022, 100% Delaware," a wine made by D&DEPARTMENT with Yellow Magic Winery (YMW) of Nanyo City, Yamagata Prefecture.
The grapes are Delaware from the Yamagata City producer "Grapes and Vitality. It is brewed with natural yeast in a brewery kept at 15°C in a thoroughly clean environment. The aromatic and sugary Delaware grapes are stacked with whole clusters and destemmed grapes to promote slow fermentation at low temperatures, resulting in a dry wine with a cute aroma.
The two guys from D&DEPARTMENT who loaded the freshly pressed pomace into a van and transported it from YMW to mitosaya were also present at the distillation, and the head, heart and tail cuts of the distillate were done at their discretion.
You will enjoy a clean taste with the lightness and freshness of Delaware.
SPECIFICATIONS
Type:Brandy
Style: Grappa
Ingredients:Grapes (Delaware) (Yamagata Prefecture)
Alcohol content: 42%.
Yeast: Natural yeast
Volume:110ml / 500ml
Artwork : Sam Gendel / Marcella Cytrynowicz
Regular price
Sale price
¥2,200
Unit price
per
In Stock
Out of Stock
View full details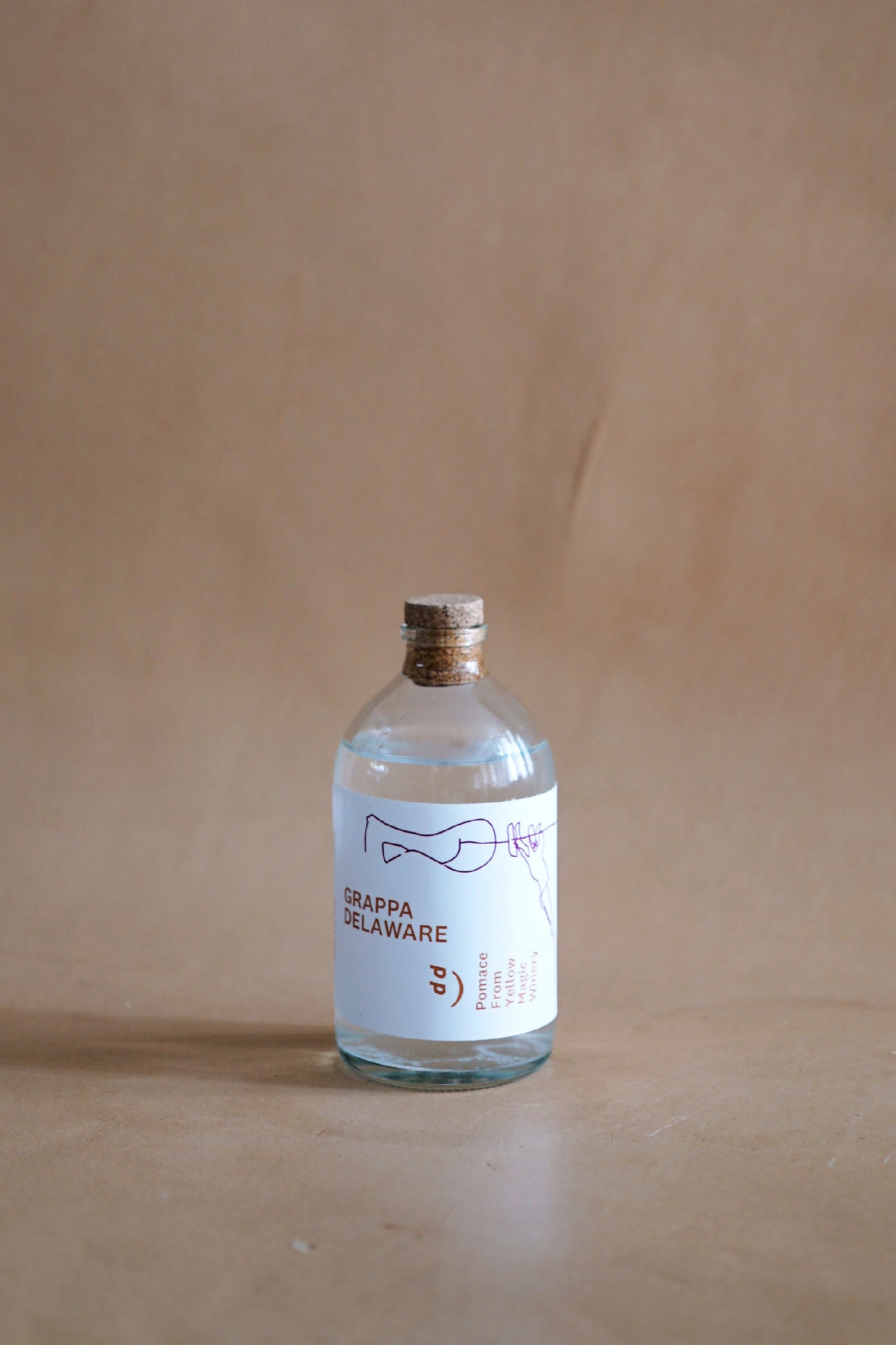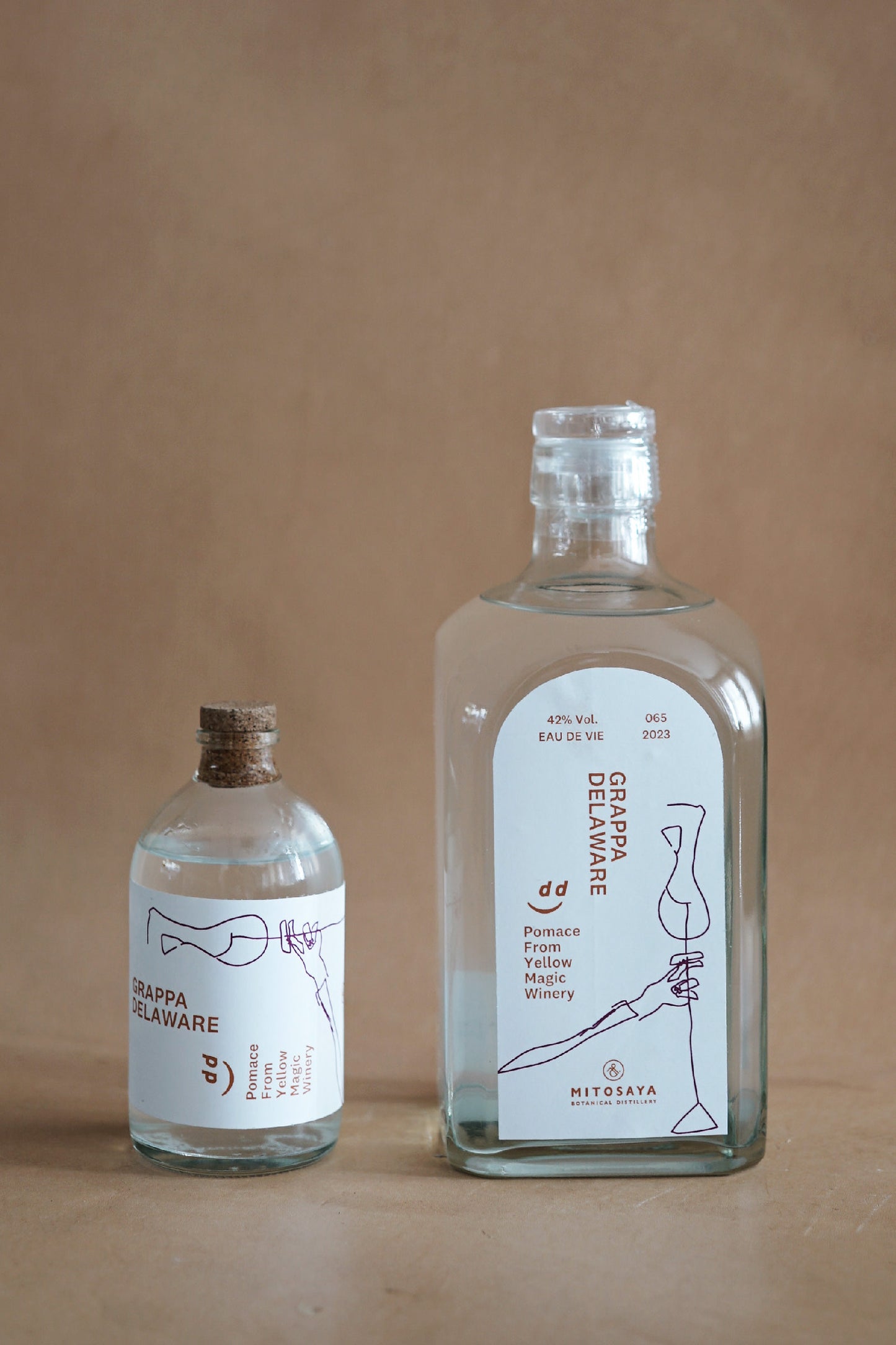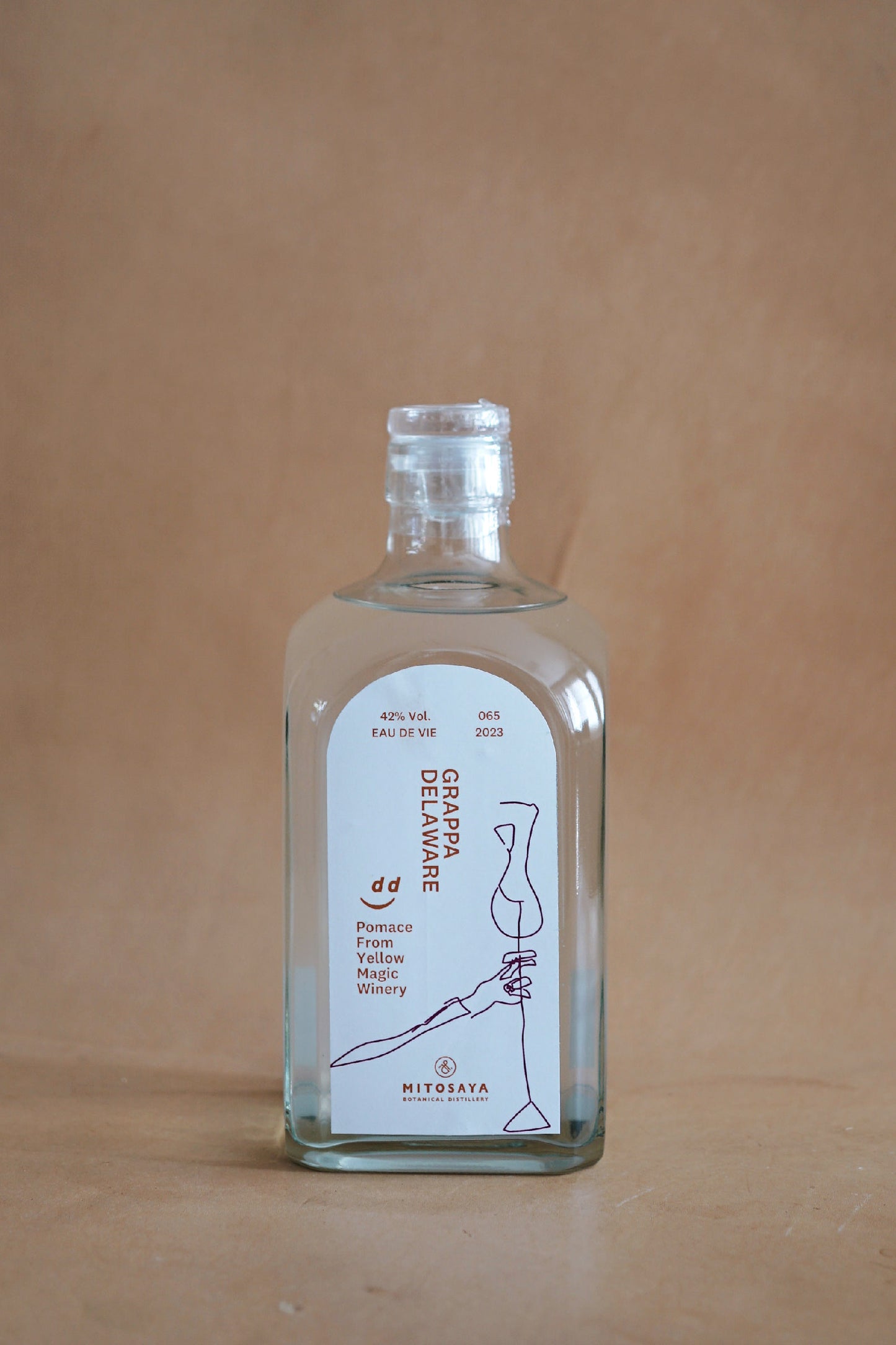 ---
mitosaya薬草園蒸留所
〒298-0216
千葉県夷隅郡大多喜町大多喜486
e-mail. cs@mitosaya.com
tel. 0470 64 6041
mitosaya botanical distillery
486 Otaki, Otaki-machi, Isumi-gun, Chiba 298-0216 Japan
e-mail. cs@mitosaya.com
tel. +81(0)470 64 6041