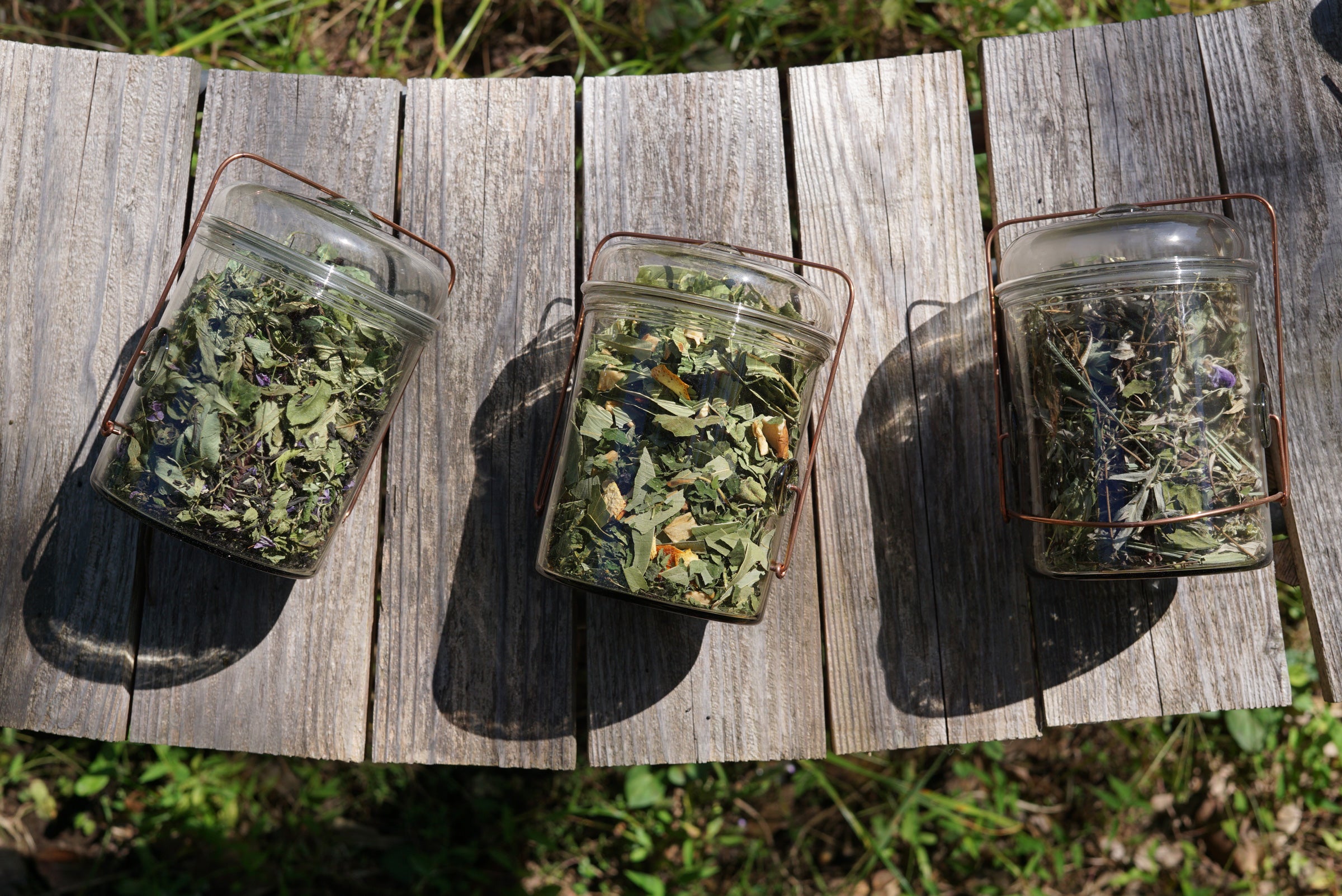 PETER IVY' Coffee Jar with Special Blend Tea
BLUESTAR BOTANICAL BLEND TEA x Coffee Jar (Grey) ¥0 Out of Stock
FIG LEAF AND FRUITS BLEND TEA x Coffee Jar (Green Grey) ¥0 Out of Stock
FERMENTED YOMOGI BLEND TEA x Coffee Jar (Grey) ¥0 Out of Stock
いつもよりたっぷりなサイズのお茶を添えた、ぜひこの美しいガラス作品を手にとっていただきたいです。


富山県にピーター・アイビーのガラスジャーとmitosayaのブレンドティーのセットです。
Coffee Jarは透明感ある美しいガラスに無機質なワイヤーの取り合わせが美しい。
従来のグレーに加えて、
今回のmitosayaとのコラボレーションのために、
Green GreyとJyueki、2つの
特別なカラーを用意いただきました。
BLUESTAR BOTANICAL BLEND TEA x Coffee Jar  (Grey)
アールグレーとミント、萩
大磯のティーブランド「TEHANDEL」のアールグレーに、庭で育ったミントと萩をたっぷりブレンドしたmitosaya の定番ブレンドです。
華やかな茶葉の香りにミントの清々しさ、萩の味わい深さ、飲むたびに体がすっきりと整うような気持ちになれます。
セットのコーヒージャーの色はグレーになります。
仕様
原材料:茶葉(BLUESTAR/TEHANDEL)、ミント、萩
内容量:40g
賞味期限:2024年4月
FIG LEAF AND FRUITS BLEND TEA   x Coffee Jar (Green Grey)
無花果の葉と果実の香りブレンドティー
スタッフのたなべさんのご実家で大切に、農薬も使わずに育てられた無花果の葉っぱを分けていただきました。無花果の青い香りに、mitosayaの庭で採れたシナモンリーフの甘い香りとオレンジの華やかな香りをブレンドしました。
セットのコーヒージャーの色はグリーングレーになります。

仕様
原材料:無花果の葉、シナモンリーフ、リンゴ、ネーブルオレンジの皮、ぶどう
内容量:55g
賞味期限:2024年4月
FERMENTED YOMOGI BLEND TEA x Coffee Jar (Grey)
発酵よもぎブレンドティー
植物を「酸化」させてつくる発酵茶。お茶作りに新たに加わった方法でいろんな植物を試していますが、よもぎはこの発酵で、香りに大きな変化があります。苦味だった香りはふんわりと甘く、飲み口も味わい深く優しいものに。
フレッシュのよもぎは色も形も美しいまま乾かして。レモングラスとアニスヒソップで、甘く爽やかな香りを加えています。
セットのコーヒージャーの色はグレーになります。
仕様
原材料:発酵よもぎ、よもぎ、レモングラス、アニスヒソップ、葛の花
内容量:20g
賞味期限:2024年4月


Peter Ivy's Coffee Jar
素材:独自に調合した色ガラス。
サイズ:φ90 mm x 130 mm
カラー:Grey / 従来のグレー、Green Grey / ワインボトルを溶かして制作したカラー、Jyueki / 樹液のようなアンバーなカラー

注意事項:水とキッチン石鹸で手洗いしてください。作品はひとつひとつ手作りで制作しておりますので、写真やサイズは目安としてご参照ください。
ワイヤーについて:ワイヤーは外側が銅で覆われていますので、経年劣化により落ち着いた黒錆に変化します。これは作家が意図したもので、黒錆に落ち着くことで作品が完成します。ワイヤースポンジなどで磨くと表面の銅が剥げ、中の鉄が表出し、ワイヤーが劣化する原因になりますので磨かずにそのままの風合いをお楽しみください。


お一人様あたり1商品(1サイズ)につき1点まで。
We have packed the bag in quantities to match the size of the Petar Ivy "Coffee Jar".
We invite you to hold this beautiful glass work in your hands, accompanied by a value-sized cup of tea.
Grey / Conventional gray
Green Grey / Color created by melting wine bottles
Jyueki / Amber color like sap
BLUESTAR BOTANICAL BLEND TEA x Coffee Jar (Grey)
Earl Grey and Mint, Hagi
This is a blend of Oiso's "TEHANDEL" Earl Grey tea with a generous amount of mint and hagi grown in the garden. This is mitosaya's standard blend. The fragrance of the tea leaves, the freshness of the mint, and the depth of flavor of the hagi will refresh you every time you drink it.
SPECIFICATIONS
Ingredients:Tea leaves (BLUESTAR/TEHANDEL), mint, hagi
Contents:40g
Shelf life:April 2024
FIG LEAF AND FRUITS BLEND TEA x Coffee Jar (Green Grey)
fig leaf and fruits blend tea
We were given fig leaves carefully grown without using pesticides at the home of Ms. Tanabe, one of our staff members. We blended the blue fragrance of figs with the sweet scent of cinnamon leaves from mitosaya's garden and the gorgeous scent of orange.
SPECIFICATIONS
Ingredients:Fig leaf, cinnamon leaf, apple, navel orange peel, grape
Contents:55g
Shelf life:April 2024
FERMENTED YOMOGI BLEND TEA x Coffee Jar (Grey)
Fermented Yomogi Blend Tea
Fermented tea is made by "oxidizing" plants. We have been experimenting with various plants in this new method of tea making.
Mugwort has a great change in aroma with this fermentation. The bitter aroma becomes soft and sweet, and the taste The taste is more gentle.
Fresh mugwort is dried to keep its beautiful color and shape. Lemongrass and anise hyssop add a sweet and refreshing aroma is added.
SPECIFICATIONS
Ingredients:Fermented mugwort, mugwort, lemongrass, anise hyssop, kudzu flower
Contents:20g
Shelf life:April 2024
Peter Ivy's Coffee Jar
Material: uniquely mixed colored glass.
Size: 90 mm dia. x 130 mm
Color: Grey / conventional gray, Green Grey / color created by melting wine bottles, Jyueki / amber color like sap
(Please indicate in the comments box which color of jar you would like)
Note: Please hand wash with water and kitchen soap. Each piece is individually handmade, so please refer to the photos and sizes as a guide only.
About the wire: The wire is covered with copper on the outside and will turn a subdued black rust as it ages. This is the artist's intention, and the work is complete when it settles to a black rust color. Polishing the wire with a wire sponge or the like will cause the copper on the surface to peel off, revealing the iron inside and deteriorating the wire.

Purchase quantity is limited to one items per product, per size.
Regular price
Sale price
¥0
Unit price
per
In Stock
Out of Stock
View full details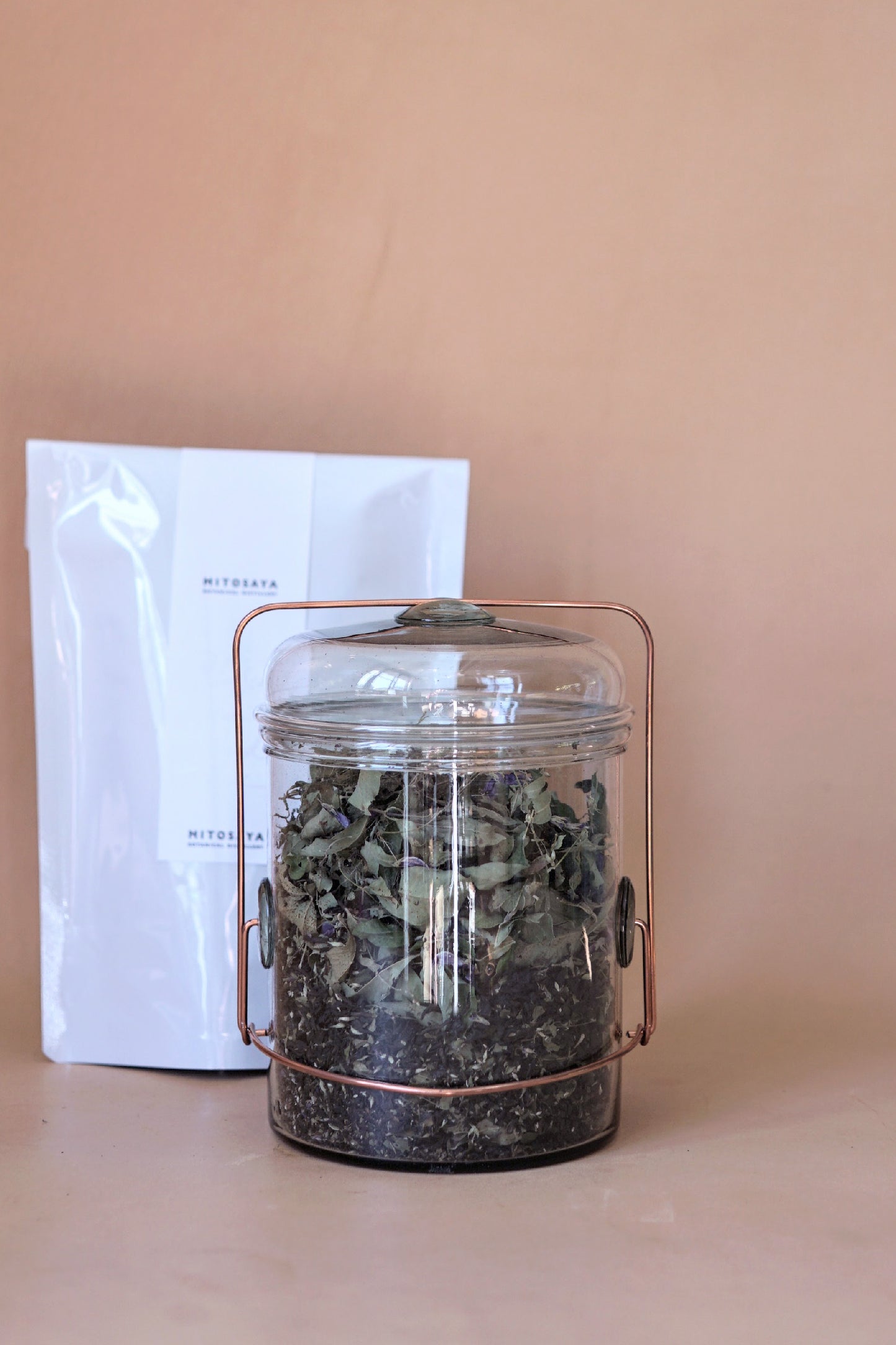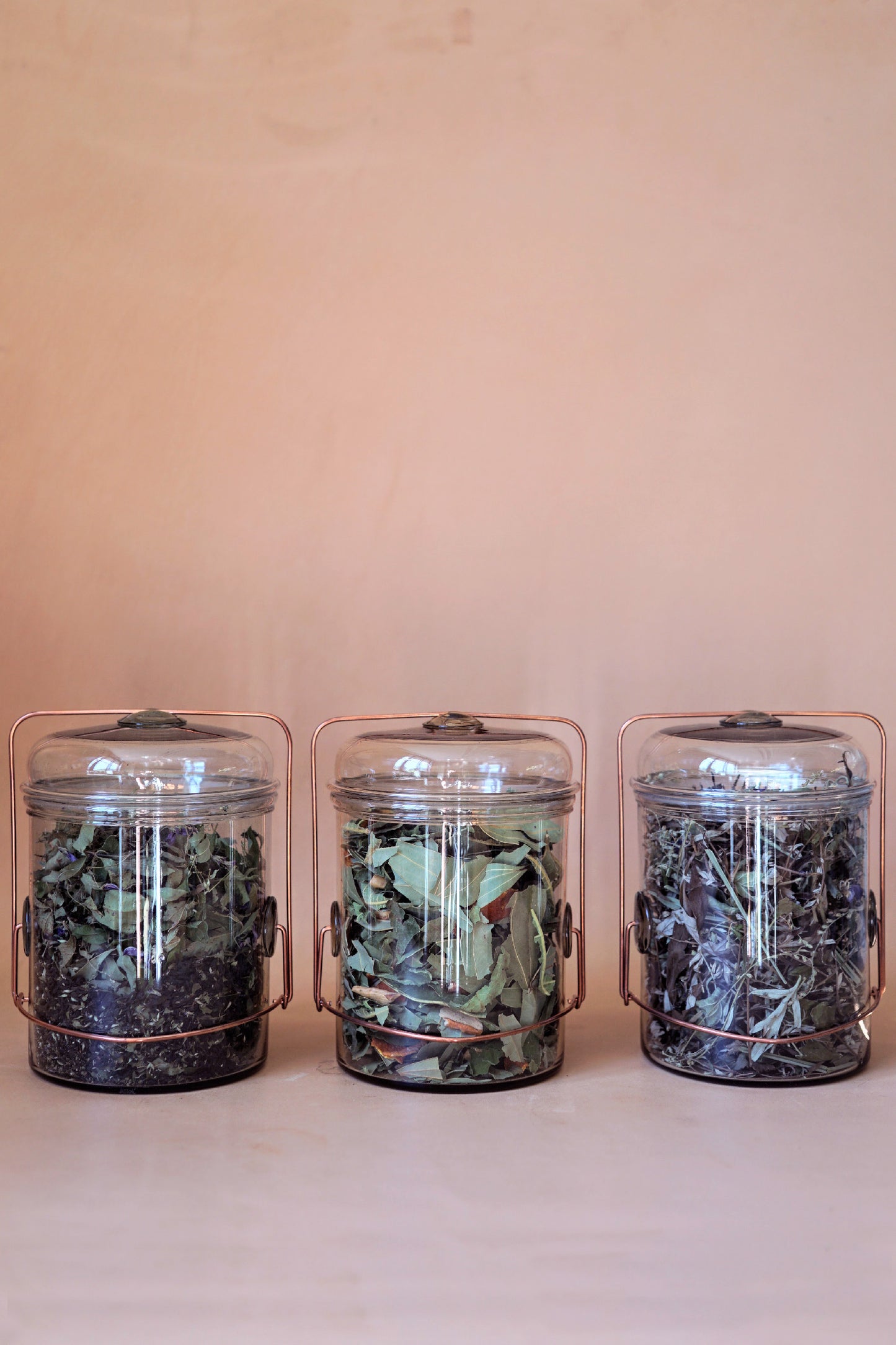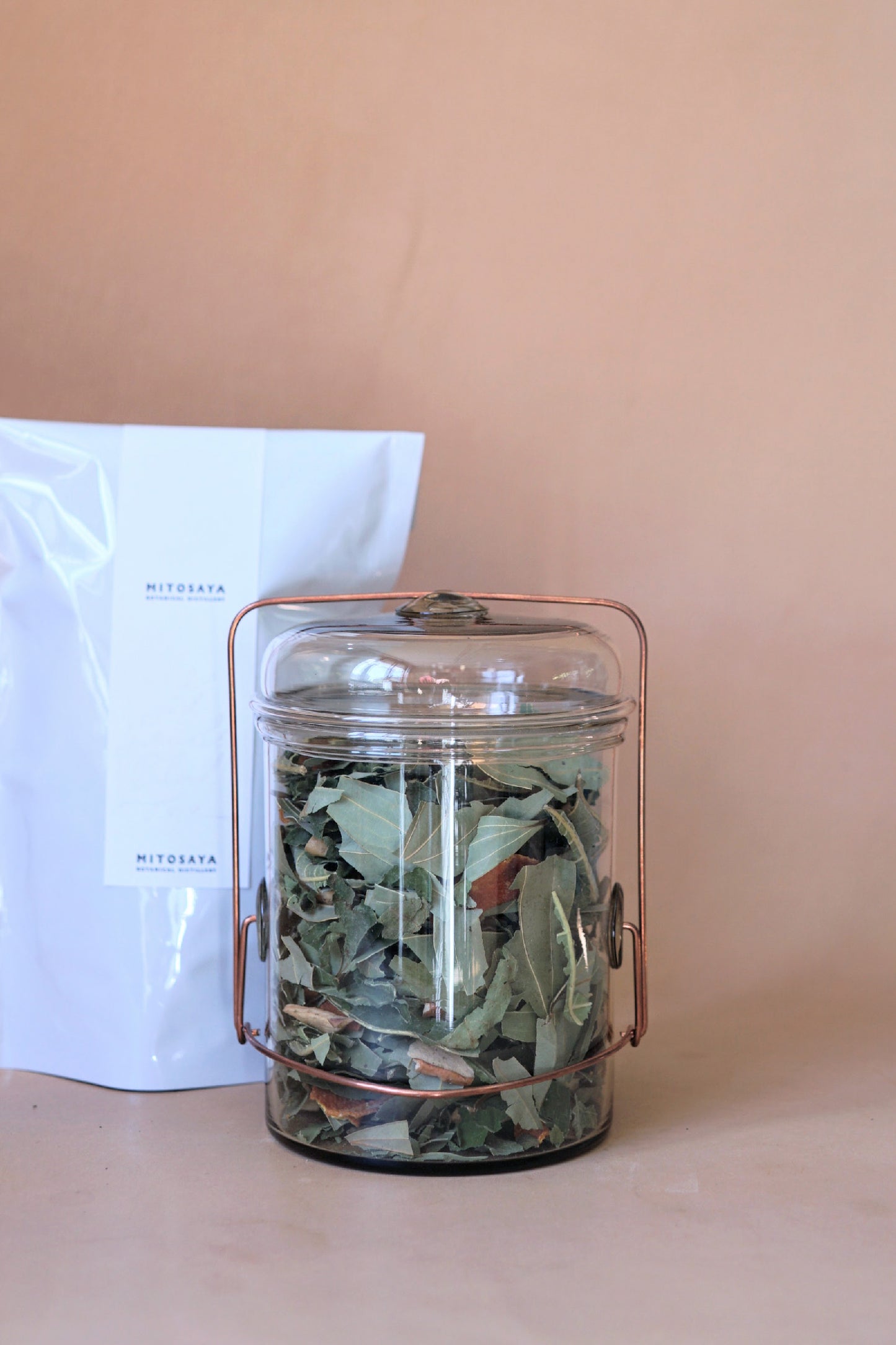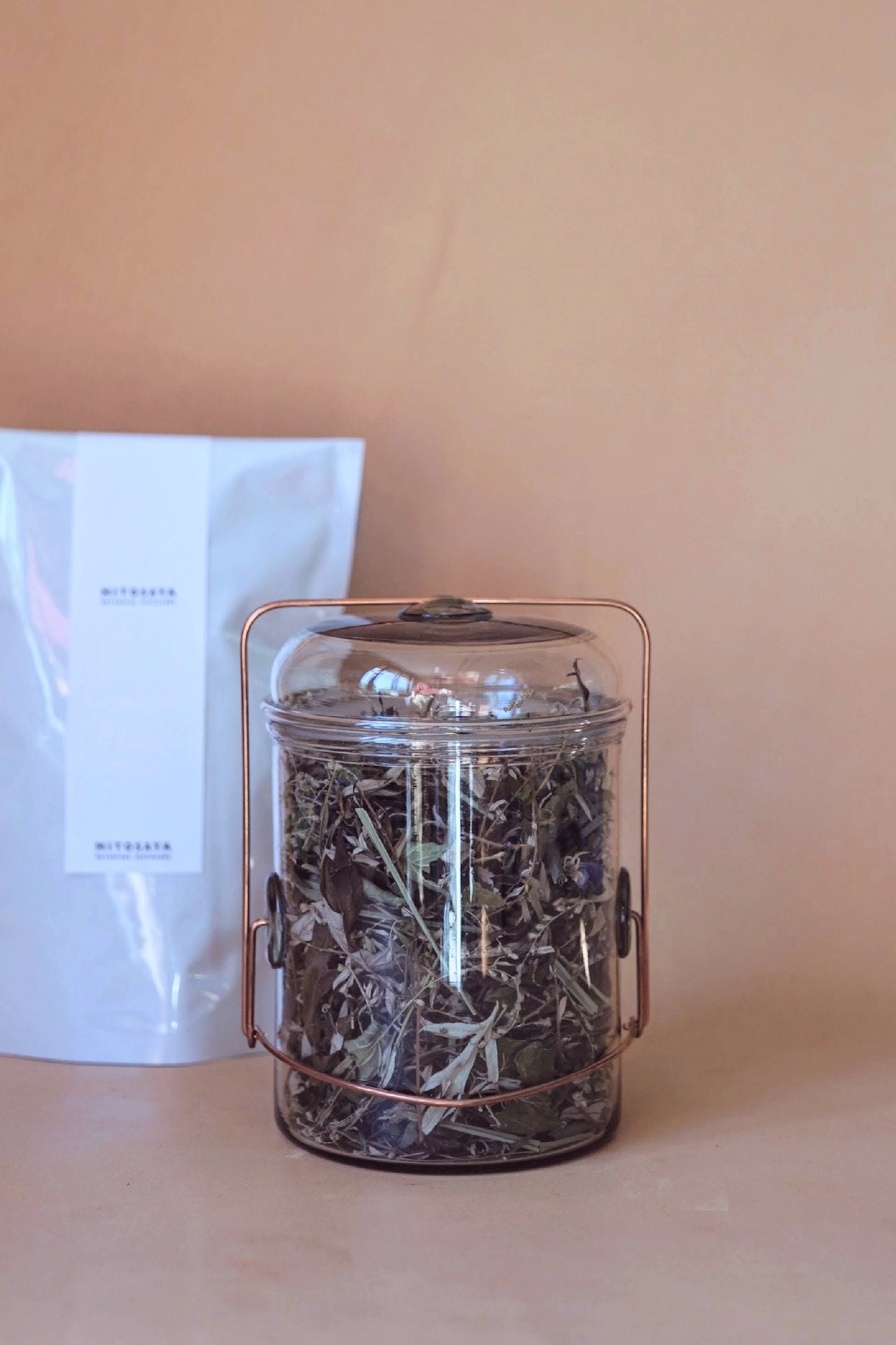 ---
mitosaya薬草園蒸留所
〒298-0216
千葉県夷隅郡大多喜町大多喜486
e-mail. cs@mitosaya.com
tel. 0470 64 6041
mitosaya botanical distillery
486 Otaki, Otaki-machi, Isumi-gun, Chiba 298-0216 Japan
e-mail. cs@mitosaya.com
tel. +81(0)470 64 6041