PLUM AND PASSION FRUIT JAM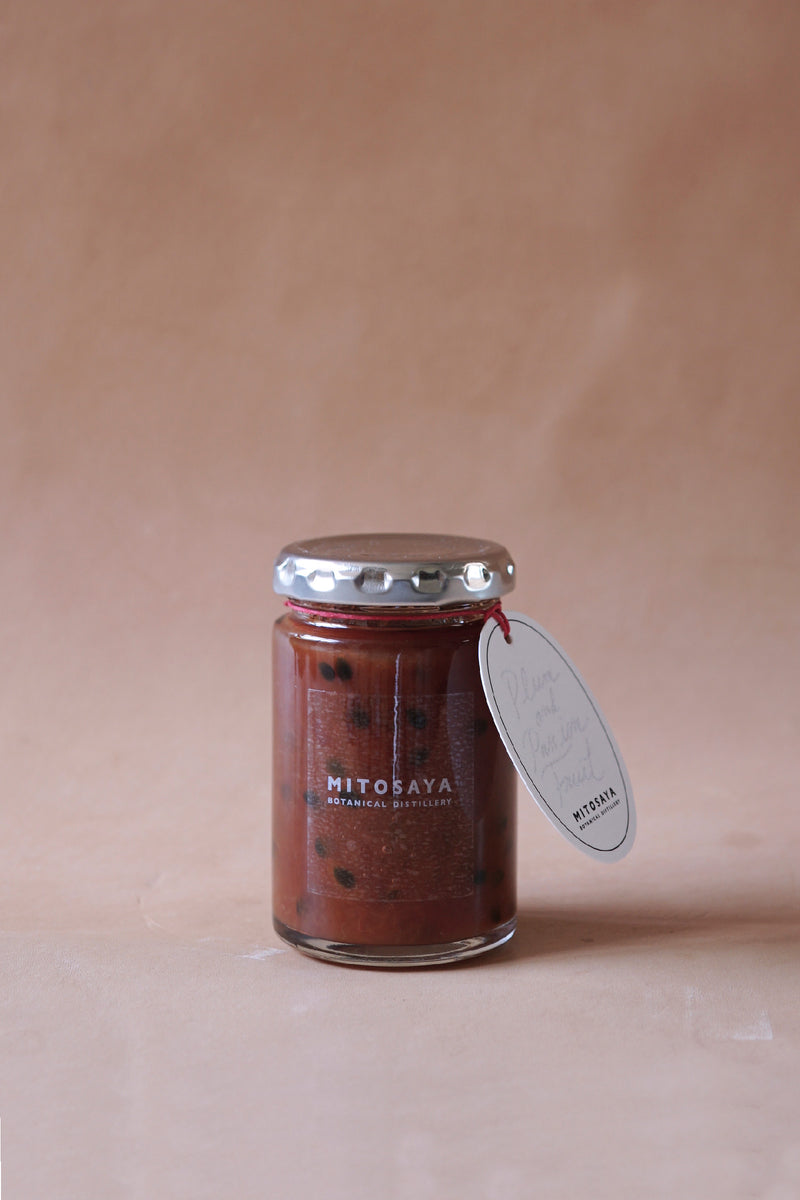 7/30(日)10:00〜販売開始
ある日突然、奄美大島からパッションフルーツが届きました。送り主はいつもmitosayaを手伝ってくださる志賀さんでした。
「旅先で購入したのでみなさんで召し上がってください」と、カジュアルなメッセージとは裏腹に、ダンボール5個分に詰まった大量のパッションフルーツ。
あたり一面を染めてしまうような良い香りが漂います。聞けば、奄美の旅先で豪雨に会い、困っていた志賀さんを助けてくれたのが、このパッションフルーツの農家さんだったとか…。
志賀さんの旅のアクシデントが、このたくさんのパッションフルーツをmitosayaにもたらしてくれたのは幸か不幸か。

前置きが長くなりましたが、この奄美の素晴らしいパッションフルーツをジャムに仕立てました。
場所は違えど同じ時期に実ったばかりの山梨産のプラムを合わせ、赤くて、黒いドット柄が可愛い仕上がりに。かりかりとしたパッションフルーツの種は食感のアクセント、最後に加えた山桃のリキュールが甘くほのかに香ります。
トーストにヨーグルトに、お好みのチーズに、ぜひご活用ください。夏の贈り物としてもぴったりです。
仕様
原材料:プラム(山梨産)、パッションフルーツ(奄美産)、グラニュー糖、「YAMAMOMO」(mitosaya)
内容量:145g
賞味期限:2024年1月

お一人様あたり1商品(1サイズ)につき2点まで。
30 July (Sun.) 10:00 - on sale
One day, we suddenly received passion fruit from Amami Oshima. The sender was Akiko, who always helps us at mitosaya.
Despite the casual message, "I bought these on my trip, so please enjoy them with everyone else," the large amount of passion fruit filled five cardboard boxes.
The aroma was so good that it seemed to color the whole area. It is said that it was a passion fruit farmer who helped Akiko when he was in trouble due to torrential rain during his trip to Amami, Japan,
AKiko accident on her trip brought a lot of passion fruit to mitosaya, fortunately or unfortunately.
I have already mentioned the long story before, but I immediately made jam with these wonderful passion fruits from Amami.
We combined them with freshly harvested plums from Yamanashi, which are from a different place, but at the same time of the year, to make a lovely red jam with black dots. The crunchy passion fruit seeds add a textural accent, and the addition of mountain peach liqueur at the end gives the jam a sweet, subtle aroma.
We hope you enjoy it on toast, in yogurt, and with your favorite cheese. It is also a perfect summer gift.
SPECIFICATIONS
Ingredients:Plum (from Yamanashi), passion fruit (from Amami), granulated sugar, "YAMAMOMO"(mitosaya)
Contents:145g


Purchase quantity is limited to two items per product, per size.
Regular price
Sale price
¥1,188
Unit price
per
In Stock
Out of Stock
View full details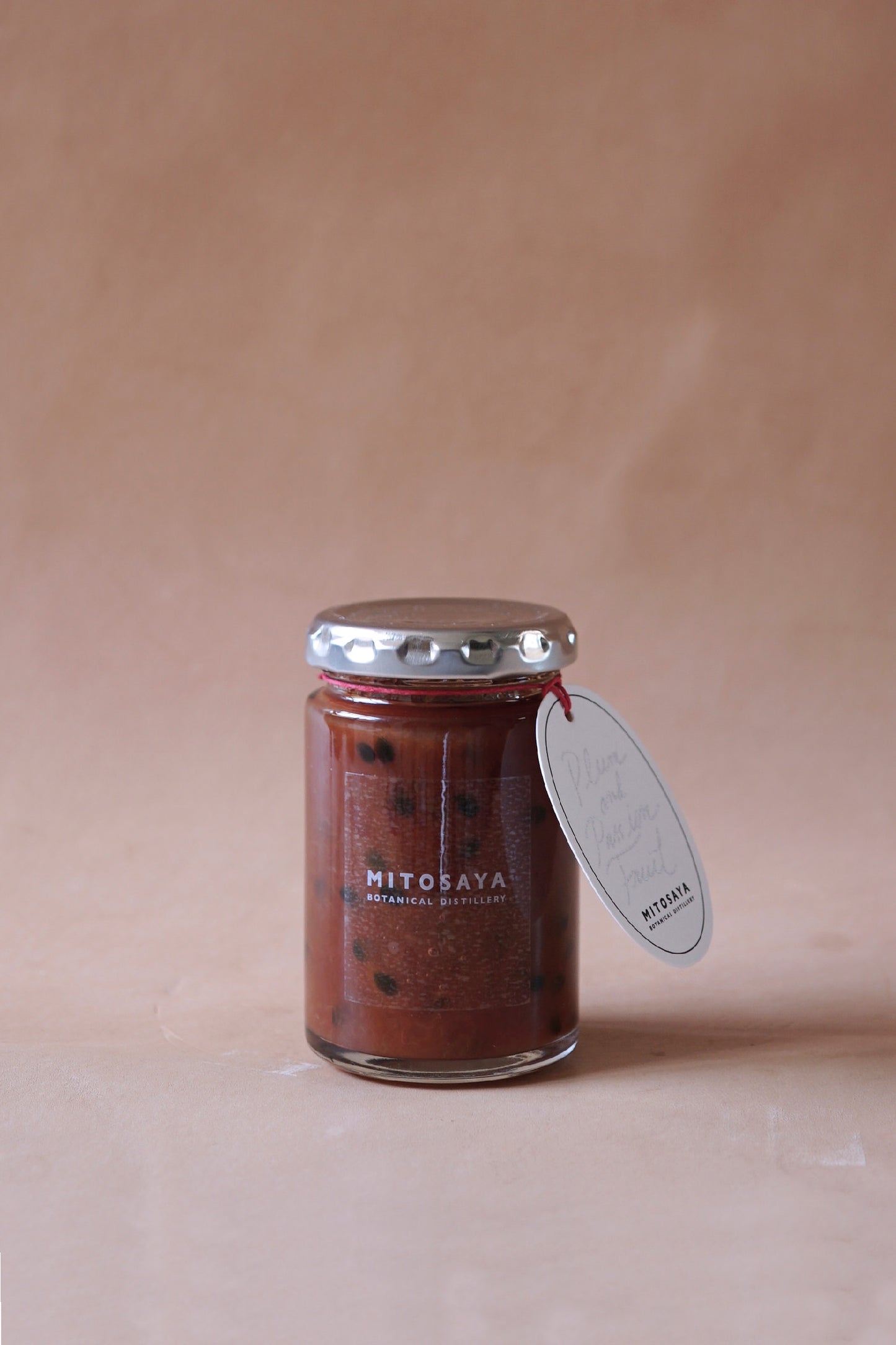 ---
mitosaya薬草園蒸留所
〒298-0216
千葉県夷隅郡大多喜町大多喜486
e-mail. cs@mitosaya.com
tel. 0470 64 6041
mitosaya botanical distillery
486 Otaki, Otaki-machi, Isumi-gun, Chiba 298-0216 Japan
e-mail. cs@mitosaya.com
tel. +81(0)470 64 6041