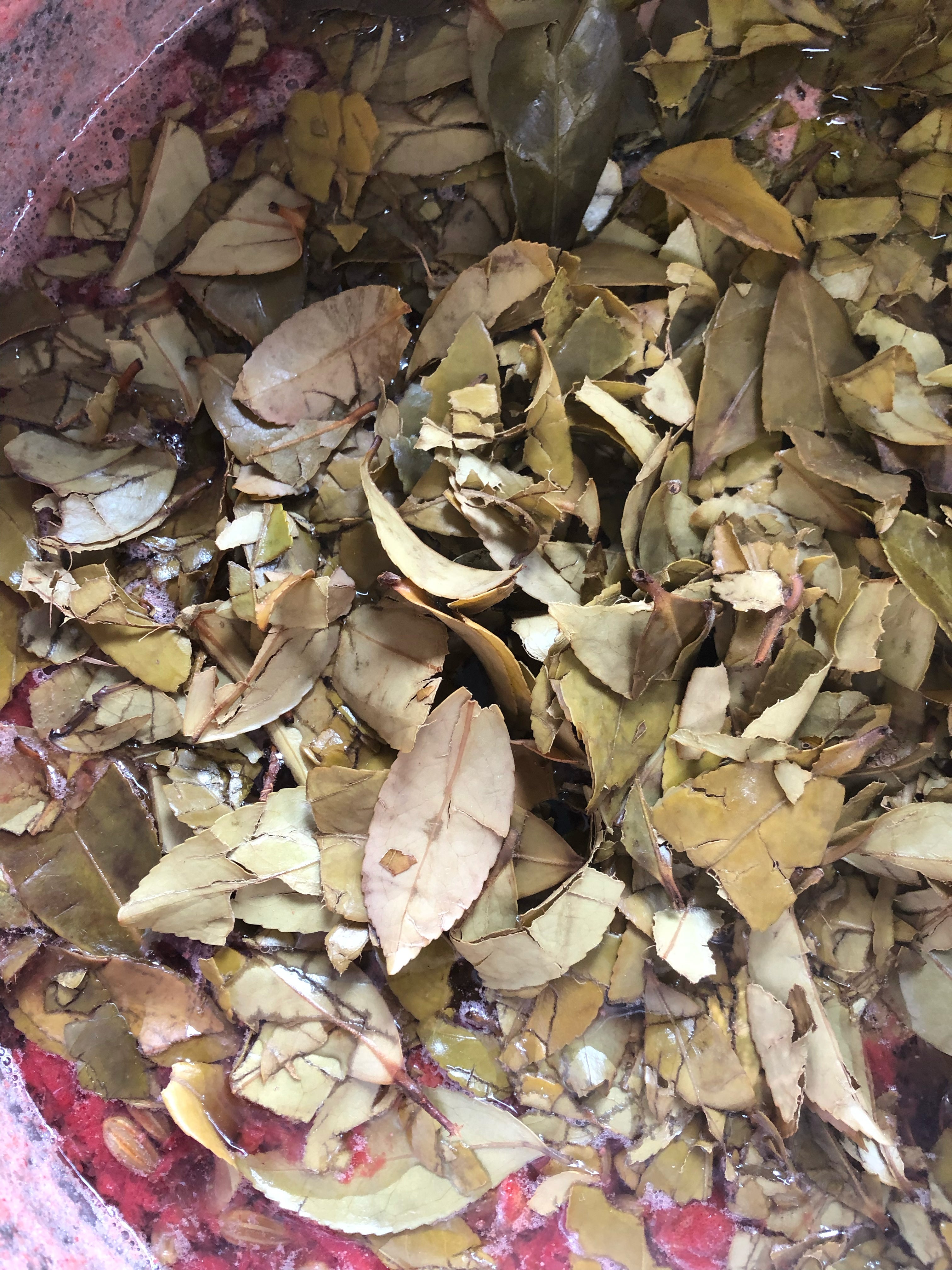 GUMI SAZAMKA MARJORAM SYRUP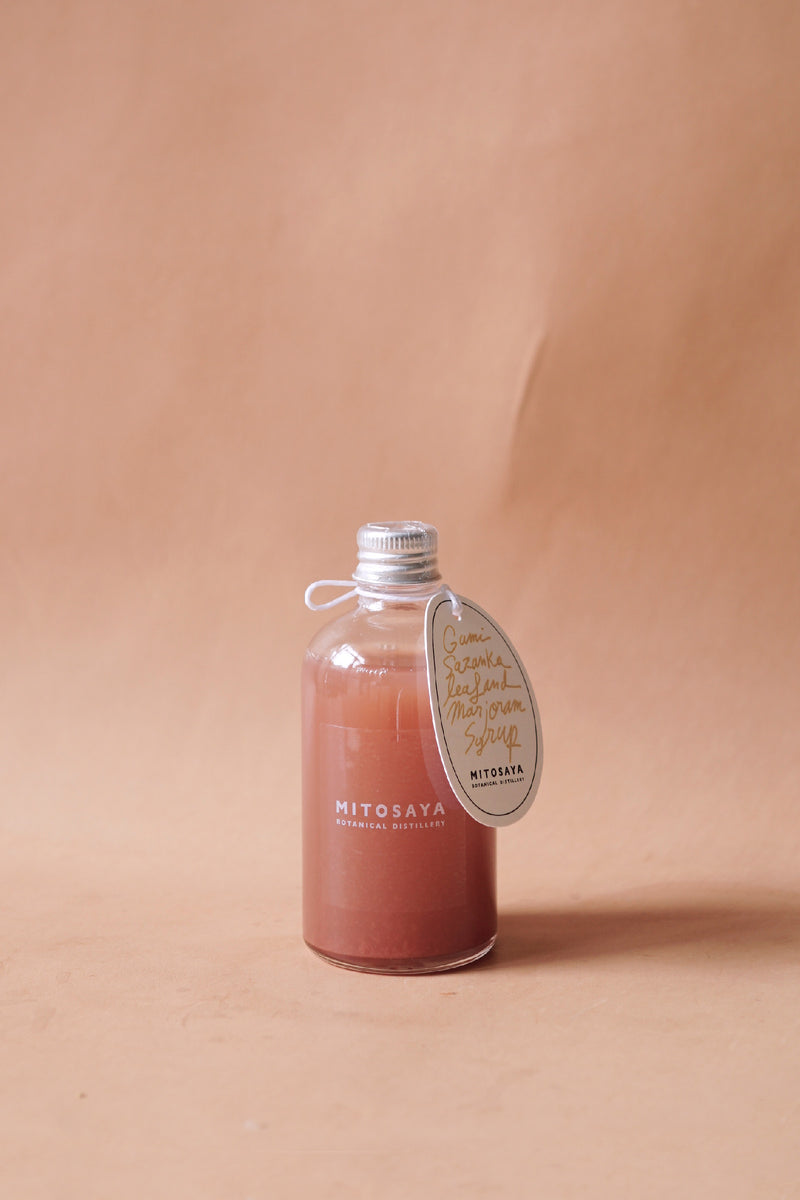 6/25(日)10:00〜販売開始
どこかから飛んできた鳥から落ちた種が、mitosayaに大きなグミの木を育てました。
シルバーベリーとも呼ばれるグミですが、熟する前の銀緑の実は可愛らしく、赤く色がつき、甘く熟すのをまだかまだかと期待させてくれます。
ちょうどその時期にmitosayaにインターンシップで滞在してくれていた、白鳥くんと澤井くんがバケツにたっぷりの量の真っ赤なグミを収穫してくれました。
山茶花の葉の面白さに気づいてくれたのは、澤井くんでした。山茶花の若葉をもみしだいて鼻にちかづけてみると、意外にもその香りはクローブに似ていて、若葉にしかその香りはなさそうです。
早速お茶にして、グミのシロップの香り付けに活用してみました。
アイデアはときに明快で、その時の瞬間を繋いでいけば、案外簡単に答えが出るときがあります。彼らがいた楽しい期間に出来上がったシロップはその瞬間を映してくれるようで、シンプルでありながらも複雑な余韻を残してくれます。
美しいピンク色も目に嬉しく、夏の暑い日には炭酸水と割って冷たくしてお召し上がりください。
サラダやマリネなどのお料理の隠し味にも、シロップは活躍してくれます。
仕様
原材料:グミ、山茶花の葉、マジョラム、グラニュー糖、レモン
内容量:120ml
お一人様あたり1商品(1サイズ)につき2点まで。
25 June (Sun.) 10:00 - on sale
A seed that fell from a bird that flew in from somewhere has grown a large gummy tree in mitosaya.
The silver-green fruits, also called silverberries, are lovely before they ripen, and the reddish color makes us wait for them to ripen to sweetness.
Shiratori and Sawai, who were staying at mitosaya as interns during the same period, harvested buckets full of bright red gummy bears.
It was Mr. Sawai who noticed how interesting the leaves of the santacha flower were. He crushed the young leaves and held them close to his nose. Surprisingly, the aroma was similar to that of cloves, and it seemed that only the young leaves had that aroma.
I immediately made a tea and used it to flavor gummy syrup.
Ideas are sometimes clear-cut, and if you connect the moments, sometimes the answer is easier than you think. The syrups made during the pleasant period they were there seem to reflect that moment, leaving a simple yet complex aftertaste.
The beautiful pink color is also pleasing to the eye, and on a hot summer day, it is best served cold, mixed with sparkling water.
The syrup is also a great secret ingredient in salads, marinades, and other dishes.
SPECIFICATIONS
Ingredients:Gummi, wild tea leaves, marjoram, granulated sugar, lemon
Contents:120 ml
Purchase quantity is limited to two items per product, per size.
Regular price
Sale price
¥1,080
Unit price
per
In Stock
Out of Stock
View full details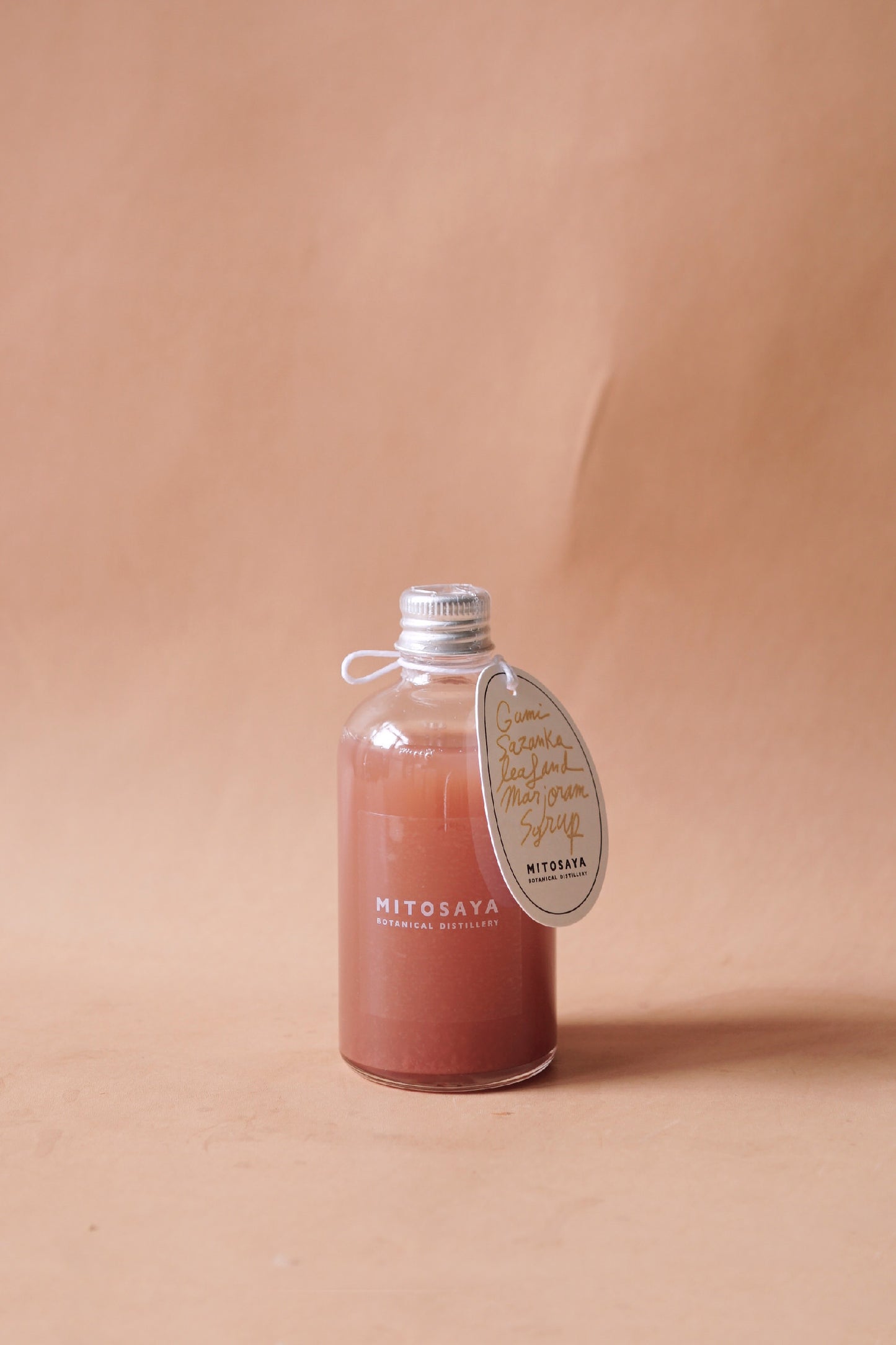 ---
mitosaya薬草園蒸留所
〒298-0216
千葉県夷隅郡大多喜町大多喜486
e-mail. cs@mitosaya.com
tel. 0470 64 6041
mitosaya botanical distillery
486 Otaki, Otaki-machi, Isumi-gun, Chiba 298-0216 Japan
e-mail. cs@mitosaya.com
tel. +81(0)470 64 6041