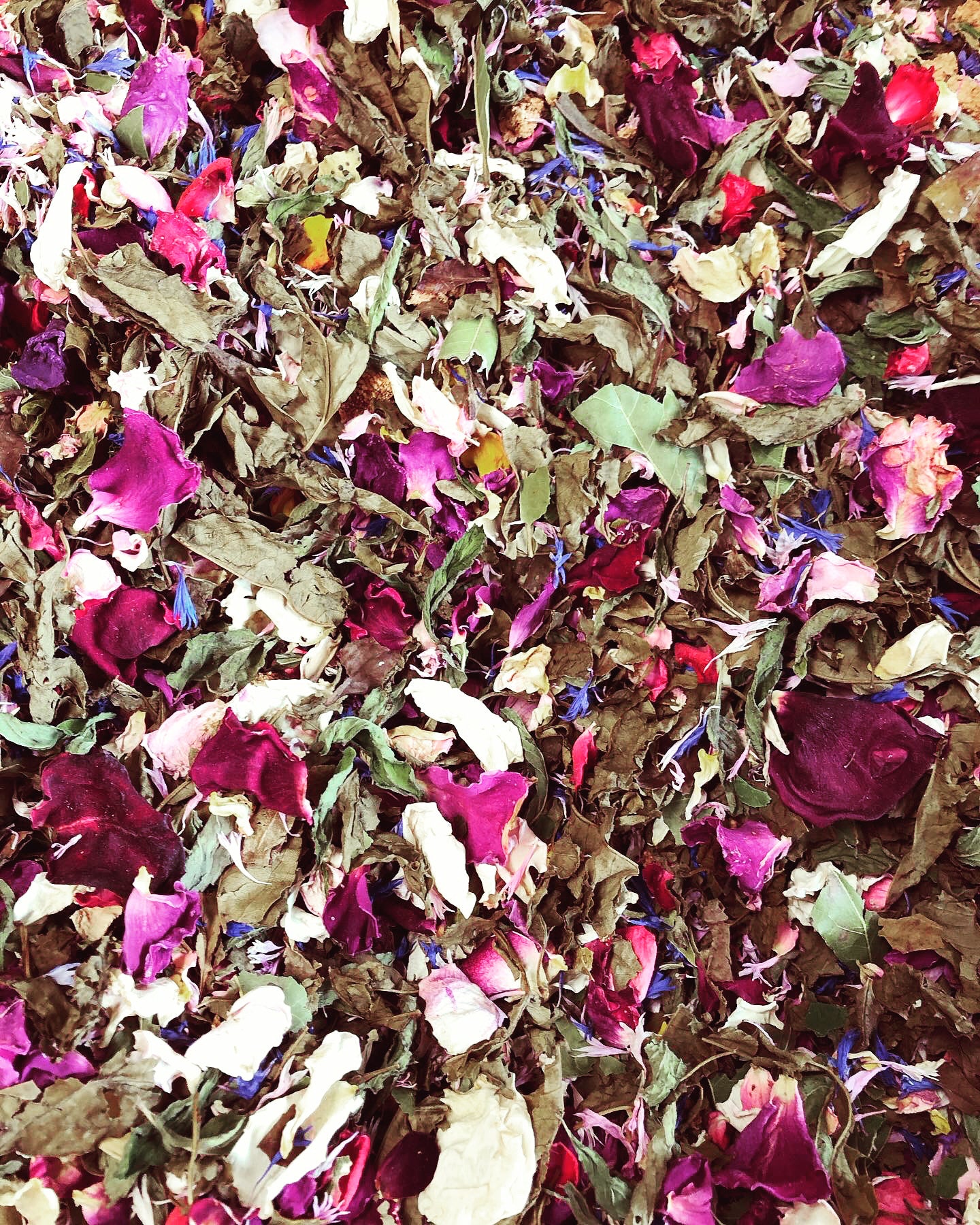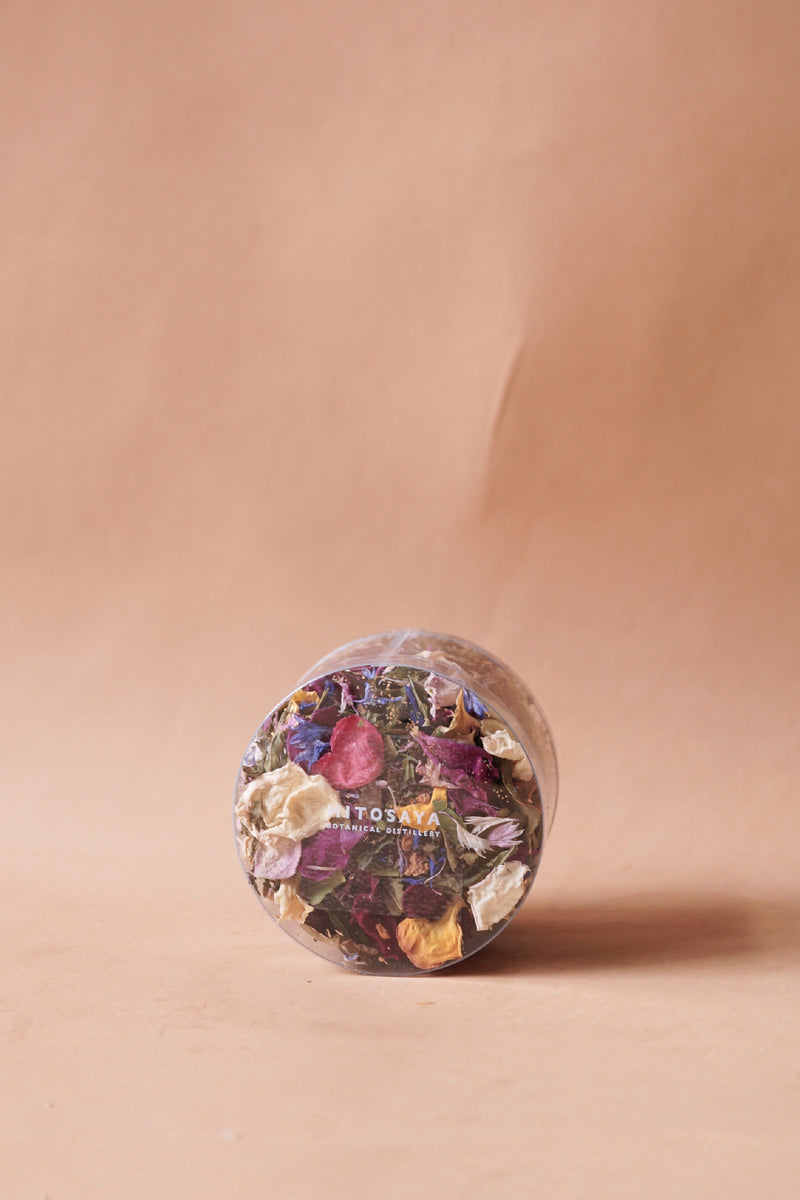 6/25(日)10:00〜販売開始
スタッフの伊藤さんは、毎週金曜日の庭仕事を手伝ってくれる心強い仲間の一人です。ご自宅でも畑を管理したり、ハーブやバラを育てる名人でもある彼女、5月の頃になると、毎週大きなバッグを抱えてやってきて、中から出てくるのは色も形もとりどりのバラの花。丹精込めて育てたバラは、枯れる寸前で摘んであげることが大事だそうで、そのバラをmitosayaに持ってきてくれるのです。
すぐさま花びらをはずして乾燥機で乾かし、色も、香りも美しいバラそのものの状態で保存します。見た目の華やかさを、まずは目で楽しんでいただきたいと思います。
お茶作りの楽しさを教えてくれた、nomaのキャロラインからわけてもらった、花梨のジュースを絞ったあとのパルプが軽やかな酸味を全体に与えてくれました。
わかりやすく「発酵」と呼んではいますが本来は葉のもつ成分を「酸化」させることで起こる変化を楽しむoxidising teaも、mitosayaのお茶作りに欠かせない要素となりました。
毎回、どれ一つとして同じお茶にはならない、mitosayaのお茶はある意味一期一会のようなものです。
ぜひ、その出会いを楽しんでもらえたらと思うのです。
仕様
原材料:バラ(hanapotager/九十九里)、ミント、ローリエ、発酵桃の葉、茶の葉、花梨のパルプ(noma/Denmark)、矢車菊
内容量:18g
お一人様あたり1商品(1サイズ)につき2点まで。
25 June (Sun.) 10:00 - on sale
Hanayo san, a staff member, is one of the encouraging friends who help us with our garden work every Friday. She manages a garden at home and is also a master herb and rose grower.
Around May, She comes in every week with a large bag of roses of all colors and shapes.
Roses of all colors and shapes come out of the bag every week around May. She says it is important to pick the roses just before they wither, and he brings them to mitosaya.
The petals are immediately removed and dried in a dryer to preserve the beautiful color and fragrance of the roses themselves. We want our customers to enjoy the gorgeous appearance of the roses with their eyes.
The pulp from the squeezed juice of the pears, given to me by Caroline of noma, who taught me the joy of tea making, gives a light acidity to the whole.
Although we call it "fermentation" for simplicity's sake, oxidising tea, in which we enjoy the changes that occur by "oxidizing" the components of the leaves, has become an essential element of mitosaya's tea making.
In a sense, mitosaya's teas are like a once-in-a-lifetime encounter, as no two teas are ever the same.
We hope you will enjoy this encounter.
SPECIFICATIONS
Ingredients:rose (hanapotager/Kujukuri), mint, bay leaves, fermented peach leaves, tea leaves, pear pulp (noma/Denmark), arrowroot chrysanthemum
Contents:18g
Purchase quantity is limited to two items per product, per size.
Regular price
Sale price
¥2,160
Unit price
per
In Stock
Out of Stock
View full details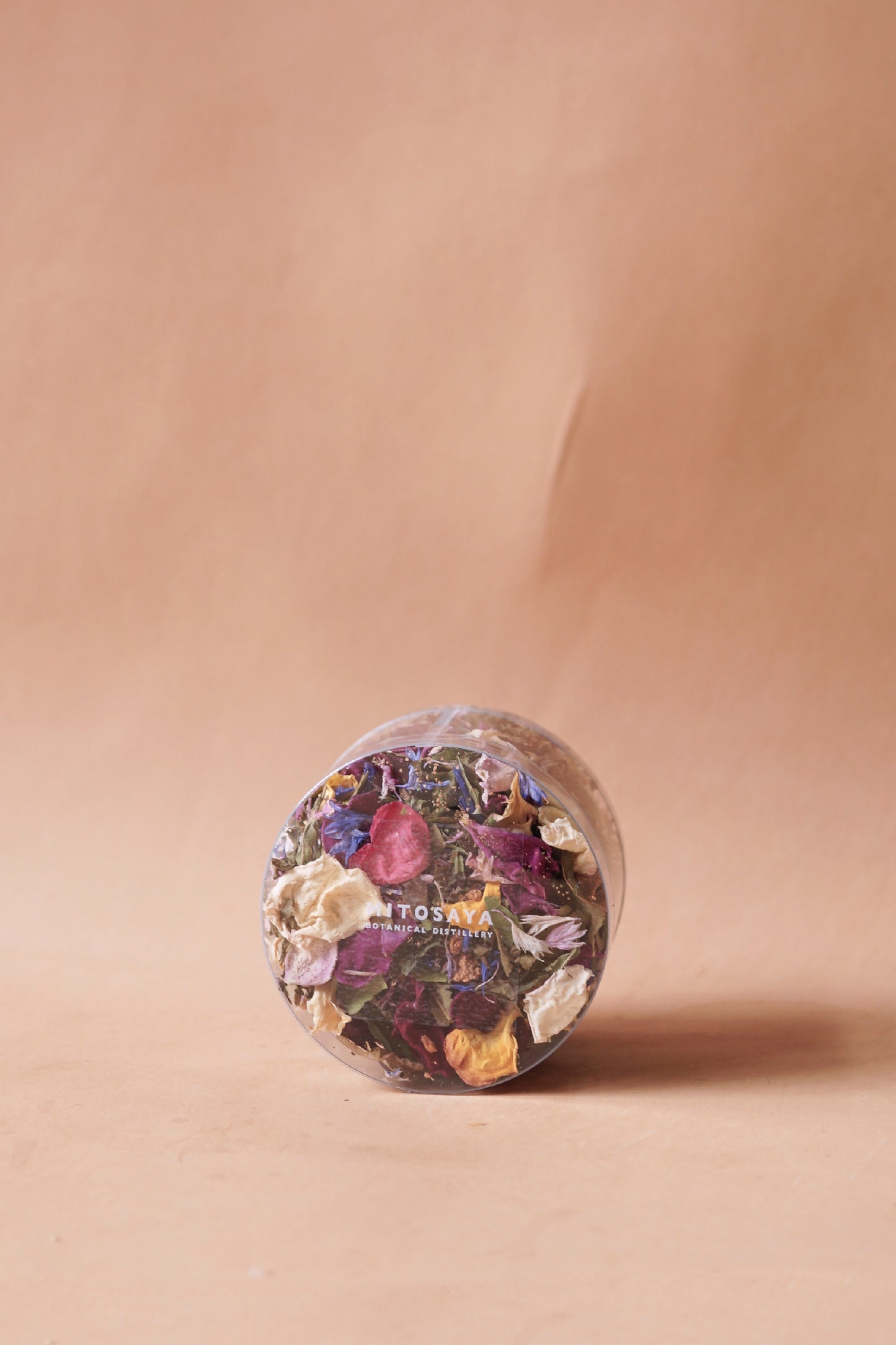 ---
mitosaya薬草園蒸留所
〒298-0216
千葉県夷隅郡大多喜町大多喜486
e-mail. cs@mitosaya.com
tel. 0470 64 6041
mitosaya botanical distillery
486 Otaki, Otaki-machi, Isumi-gun, Chiba 298-0216 Japan
e-mail. cs@mitosaya.com
tel. +81(0)470 64 6041