AMACHA BLEND TEA
15g ¥1,080 Out of Stock
18g ¥1,620 Out of Stock
11/20(日)10:00〜販売開始
甘茶は仏様に差し上げるお茶、あのお茶ですよね。と、甘茶をご紹介するとこんな会話がうまれます。
甘茶の姿は、あじさいにそっくりです。実際にやまあじさいの変種であるとも言われています。あじさいはいわずもがなの毒草として知られていますが、しかし、この甘茶は、発酵させるとお砂糖の何倍もの甘さを感じさせる、不思議に美味しいお茶になるのですから昔の人の知恵はすごいですよね……。お茶としてでなく、民間療法などにも使われていたそうですし、神様の飲み物とも、言われているそうです。
そんな甘茶がmitosayaにあり、発酵は見よう見まねで何年か失敗や成功を繰り返しながら、ようやく良い感じに甘さを引き出せようになってきたのが今年の甘茶ブレンドです。ステビアの甘さよりも、滋味深いあたたかい甘みがあると思っています。
加えたのは冬に体を温めてくれるものばかり、レモン系の香りが親しみやすく、湯気まで癒やされるようなお茶になりました。
ほとんどのハーブがmitosayaの庭、近くで自生しているものなどだけでできています。
私たちが薬草園にいることの証が、このお茶の中に詰まっています。
原材料:甘茶、シナモンリーフ、レモングラス、レモンバーベナ、カワラヨモギ、ヨモギ、ブルーベリーの紅葉、葛の花、秋ウコン、橙
内容量:15g(袋入)/18g(箱入り)


お一人様あたり1商品(1サイズ)につき2点まで。
20 November (Sun.) 10:00 - on sale
Amacha is that tea that is offered to Buddha, isn't it? When we introduce amacha, we have conversations like this.
Amacha looks just like a hydrangea. In fact, it is said to be a variant of the mountain hydrangea. Hydrangea is known as a poisonous plant, of course, but when fermented, this sweet tea becomes a strangely tasty tea that is many times sweeter than sugar, so the wisdom of the ancients is amazing. ...... It is said to have been used not only as a tea but also as a folk remedy, and is said to be the drink of the gods.
We at mitosaya have such sweet tea, and after several years of repeated failures and successes in fermentation, we have finally managed to bring out the sweetness in a good way in this year's sweet tea blend. I believe it has a warm sweetness that is more nourishing than the sweetness of stevia.
The additions are all things that warm the body in winter, and the lemony aroma of the tea is familiar and soothing, even the steam is soothing.
Most of the herbs are from mitosaya's own garden, or from other plants that grow wild nearby.
The proof that we are in a herb garden is in this tea.
Ingredients: Sweet tea, cinnamon leaf, lemongrass, lemon verbena, kawara wormwood, wormwood, blueberry foliage, and mugwort, mugwort, blueberry leaves, kudzu flower, autumn turmeric, orange
Contents: 15g (in a bag) / 18g (in a box)
Purchase quantity is limited to two items per product, per size.
Regular price
Sale price
¥1,080
Unit price
per
In Stock
Out of Stock
View full details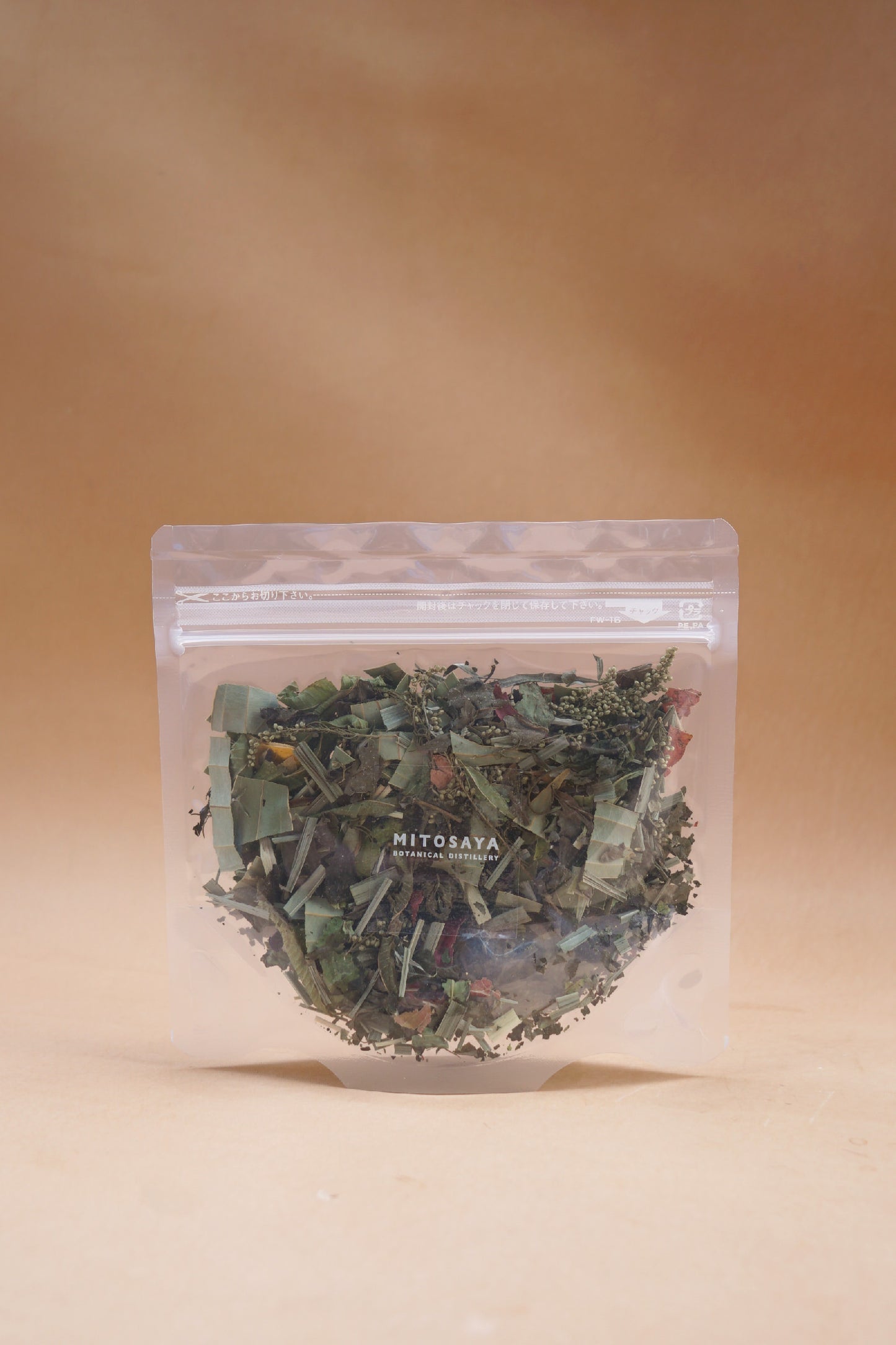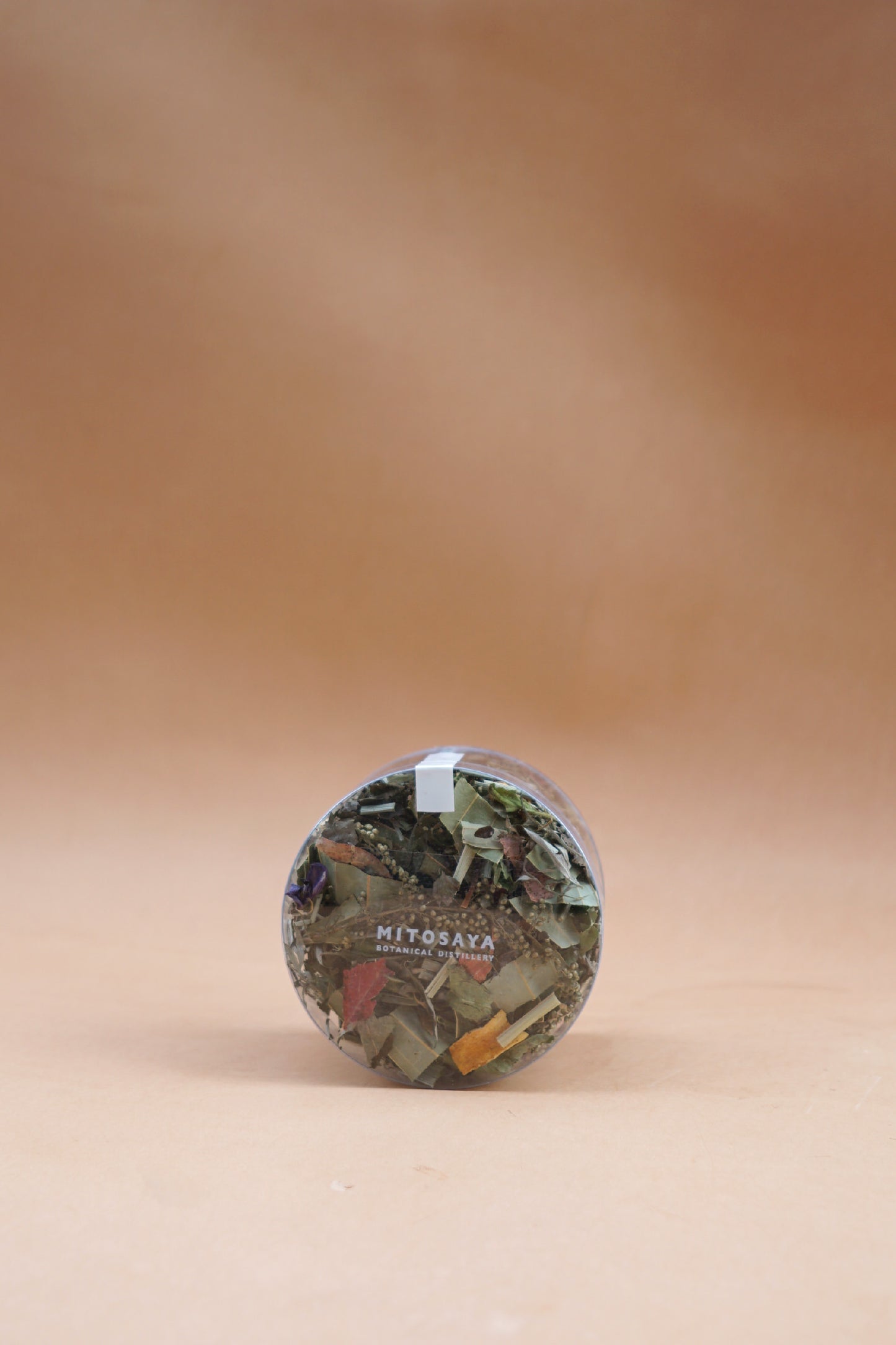 ---
mitosaya薬草園蒸留所
〒298-0216
千葉県夷隅郡大多喜町大多喜486
e-mail. cs@mitosaya.com
tel. 0470 64 6041
mitosaya botanical distillery
486 Otaki, Otaki-machi, Isumi-gun, Chiba 298-0216 Japan
e-mail. cs@mitosaya.com
tel. +81(0)470 64 6041