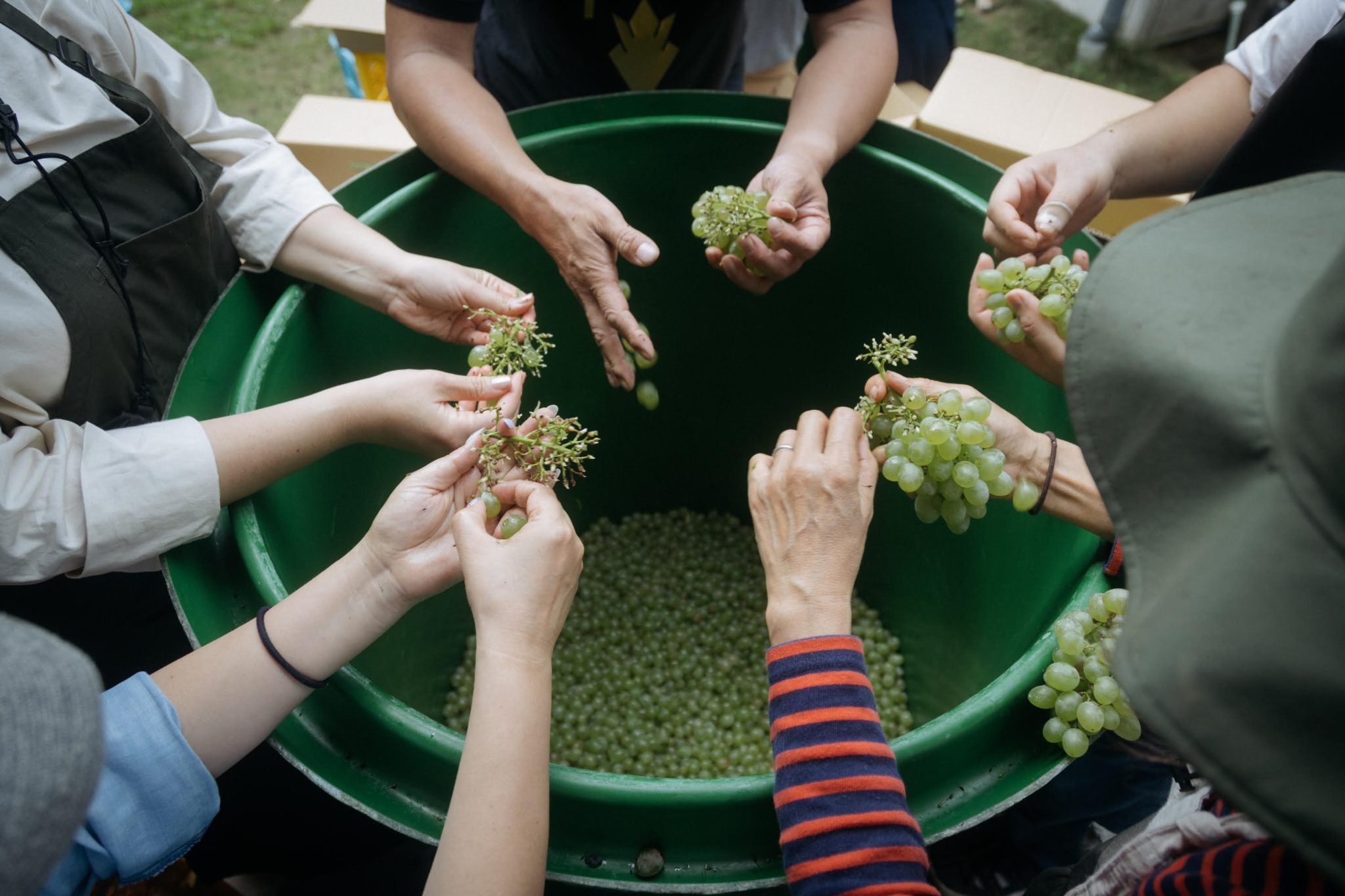 WHITE GRAPE AND HERB CORDIAL SYRUP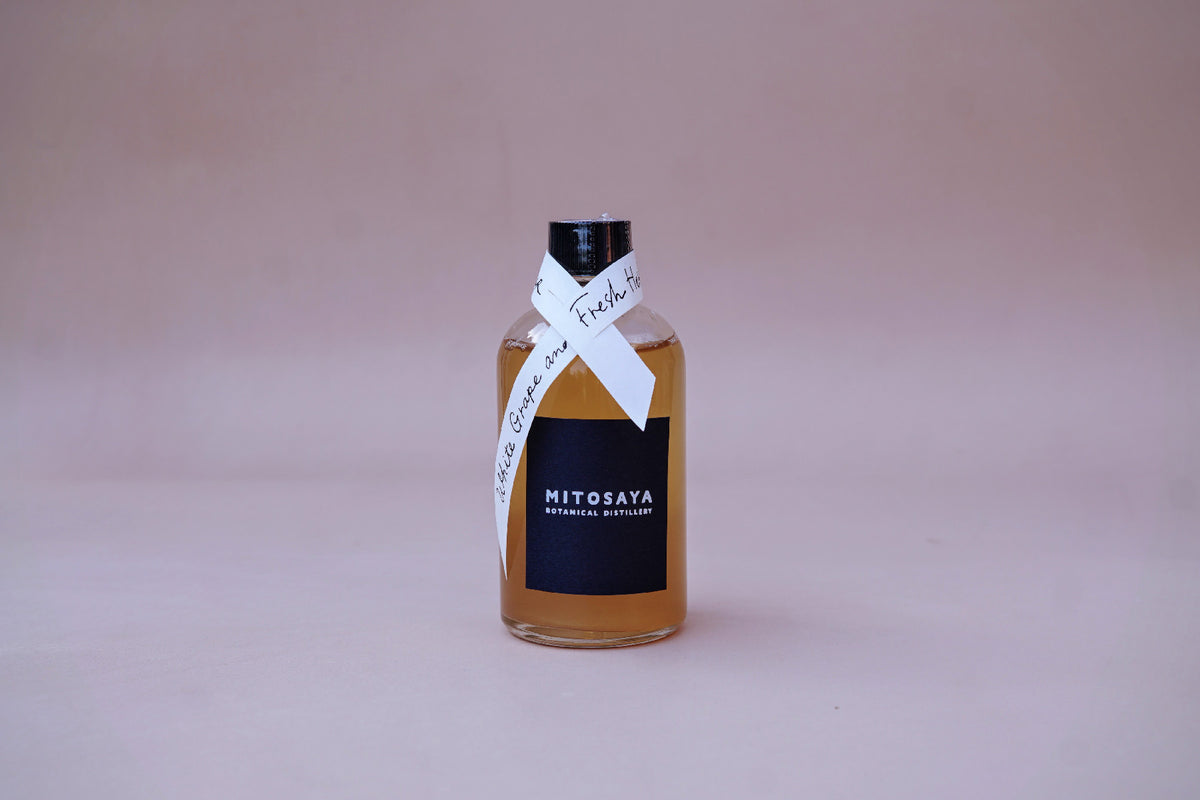 夜の明ける前に出発しスタッフの岸くんと御子神くんが山形まで車を走らせ山形の1トンのぶどうを運んできてくれました。戻ってきたのはもう、日も暮れた頃です。
翌日にはボランティアさんや助っ人をお呼びした大勢でのワインの仕込み。樽の中にぶどうが一粒一粒みんなの手によって積み上げられていきました。除梗するときに気をつけることは、すこしでもはじけてしまっているものや、すこしでも傷んでいるものは、発酵が早く始まってしまうため入れないこと。
一房を手にとり、丁寧にチェックしながらそれらを注意深く取り除くのですが、私にとっては、そのはじかれた実も立派な材料です。早速シロップ作りにとりかかりました。
穏やかな優しい味わいにはすこしシャープな香りを。柑橘に香るハーブをたっぷり加えて、爽やかな輪郭が生まれました。
畑から数えること約2日間で、あっという間にぶどうは蒸留所内の各所に収まっていきました。
炭酸水で割っていただく他、氷をいれてゆっくりと溶かしながら飲むのもおすすめです。レモン系のフレッシュハーブを添えるとより香りが引き立ちます。
内容量:120g
原材料:白ぶどう(ヴェルデレー種/山形)、砂糖、レモンバーベナ、レモンマートル、レモン
We left before dawn and our staff, Kishi and Mikogami, drove to Yamagata to bring us a ton of grapes from Yamagata. It was already late in the day when we returned.
The next day, a large group of volunteers and helpers were invited to prepare the wine. The grapes were stacked one by one in the barrels by the hands of everyone. When de-stemming the grapes, it is important not to put in grapes that have burst or are damaged in any way, as this will cause the grapes to ferment too quickly.
I pick up a bunch of berries and carefully check them to remove them, but for me, the burst berries are also a great ingredient. I immediately set about making the syrup.
I wanted to add a little sharpness to the mild, gentle flavor. I added plenty of citrus-scented herbs to create a refreshing profile.
In about two days, counting from the vineyard, the grapes were quickly stored in various places in the distillery.
We recommend drinking it with soda water or slowly melting it with ice. Garnish with fresh lemon herbs to enhance the aroma.
Contents: 120g
Ingredients: white grapes (Verdelho, Yamagata), sugar, lemon verbena, lemon myrtle, lemon
Regular price
Sale price
¥1,080
Unit price
per
In Stock
Out of Stock
View full details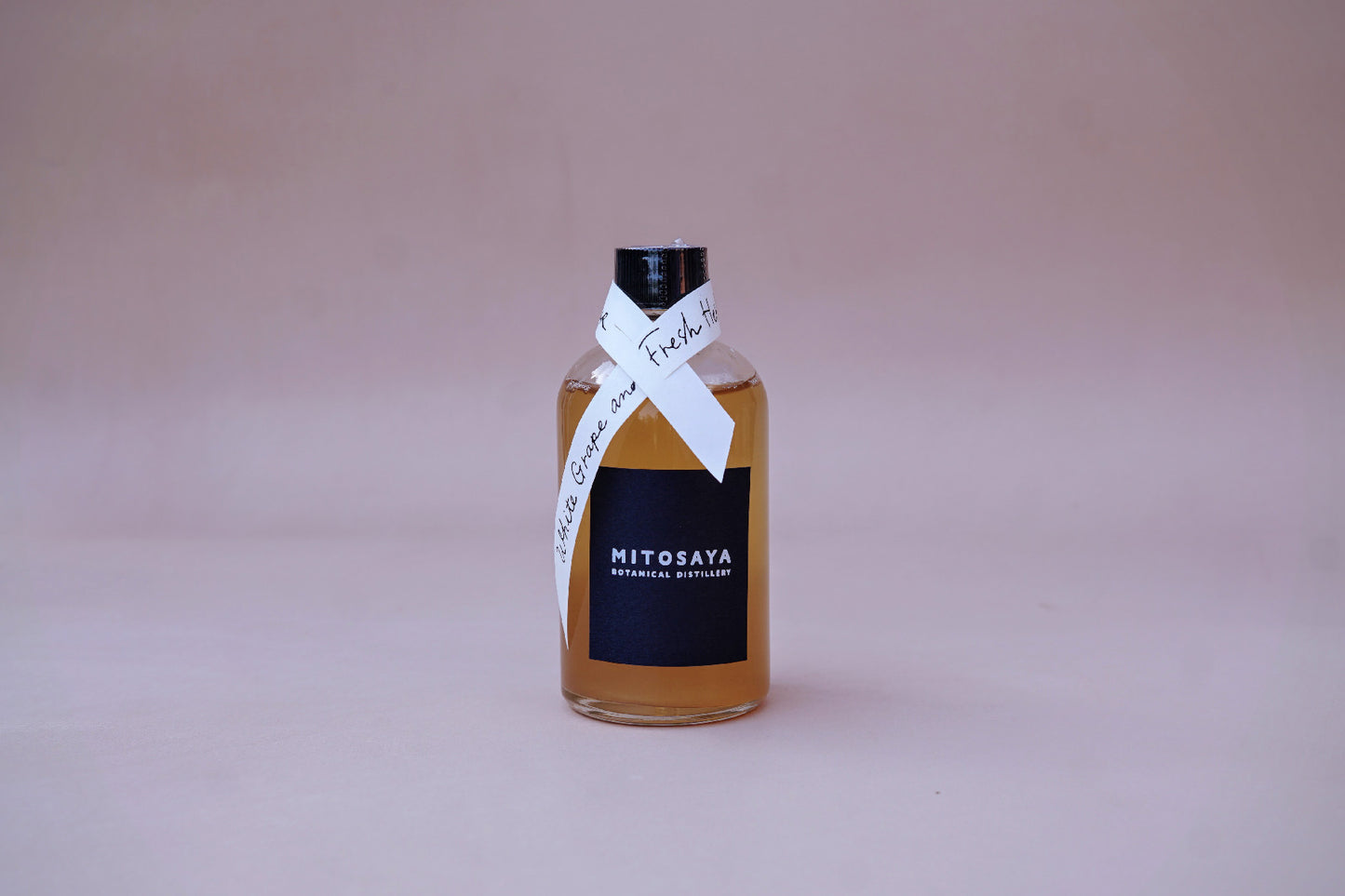 ---
mitosaya薬草園蒸留所
〒298-0216
千葉県夷隅郡大多喜町大多喜486
e-mail. cs@mitosaya.com
tel. 0470 64 6041
mitosaya botanical distillery
486 Otaki, Otaki-machi, Isumi-gun, Chiba 298-0216 Japan
e-mail. cs@mitosaya.com
tel. +81(0)470 64 6041