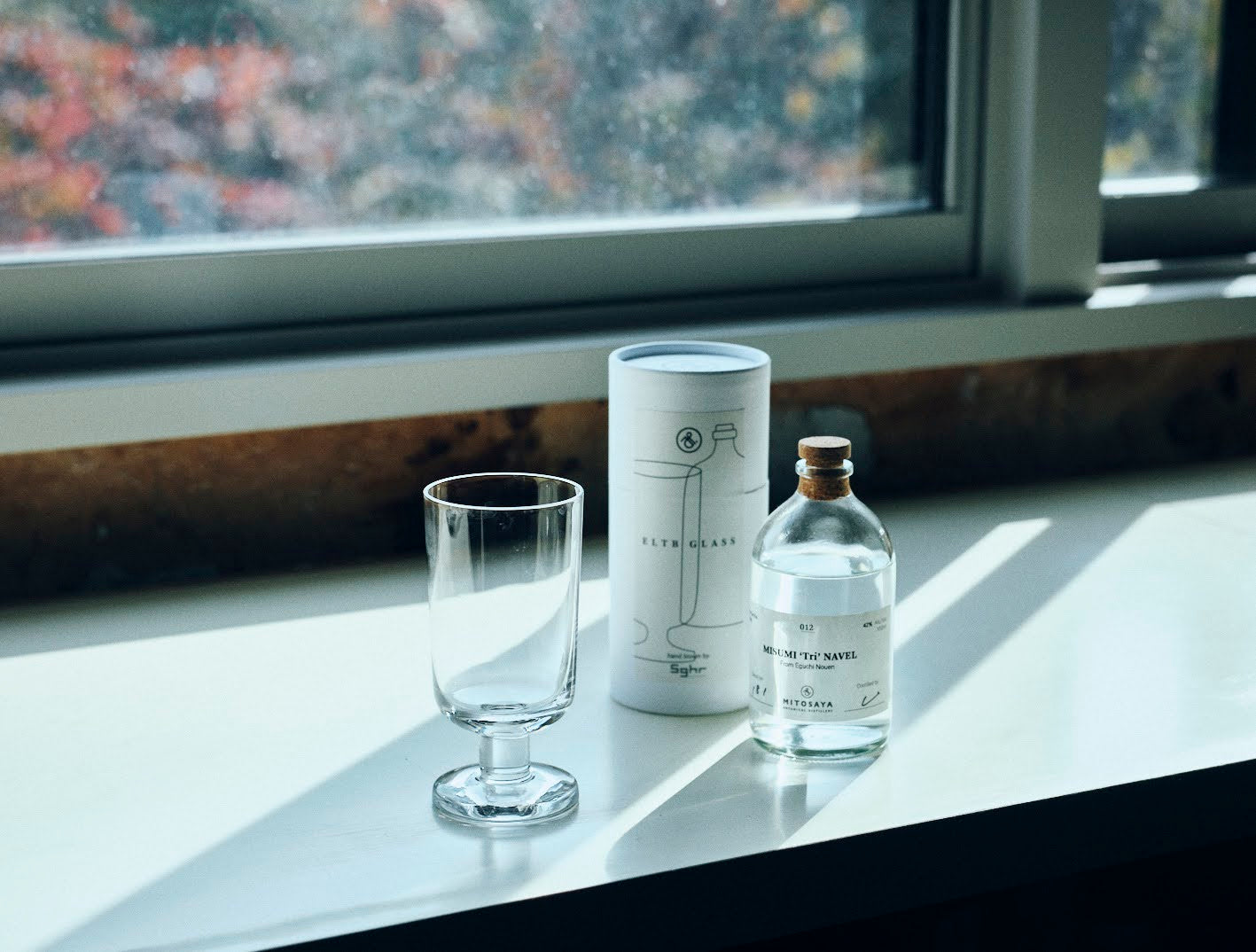 SHOP
0521 OPEN DAY
NEW ARRIVAL
PRODUCT
ELTB GLASS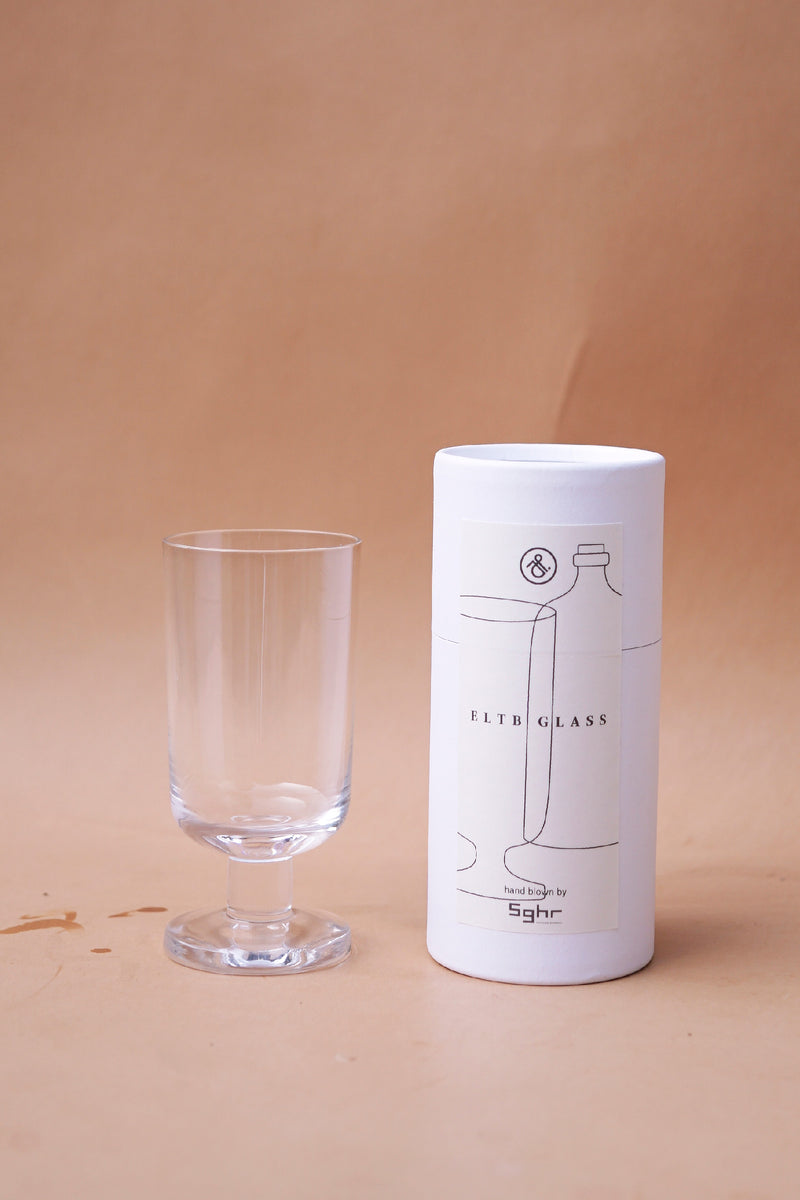 千葉県九十九里にある工房で高品質のガラス製品を製造する、Sghr(菅原工芸硝子株式会社)と作った、mitosayaオリジナルのグラスです。工房で一点一点、職人による手吹き、手作業で仕上げられています。
もともとは、mitosayaのボトルと共に持ち歩けるグラスがあったらとのリクエストから始まったこのプロジェクト。
すでに世の中にたくさんの素晴らしいグラスが存在するのに、どんなグラスがあったらいいのだろう。ボトルを手に、ああでもないこうでもないと思いあぐねていたら、ふと、ボトルをひっくり返した形がまるで脚のついたグラスのように見えてきました。
そのアイデアをもって菅原さんに相談したところ、さっそく試作品を作ってくれました。できるだけ側面は直線で、下のカーブはなだらかに、脚はボトルのように太く厚め。口当たりを考えて飲み口はなるべく薄く。数回のサンプルを経て出来上がったのがこの形です。
BOTTLEをひっくり返して、ELTB GLASSと名付けました。
リムのラインがストレートのため液体が滑らかに流れ、よりダイレクトに味わいが楽しめます。飲み口も広すぎず狭すぎない大きさで、小ぶりな割に深さがあるので、テイスティングや食後酒のグラスにも最適。どこかユーモラスな太く短い脚を包み込むように持つことで、ゆっくりと熱が伝わり香りが立ち上がります。
100mlのボトルと共通の紙のケース入りのため、セットで気軽に連れ出してください。
グラスの底にSghrとmitosayaのロゴが刻印されます。
製造:菅原工芸硝子株式会社
サイズ:口径 50mm、高さ 105mm、重さ 100g
容量:100ml
素材:ソーダガラス
This is a mitosaya original glass made with Sghr (Sugawara Kogei Glass Co., Ltd.), a company that manufactures high quality glass products at its studio in Kujukuri, Chiba Prefecture. Each piece is hand-blown and hand-finished by craftsmen in the studio.
This project originally started with a request for a glass that could be carried around with mitosaya bottles.
There are already so many wonderful glasses in the world, but what kind of glass would be better? With the bottle in my hand, I was pondering over this and that, when I suddenly realized that the upturned shape of the bottle looked like a glass with legs.
I consulted with Mr. Sugawara with this idea, and he immediately made a prototype for me. The sides should be as straight as possible, the bottom curve should be gentle, and the legs should be thick like a bottle. The legs should be thick and thick like a bottle, and the mouth should be as thin as possible. After several rounds of samples, we came up with this shape.
We turned the bottle upside down and named it ELTB GLASS.
The rim line is straight, so the liquid flows smoothly and you can enjoy the flavor more directly. The mouth is neither too wide nor too narrow, and it is deep enough to be used as a glass for tasting or after-dinner drinks. By holding it as if wrapping the thick and short legs, which are somewhat humorous, the heat is slowly transferred and the aroma rises.
It comes in the same paper case as the 100ml bottle, so feel free to take it out as a set.
The Sghr and mitosaya logos will be imprinted on the bottom of the glass.
Manufactured by: Sugawara Kogei Glass Co.
Size: 50 mm in diameter, 105 mm in height, 100 g in weight
Capacity: 100ml
Material: Soda glass
Regular price
Sale price
¥6,600
Unit price
per
In Stock
Out of Stock
View full details
---
mitosaya薬草園蒸留所
〒298-0216
千葉県夷隅郡大多喜町大多喜486
e-mail. cs@mitosaya.com
tel. 0470 64 6041
mitosaya botanical distillery
486 Otaki, Otaki-machi, Isumi-gun, Chiba 298-0216 Japan
e-mail. cs@mitosaya.com
tel. +81(0)470 64 6041