143 BLOOD ORANGE
Fully Ripe Organic Tarocco from Omishima
44.0% vol
110ml ¥2,200 Out of Stock
500ml ¥9,680 Out of Stock
愛媛県の最北、瀬戸内海しまなみ海道の中継地点に位置する大三島で、オーガニックで柑橘栽培を手掛ける中川農園の、JAS有機ブラッドオレンジ、タロッコ種を使ったオー・ド・ヴィー。
ブラッドオレンジの赤い色の果肉に含まれる成分はアントシアニンによるもの。アントシアニンはポリフェノールの一種で、赤ワインの成分でもおなじみ。また酵母と反応して、ジアセチルという香り成分を生み出すことでも知られています。
昨年の夏の水不足による乾燥、その後の急激な雨による急成長のために、皮が割れてしまったブラッドオレンジを引き取らせてもらいました。
割れてしまった皮から除く果肉部がが赤くなり、ちょっとしたホラーのよう。しかし、それこそが今回のポイント。太陽の光をいっぱいに浴びたブラッドオレンジはより一層赤くなり、豊かな香りを生み出します。
皮をむいたフルーツは、搾汁したジュースとともに丸のままタンクに入れ、マセラシオンカルボニックによるフルーティな香りを引き出します。一週間後に7割程度潰したのちに櫂入れすると旺盛な発酵が始まります。加糖は行わず、ほぼ完全に発酵が終わるまで約一ヶ月見守った後に蒸留しました。
一方のピールについては、ライススピリッツに浸漬したあとに蒸留。ステンレスタンクで熟成させた後に、フルーツ部分のオー・ド・ヴィーとブレンドしました。
mitosayaを始める際に一つの目標にしていたStählemühleの Sizilianische Blutorange<Moro>(シチリア・ブラッドオレンジ「モロ種」)に少し近づけた気がします。
太陽の下で少し冷やしてストレートでどうぞ。
仕様
品目:ブランデー
スタイル:オー・ド・ヴィーとスピリッツのブレンド
原材料:ブラッドオレンジ(タロッコ種)(愛媛県産)、ライススピリッツ
アルコール度数:44%
酵母:天然酵母
容量:110ml / 500ml
アートワーク:サム・ゲンデル / マルセラ・チトリノヴィッチ
お一人様あたり1商品(1サイズ)につき2点まで。
This eau-de-vie is made from JAS organic blood oranges of the Tarocco variety from Nakagawa Farm, an organic citrus grower on Omishima Island, located in the northernmost part of Ehime Prefecture, a stopover point on the Seto Inland Sea's Shimanami Sea Route. The red color of the blood orange pulp is due to anthocyanins. Anthocyanin is a type of polyphenol, and is also a well-known component of red wine. It is also known to react with yeast to produce diacetyl, an aroma component.
Due to the dryness caused by the lack of water last summer and the subsequent rapid growth caused by the sudden rains, we were allowed to take in blood oranges whose peels had cracked.
The pulp, except for the cracked peel, turned red and looked a bit like a horror story. But that was the point this time. Blood oranges that have been exposed to the full light of the sun become even redder and produce a rich aroma.
The peeled fruit is placed whole in the tank with the pressed juice to bring out its fruity aroma through maceration carbonic. After a week, the fruit is about 70% crushed and paddled to start a vigorous fermentation. No sugar was added, and the wine was distilled after about a month of waiting for the fermentation to be almost complete.
The peel, on the other hand, was distilled after maceration in rice spirits. After aging in stainless steel tanks, it was blended with the eau-de-vie of the fruit portion.
I think we came a little closer to Stählemühle's Sizilianische Blutorange (Sicilian blood orange "Moro" variety), which was one of our goals when we started mitosaya.
Serve straight, slightly chilled in the sun.
SPECIFICATIONS
Type:Brandy
Style:Blend of eau-de-vie and spirits
Ingredients:Blood orange (Tarocco type) (Ehime), rice spirits
Alcohol content: 44%.
Yeast: Natural yeast
Volume:110ml / 500ml
Artwork : Sam Gendel / Marcella Cytrynowicz
Purchase quantity is limited to two items per product, per size.
Regular price
Sale price
¥2,200
Unit price
per
In Stock
Out of Stock
View full details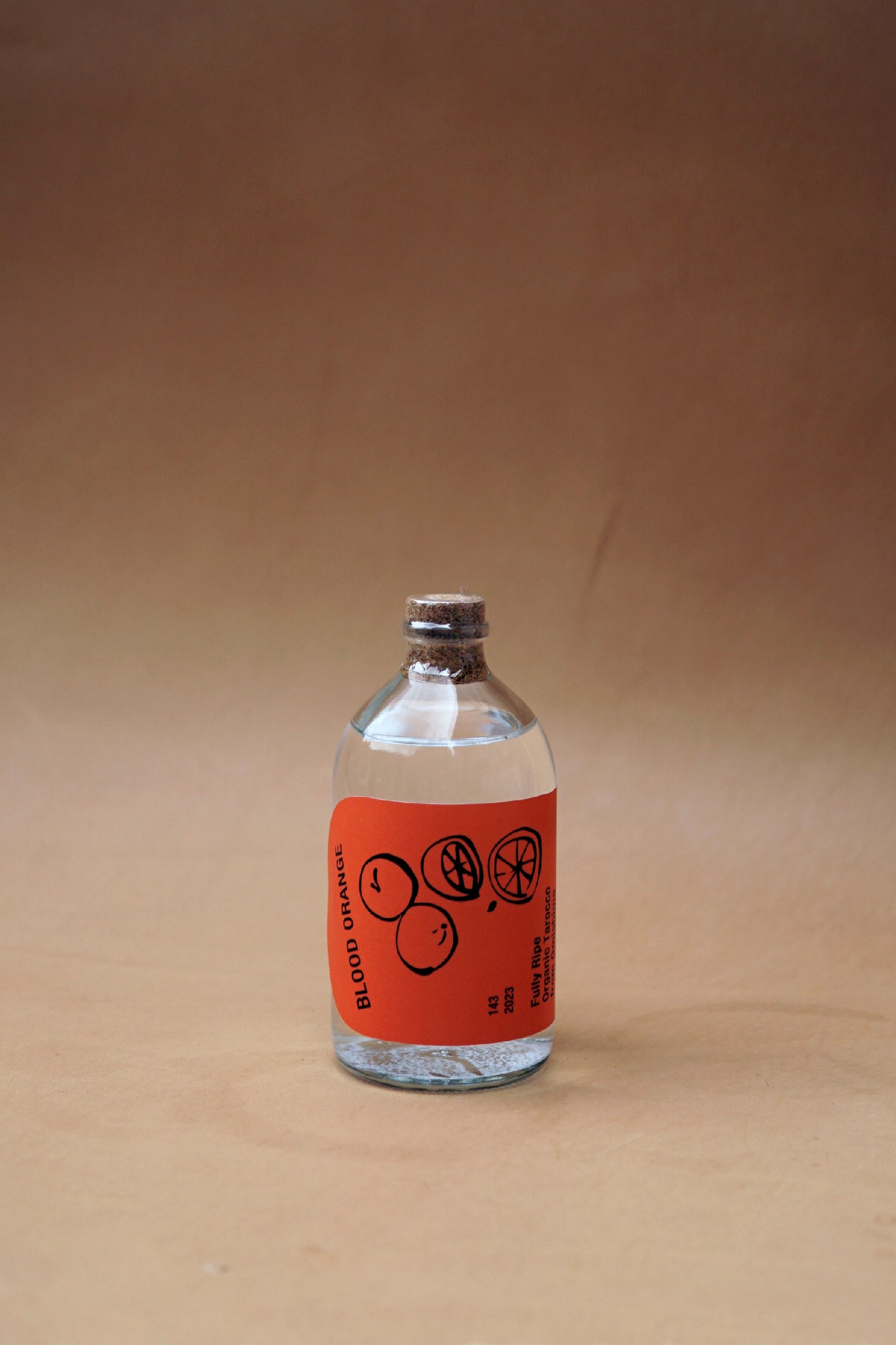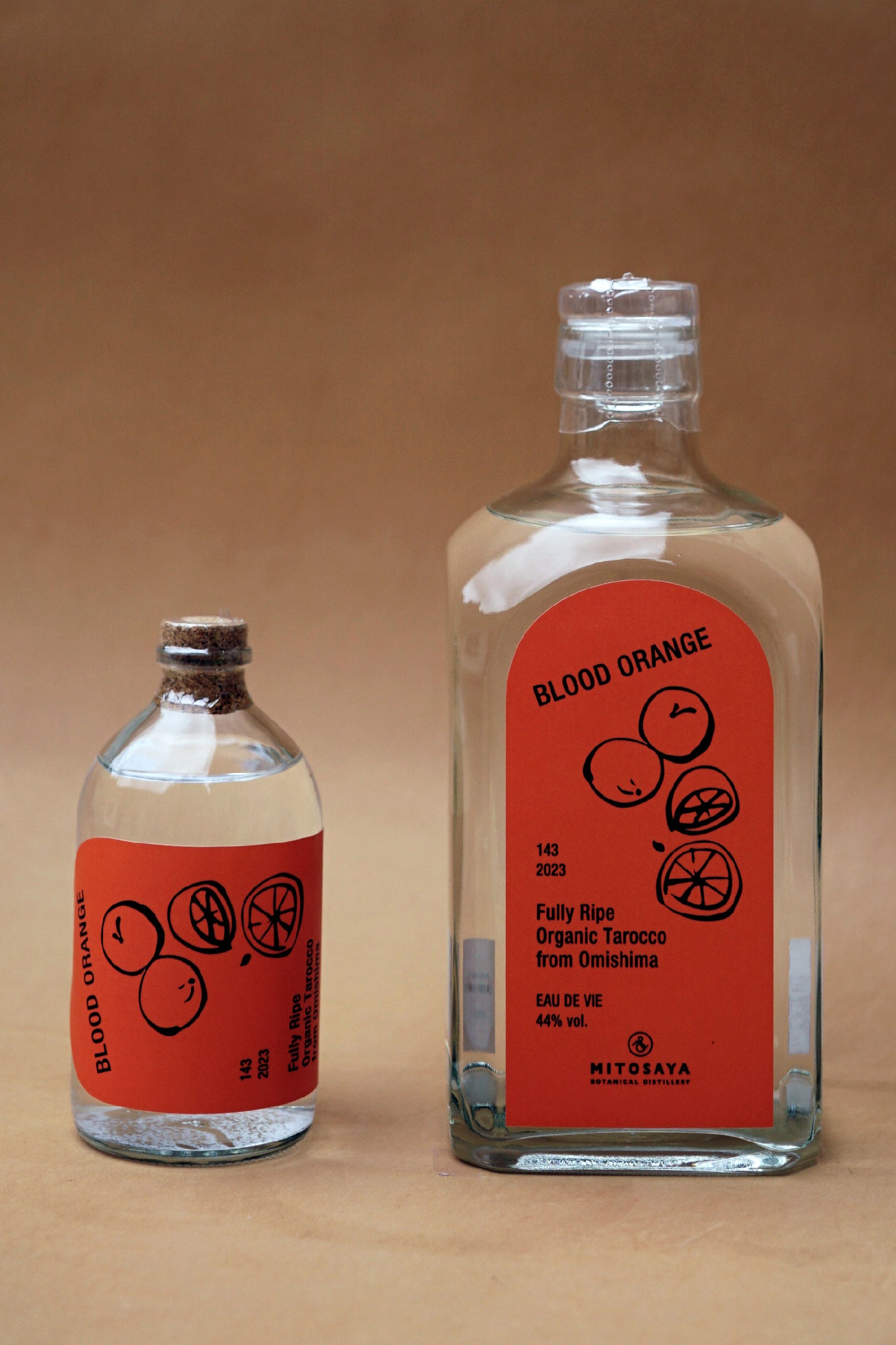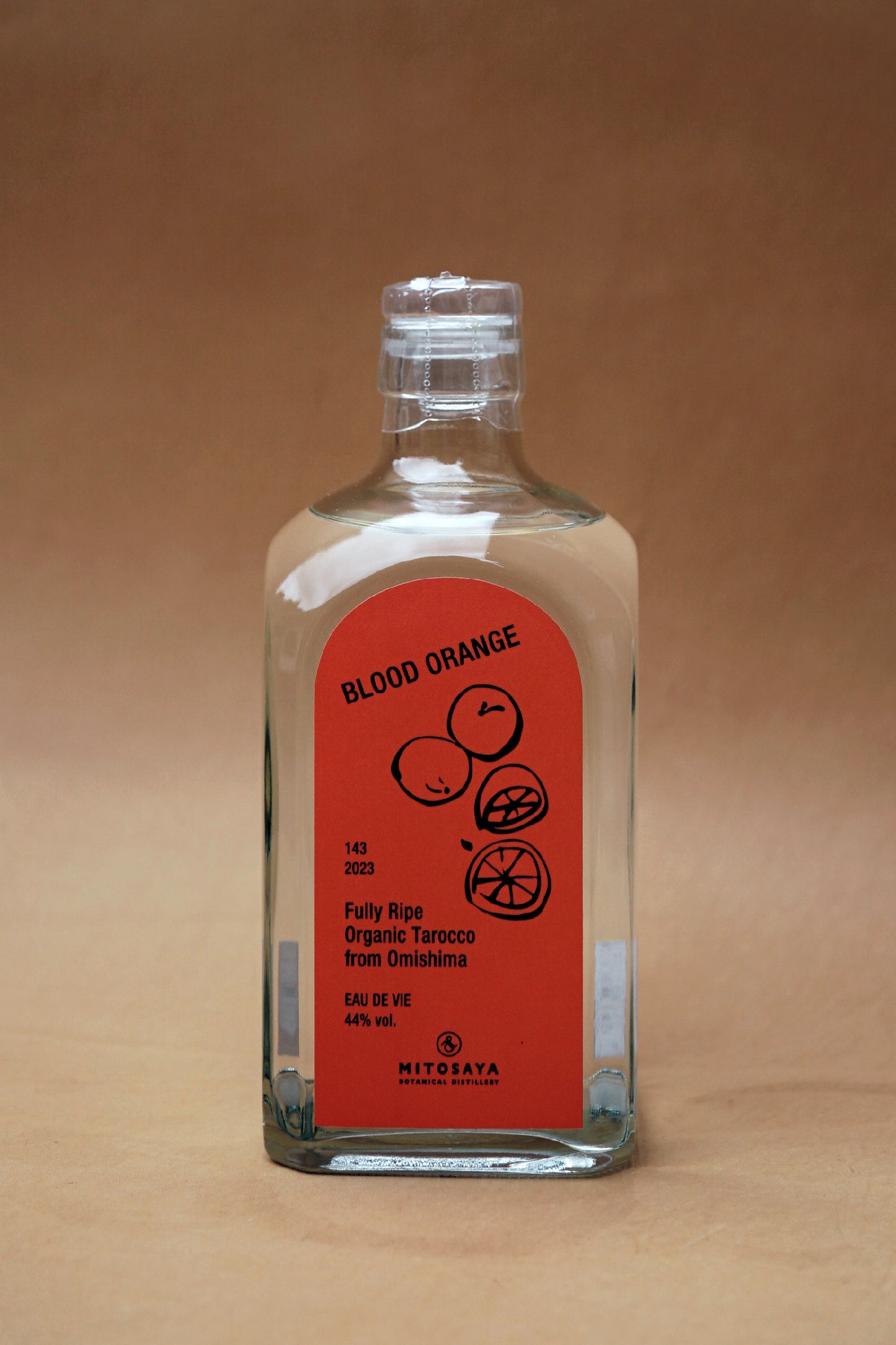 ---
mitosaya薬草園蒸留所
〒298-0216
千葉県夷隅郡大多喜町大多喜486
e-mail. cs@mitosaya.com
tel. 0470 64 6041
mitosaya botanical distillery
486 Otaki, Otaki-machi, Isumi-gun, Chiba 298-0216 Japan
e-mail. cs@mitosaya.com
tel. +81(0)470 64 6041