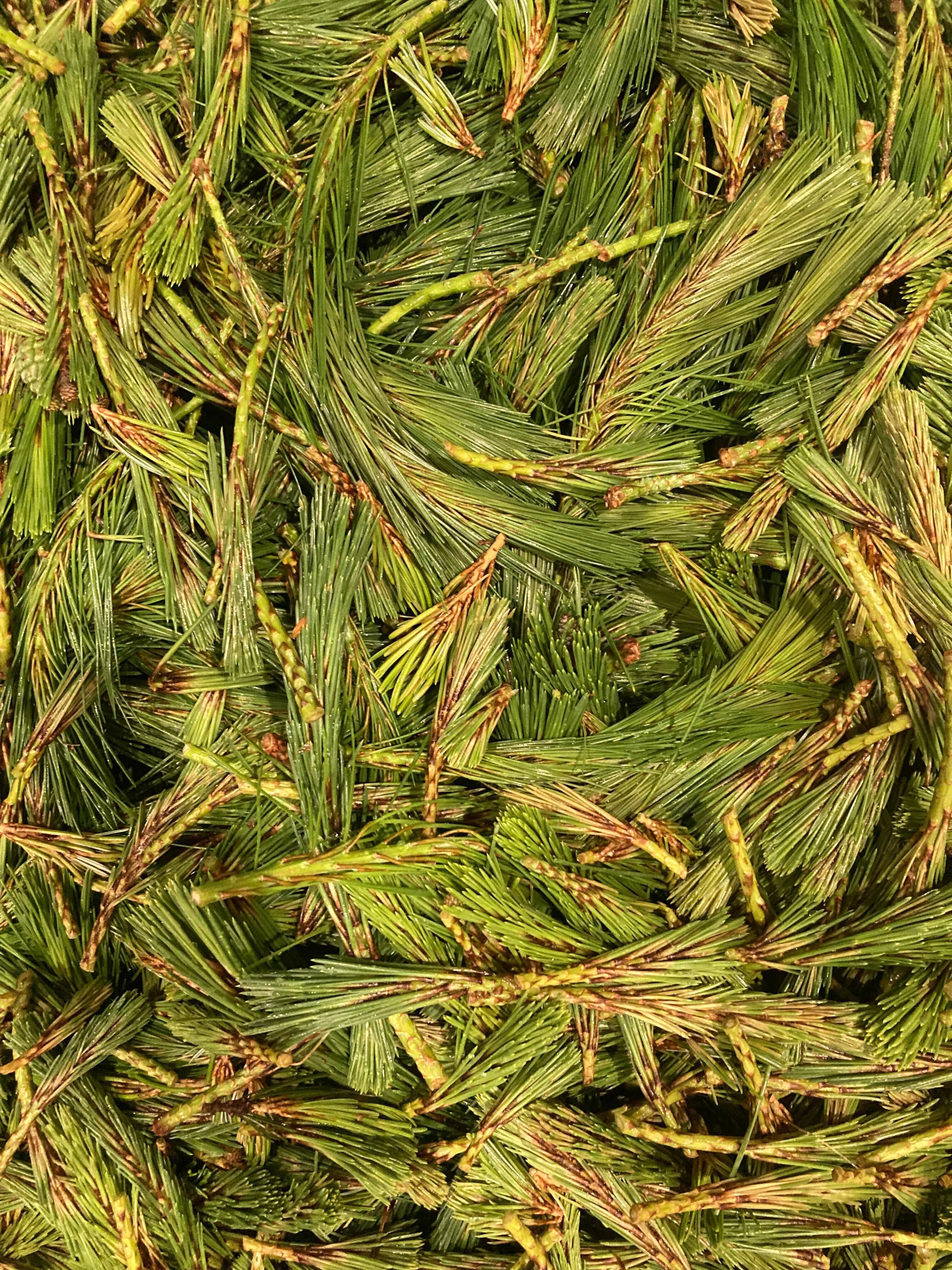 126 GREEN PICKER
Pine Needle Hard Cider
5.0% vol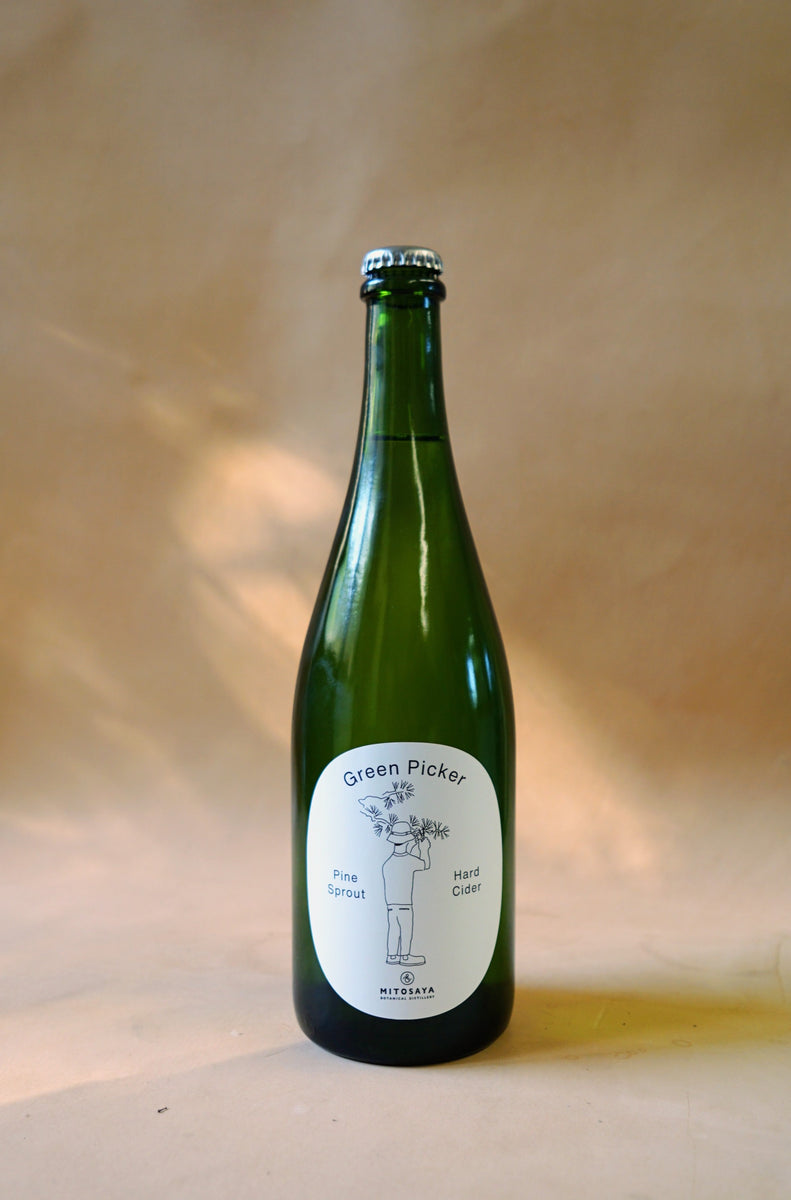 7/29(金)21:00〜販売開始
植物に親しい職業と言えば、農家や園芸家、花屋やシェフなどさまざまありますが、同じ植物でも違う部位を使ったり、違う名前で呼んでいたり、取り扱い範囲が微妙に異なるのが面白いところ。
彼らともまた異なる植物との関わり方をする職業に植木屋があります。庭や垣根のために樹を植え、将来の成長する姿を見据えて、枝葉を剪定し整え、美しく保つ。
植木屋さんが春に行う「みどり摘み」とは、立ち上がってくる松の新芽をかき取り、自然なしまった樹形に維持するために行う作業。植木屋の友人たちが送ってくれた、まだ葉の出ていない新芽の部分は柔らかく、みずみずしい青い香りがします。
いかにも酵母のついていそうなこの新芽の部分を発酵させて、松のハードサイダーを作ってみました。
面白いのはアルコール発酵と同時に乳酸発酵も起こるのか、爽やかな酸味がたちあがってくること。発泡はほとんどありませんが、松の緑っぽさと脂感、酸味の組み合わさった面白いものになったと思います。
品目:リキュール
原材料:松の新芽、砂糖、水(国産)
アルコール度数:5%
容量:750ml
お一人様あたり1商品(1サイズ)につき2点まで。
29 July (Fri.) 21:00 - on sale
There are many professions that are close to plants, such as farmers, gardeners, florists, and chefs, but it is interesting to note that they use different parts of the same plant, call them by different names, and handle them in slightly different ways.
Another profession that also works with plants differently from them is the gardener. They plant trees for gardens and hedges, and prune and trim their branches and leaves to keep them beautiful for future growth.
Midori-Tumi (Green Picker) is a springtime process performed by planters to rake away the buds of rising pine trees and maintain the natural, tidy shape of the tree. The new, leafless shoots sent to us by our gardener friends are tender and have a fresh blue aroma.
I fermented these shoots, which seemed to have yeast on them, to make pine hard cider.
What is interesting is that the lactic acid fermentation occurs at the same time as the alcoholic fermentation, and a refreshing sourness rises up. There is almost no fizz, but the combination of the greenish pine, fatness, and sourness makes for an interesting product.
Item: Liqueur
Ingredients: pine shoots, sugar, water (domestic)
Alcohol content: 5%.
Volume: 700ml
Purchase quantity is limited to two items per product, per size.
Regular price
Sale price
¥3,080
Unit price
per
In Stock
Out of Stock
View full details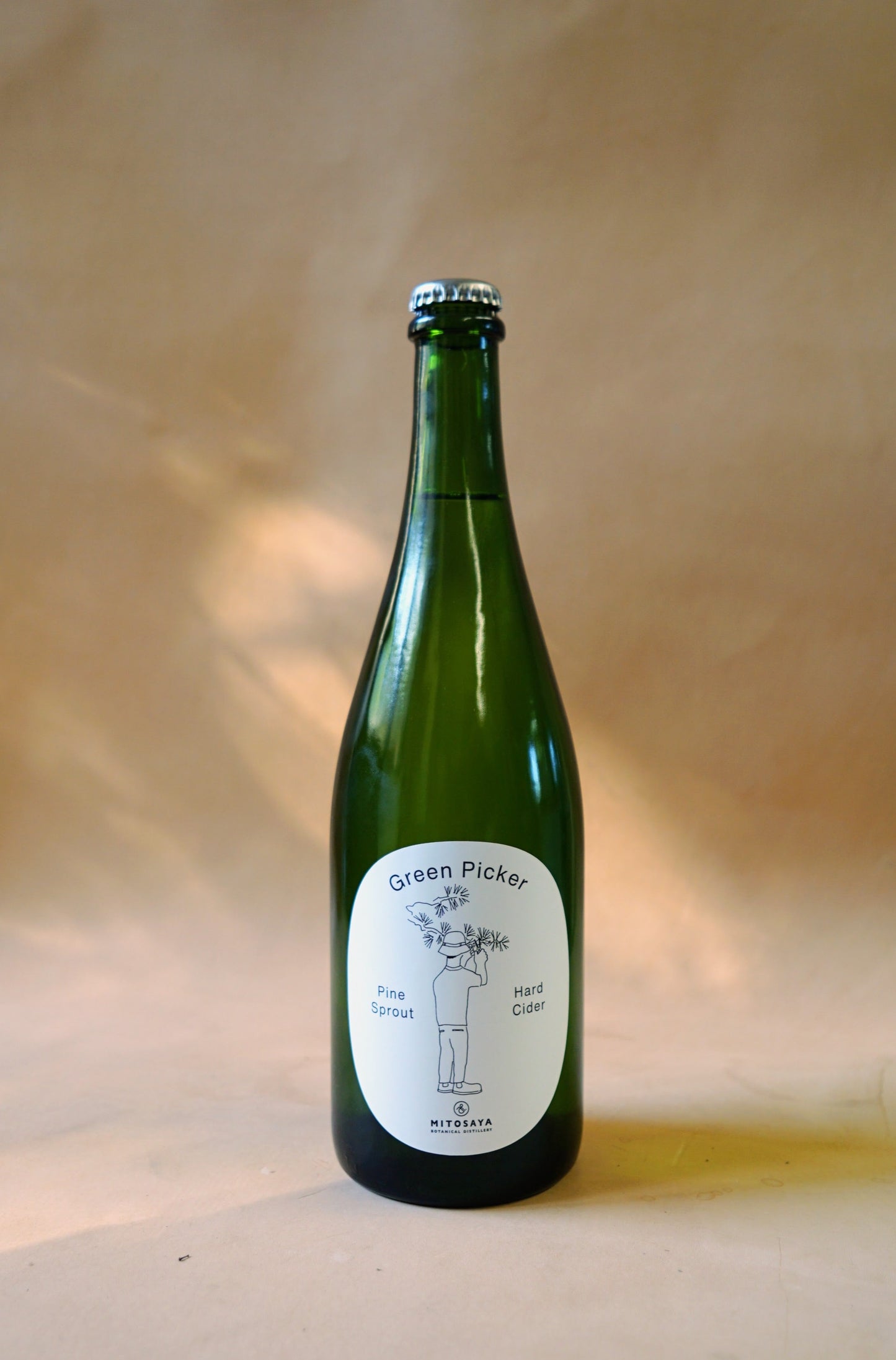 ---
mitosaya薬草園蒸留所
〒298-0216
千葉県夷隅郡大多喜町大多喜486
e-mail. cs@mitosaya.com
tel. 0470 64 6041
mitosaya botanical distillery
486 Otaki, Otaki-machi, Isumi-gun, Chiba 298-0216 Japan
e-mail. cs@mitosaya.com
tel. +81(0)470 64 6041