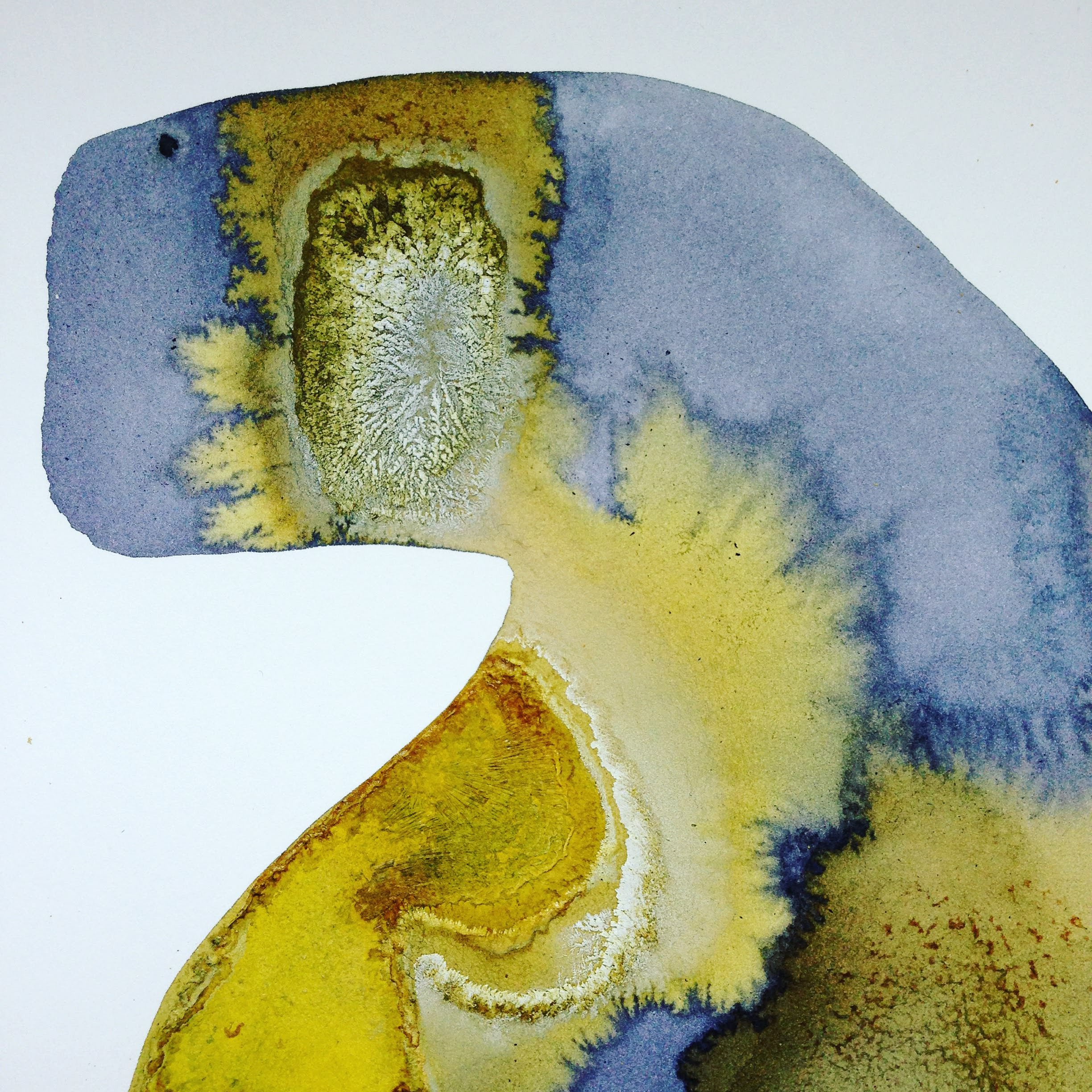 115 CINQ SEC
Variety of Japanese Citrus Liqueur
42.0% vol
100ml ¥1,760 Out of Stock
500ml ¥8,360 Out of Stock
日本の柑橘類だけで作った、mitosayaはじめてのホワイトキュラソー(オレンジリキュール)です。
mitosayaで採れたみかん、かぼす、ビターオレンジ、甘夏などの柑橘類の皮を皆でむき、実の部分だけを発酵させた後に蒸留。この柑橘のオー・ド・ヴィーをベースに、大分のへべす、東伊豆のニューサマーオレンジ、小田原の湘南ゴールド、さらに沖縄のタンカン。これまでに作った柑橘のピールスピリッツをブレンドしました。
1849年、フランスのコアントロー兄弟が、甘みを抑えたホワイトキュラソーを考案し、これまでの甘いリキュールに対して、Triple-Sec(3倍ドライ)と銘打って以来、ホワイトキュラソーの代名詞となった「トリプルセック」ですが、私たちにはまだ甘すぎるように感じます。
CINQ SECはアルコール度数を高めにし、その分甘さを抑えています。よりドライでより香る、日本の柑橘の重層的でやわらかな味わいをお楽しみください。
ストレートでもオンザロックでも。スイーツやカクテルにもお使いいただけます。
ラベルはJason Loganによるもの。
品目:リキュール

原材料:みかん、かぼす、ビターオレンジ、甘夏、へべす、ニューサマーオレンジ、湘南ゴールド、タンカン、ライススピリッツ、砂糖、水
アルコール度数:42%
容量:100ml / 500ml
Artwork by Jason Logan
お一人様あたり1商品(1サイズ)につき2点まで。
Artwork by Jason Logan
Purchase quantity is limited to two items per product, per size.
Citrus fruits such as mikan, kabosu, bitter orange, and amatsu (sweet summer) from mitosaya are all peeled and only the fruit is fermented before distillation. This citrus eau-de-vie was used as the base.
Hebesu from Oita, New Summer Orange from Higashi Izu, Shonan Gold from Odawara, and even Tankan from Okinawa. We have blended these citrus peel spirits we have made.
In 1849, the French Cointreau brothers invented a less sweet orange liqueur, white curacao, and named it Triple-Sec (triple dry) in contrast to the sweet liqueurs of the past, and it has since become synonymous with white curacao, but to us still feel it is too sweet.
CINQ SEC has a higher alcohol content, which makes it less sweet. Drier and more aromatic, enjoy the layered, soft taste of Japanese citrus.
It can be served straight or on the rocks. It can also be used in sweets and cocktails.
Regular price
Sale price
¥1,760
Unit price
per
In Stock
Out of Stock
View full details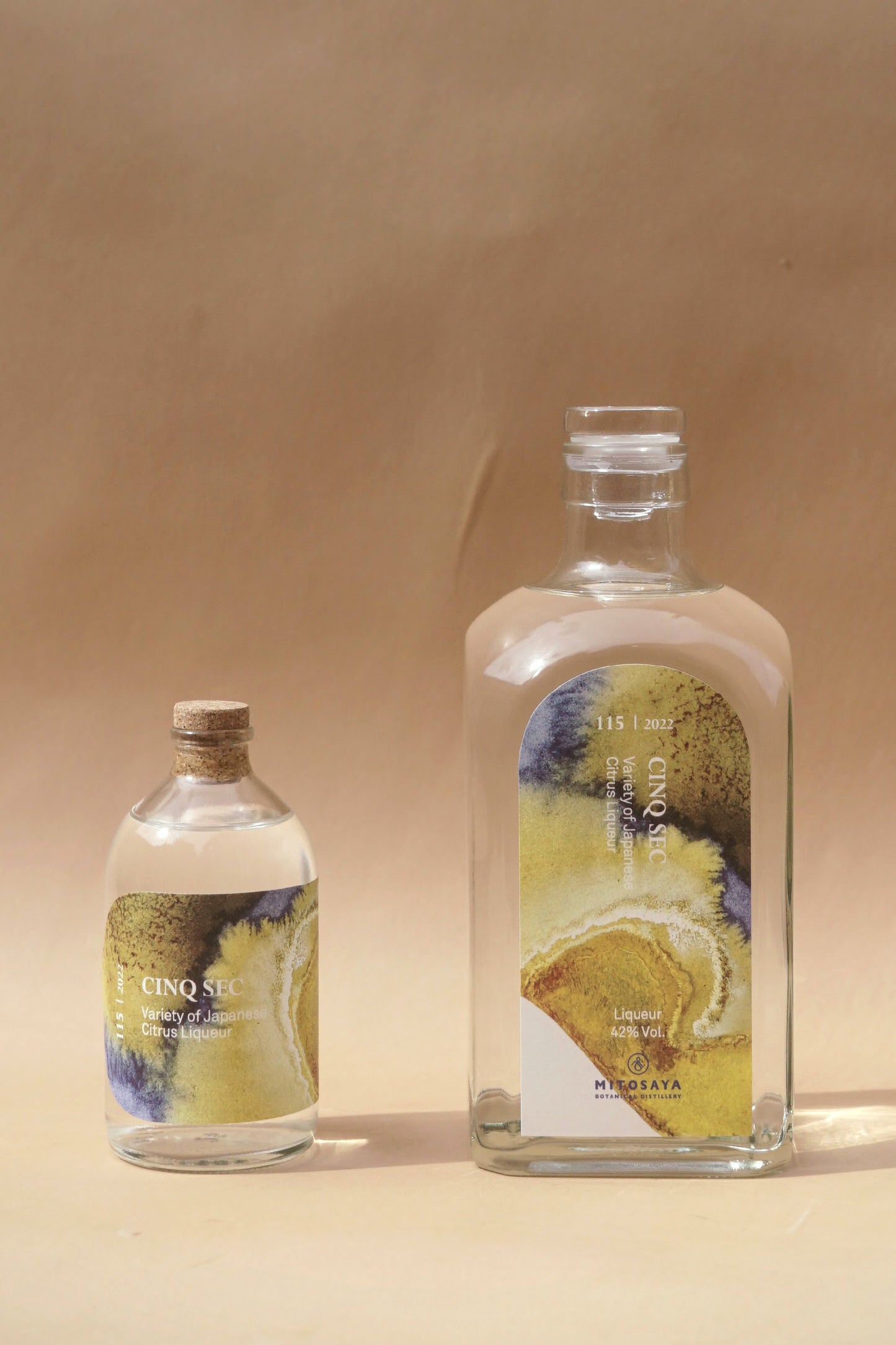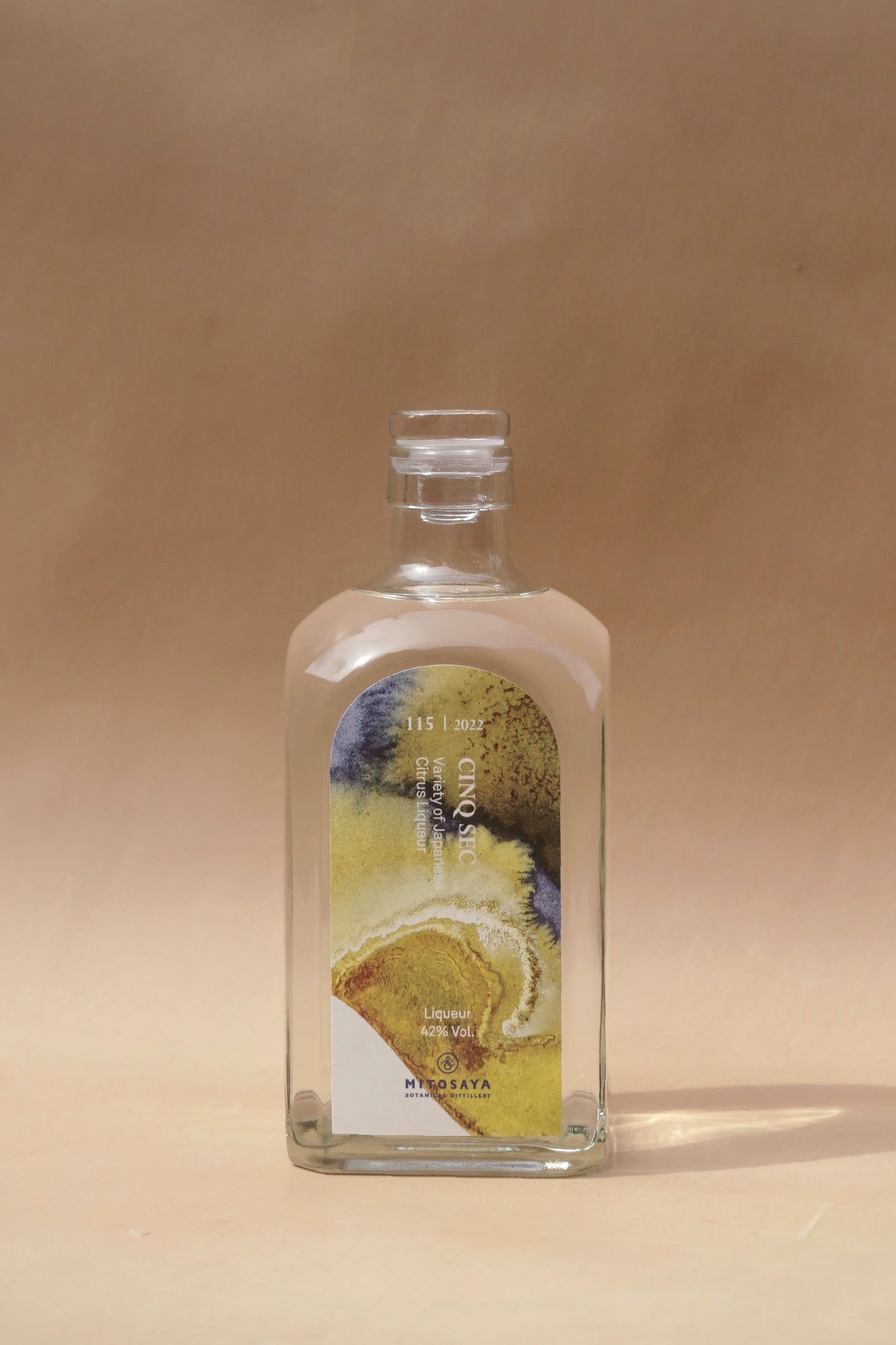 ---
mitosaya薬草園蒸留所
〒298-0216
千葉県夷隅郡大多喜町大多喜486
e-mail. cs@mitosaya.com
tel. 0470 64 6041
mitosaya botanical distillery
486 Otaki, Otaki-machi, Isumi-gun, Chiba 298-0216 Japan
e-mail. cs@mitosaya.com
tel. +81(0)470 64 6041