107 RHUM AGRICOLE
Directly from Pure Isumi Sugarcane
42.0% vol
100ml ¥2,750 Out of Stock
500ml ¥11,000 Out of Stock
さとうきびといえば南のイメージですが、私たちの地元のいすみでも、さとうきびを栽培している人たちがいます。10年ほど前にさとうきび栽培を始めた高師さんの畑は、日がよく当たり、風が気持ちよく抜けるいかにも気持ちよさそうな環境。冬の越冬方法は難しいものの、一年に一度、大きく育ったさとうきびを収穫することができるそうです。
秋の終わりに、そのさとうきびの収穫、搾汁を手伝うことになりました。 背丈を大きく超えるサイズに成長したさとうきびをのこぎり鎌で切り取ります。固い茎には水分もありそうもないのですが、搾汁機で一本づつ搾ると、じわーっと液体分が出てきます。 搾汁したばかりのさとうきびジュースはやさしい甘さと草の風味の混じった素朴な味わい。 糖度は約15度、すぐにでも発酵がはじまりそうで、昔から酒造に利用されてきたのも納得です。
トータルで300Lほどのさとうきびジュースを搾汁のタイミングに合わせ、何度かに分け持ち帰り、少量のラム酒酵母を加えて発酵させます。旺盛な発酵のあと、スパイシーな香りが続き、海苔様の香りが強くなった3週間後に発酵は終了。風味を残す調整をした蒸留の後、ステンレスタンクで数ヶ月の熟成。あえて樽熟成をせずにそのまま度数調整して瓶詰めしました。
一般的には製糖した後の廃糖蜜を利用するラムに対して、収穫したさとうきびをそのまま使って作るアグリコールラムらしい、フレッシュで甘さのある仕上がりです。 mitosayaのはじめてのラム。どうぞご賞味ください。
品目:スピリッツ
内容量:100ml / 500ml
原材料:さとうきび(千葉県産)、水
アルコール度数:42%
Artwork by Jason Logan
お一人様あたり1商品(1サイズ)につき2点まで。
Although sugarcane is often associated with the south, there are people who grow sugarcane in our hometown of Isumi. 10 years ago, Mr. Takashi started growing sugarcane in his field, where the sun shines and the wind blows through pleasantly. Although it is difficult to grow over the winter, he is able to harvest a large crop of sugarcane once a year.
At the end of the fall, I helped him harvest and press the sugarcane.
The sugarcane grows to a size that is much taller than I am, and I cut it off with a saw. The hard stalks are unlikely to have any water in them, but when the juice is pressed one by one with a squeezer, the liquid content slowly comes out.
The freshly squeezed sugarcane juice has a simple taste with a gentle sweetness and grassy flavor.
With a sugar content of about 15 degrees, it seems to begin fermenting right away, which explains why it has been used for sake brewing since ancient times.
In total, about 300 liters of sugarcane juice is divided into several batches and taken home to ferment with a small amount of rum yeast, depending on the timing of the pressing. After vigorous fermentation, the fermentation is finished after three weeks when the spicy aroma continues and the seaweed-like aroma becomes stronger. After distillation, which is adjusted to preserve the flavor, the wine is aged in stainless steel tanks for several months. The beer is bottled without aging in oak barrels, and the volume is adjusted to the desired level.
While rums are generally made from molasses waste after sugar production, this rum is made directly from sugarcane juice, giving it a fresh, sweet finish that is typical of agricole rums.
This is mitosaya's first rum. We hope you appreciate it.
Item:Spirits
Contents: 100ml / 500ml
Ingredients: sugarcane (Chiba Prefecture), water
Alcohol content: 42%.
Artwork by Jason Logan
Purchase quantity is limited to two items per product, per size.
Regular price
Sale price
¥2,750
Unit price
per
In Stock
Out of Stock
View full details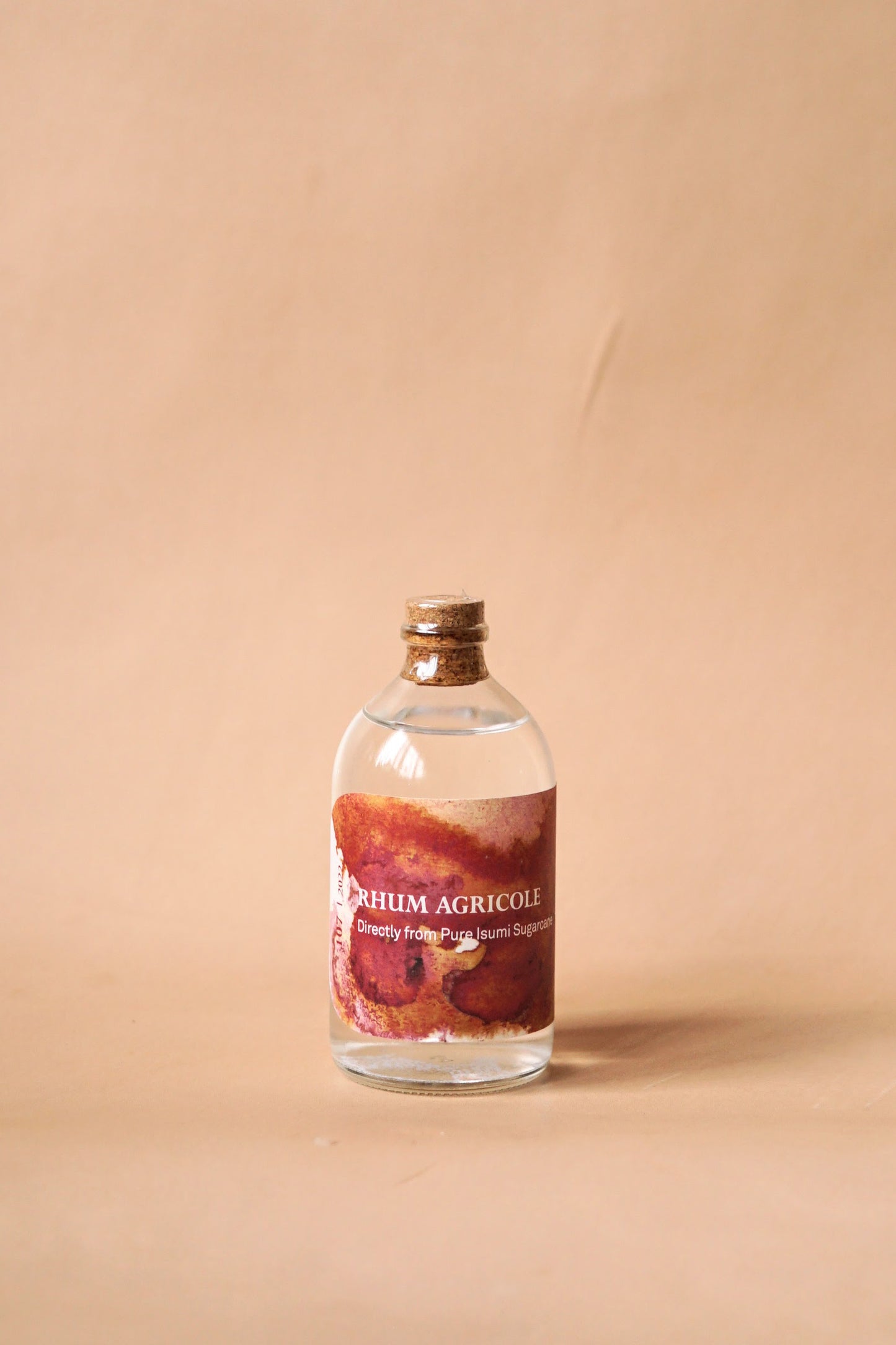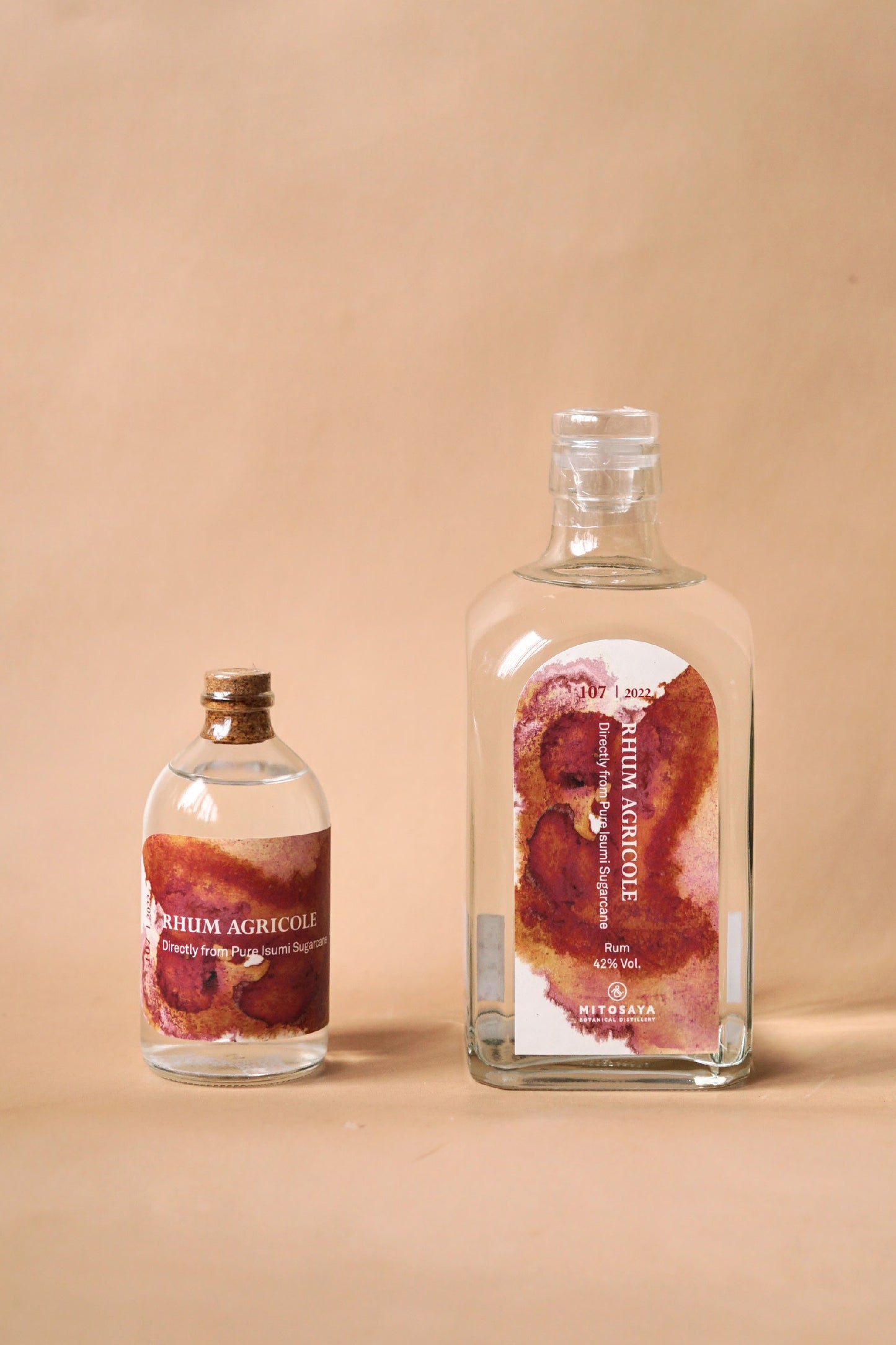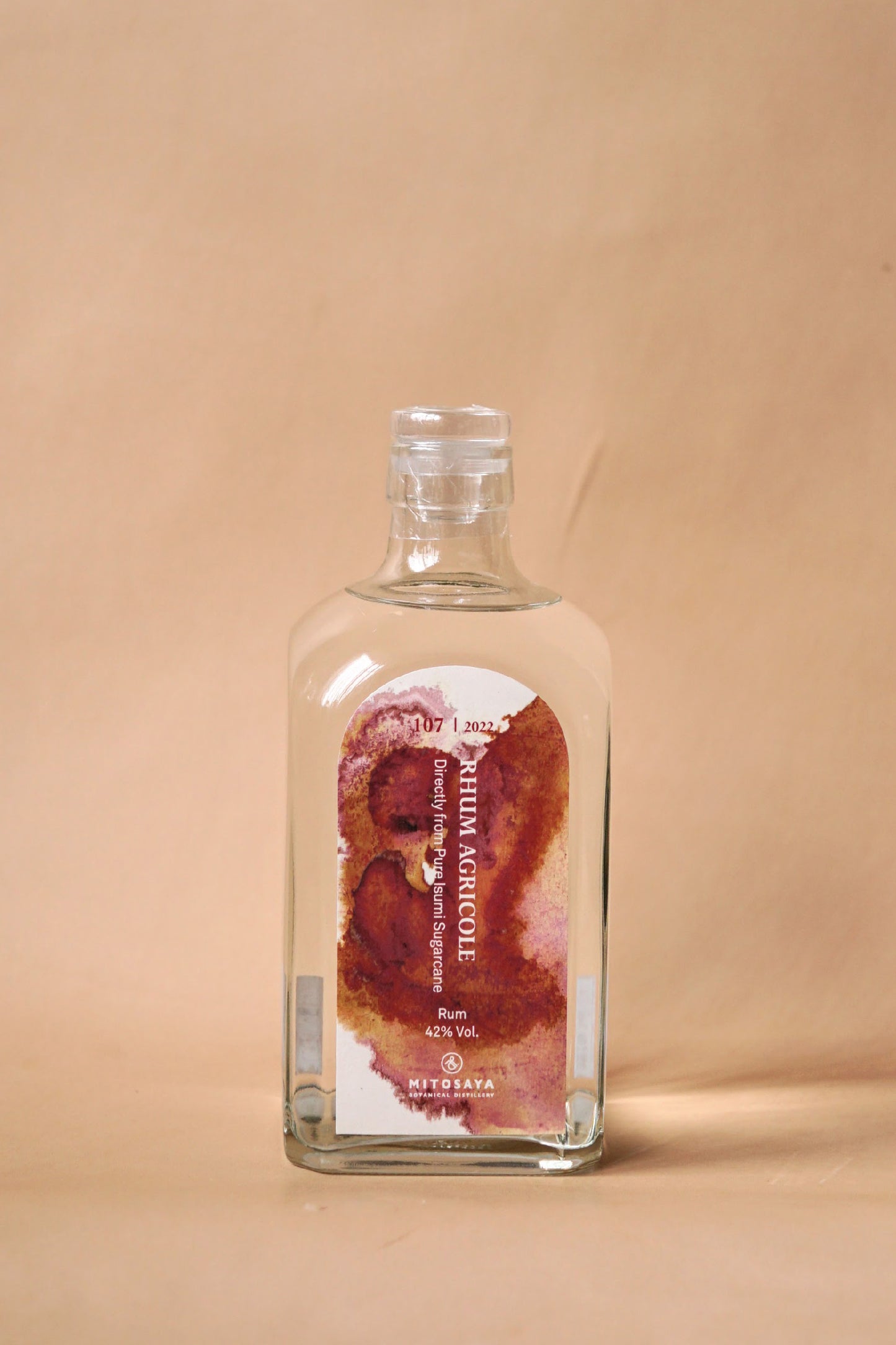 ---
mitosaya薬草園蒸留所
〒298-0216
千葉県夷隅郡大多喜町大多喜486
e-mail. cs@mitosaya.com
tel. 0470 64 6041
mitosaya botanical distillery
486 Otaki, Otaki-machi, Isumi-gun, Chiba 298-0216 Japan
e-mail. cs@mitosaya.com
tel. +81(0)470 64 6041