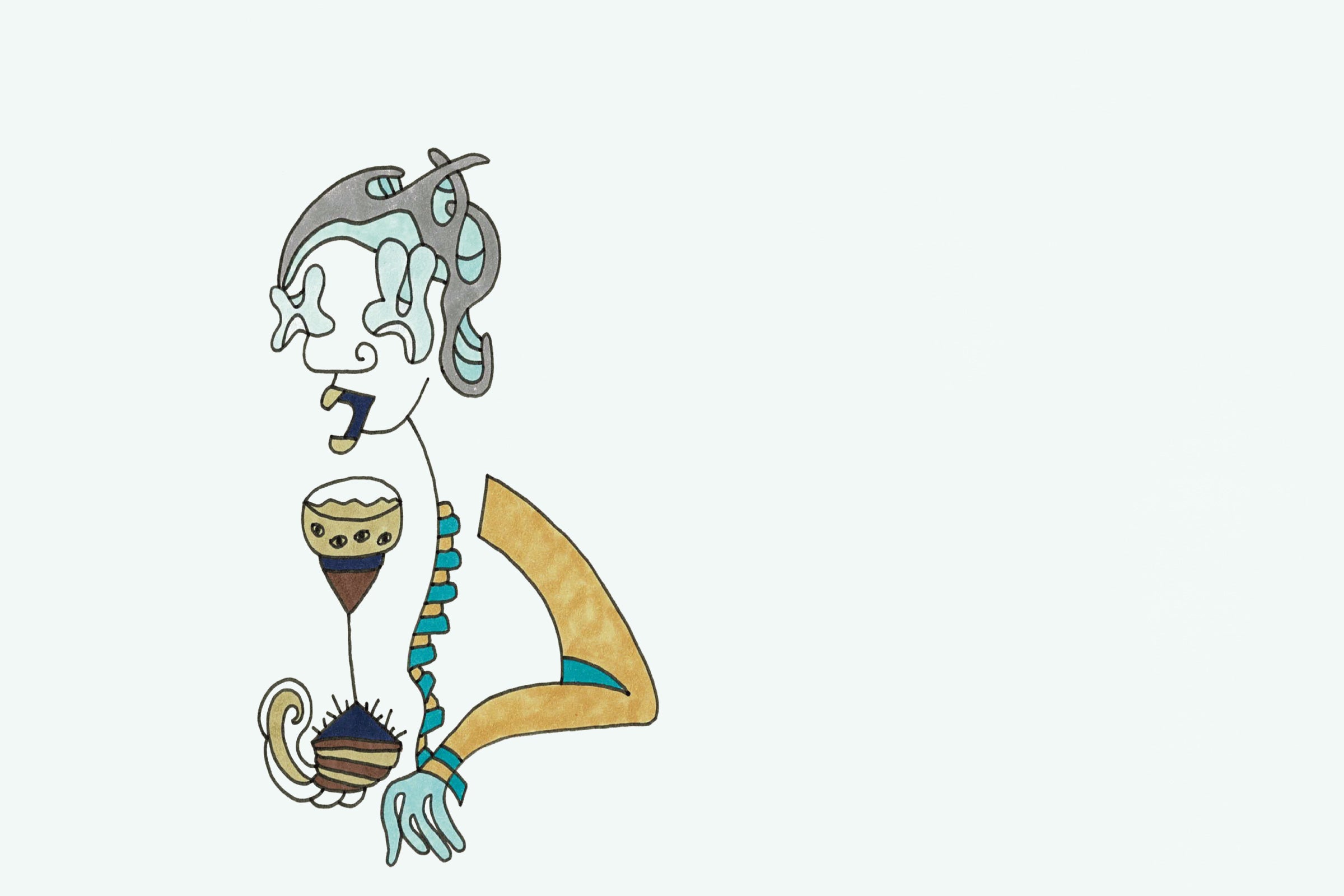 SHOP
EAU DE VIE
IN STOCK
NEW ARRIVAL
SPIRITS
105 MINT TRICOLOR
Yerba Buena, Orange, and Chocolate Mint
42.0% vol
100ml × 3 ¥6,600 In Stock
500ml ¥8,800 In Stock
6/25(日)10:00〜販売開始
爽快な味わいの3種類のミントを組み合わせたスピリッツ。使用したのは苗目のチョコレートミント、イエルバブエナ、オレンジミント。苗目から折に触れて分けてもらうハーブの中でも、ミントは特別。ていねいに葉の部分だけを選り分け、ドライにせずフレッシュなまま加工しています。
チョコレートミントは、ステンレスタンクで一年かけてゆっくり熟成させ、深みのある味わいを引き出したものを。
一方イエルバブエナとオレンジミントは、この冬に蒸留したものを中心に使っています。

ミニボトルは3種のミント単独のスピリッツをボトリングしました。。同じミントの香りと味わいのバリエーションを楽しんでいただける3本セットです。フレッシュなそれぞれれの葉がボトルに沈みます。
フルボトルは3種のスピリッツをバランスよくブレンドしたもの。ボトリング直前にフレッシュな葉をタンクに鮮やかなグリーンと、どこか甘さを感じる香りが加わりました。
ミントの個性を楽しむグリーンのトリコロールをお楽しみください。
仕様
品目:スピリッツ
原材料:ミント(チョコレートミント、イエルバブエナ、オレンジミント)、ライススピリッツ、水(岩手県釜石産)
アルコール度数:42%
容量:110ml / 500ml
アートワーク:サム・ゲンデル / マルセラ・チトリノヴィッチ
お一人様あたり1商品(1サイズ)につき2点まで。
25 June (Sun.) 10:00 - on sale
This spirit combines three different types of mints with a refreshing taste. We used Miaome's chocolate mint, yerba buena, and orange mint. Mint is special among the herbs that Miao Mai occasionally shares with us. Only the leaves are carefully selected and processed fresh, not dried.

The chocolate mint is slowly aged in stainless steel tanks for a year to bring out its deep flavor.
Yerba Buena and orange mint, on the other hand, are mainly distilled this winter.

The mini-bottles are bottlings of three different mint stand-alone spirits. This set of three bottles offers a variety of aromas and flavors of the same mint. The young mint sinks into the bottle.

The full bottle is a balanced blend of three mint spirits. The fresh leaves were added to the tank just a few days before bottling, adding a bright green and somewhat sweet aroma.

Enjoy this green tricolor of mint character.
SPECIFICATIONS
Type:Spirits
Ingredients:Mint (Chocolate Mint, Yerba Buena, Orange Mint), Rice Spirits, Water (from Kamaishi, Iwate Prefecture)
Alcohol content: 42%.
Volume:110ml / 500ml
Artwork : Sam Gendel / Marcella Cytrynowicz
Purchase quantity is limited to two items per product, per size.
Regular price
Sale price
¥6,600
Unit price
per
In Stock
Out of Stock
View full details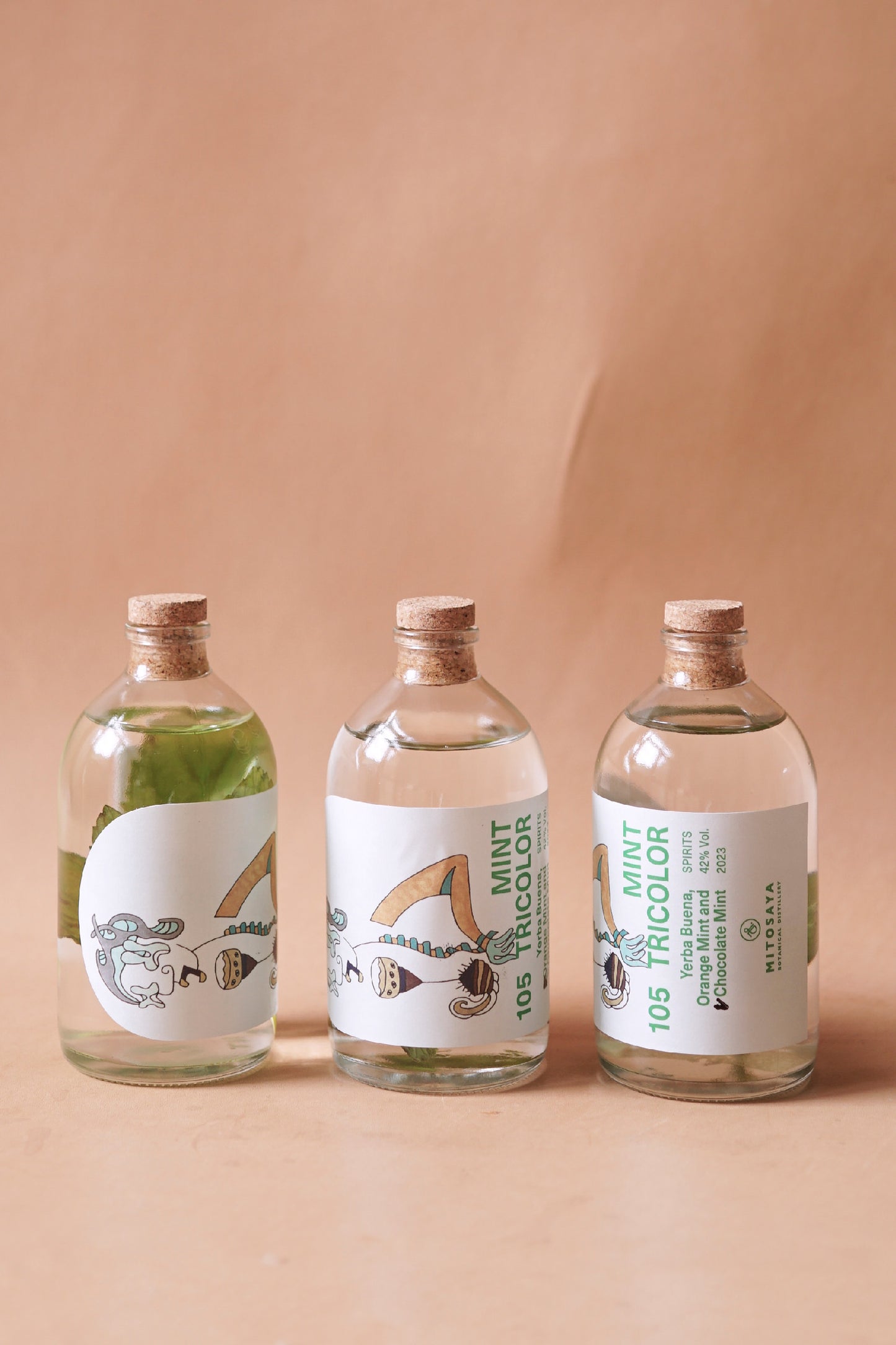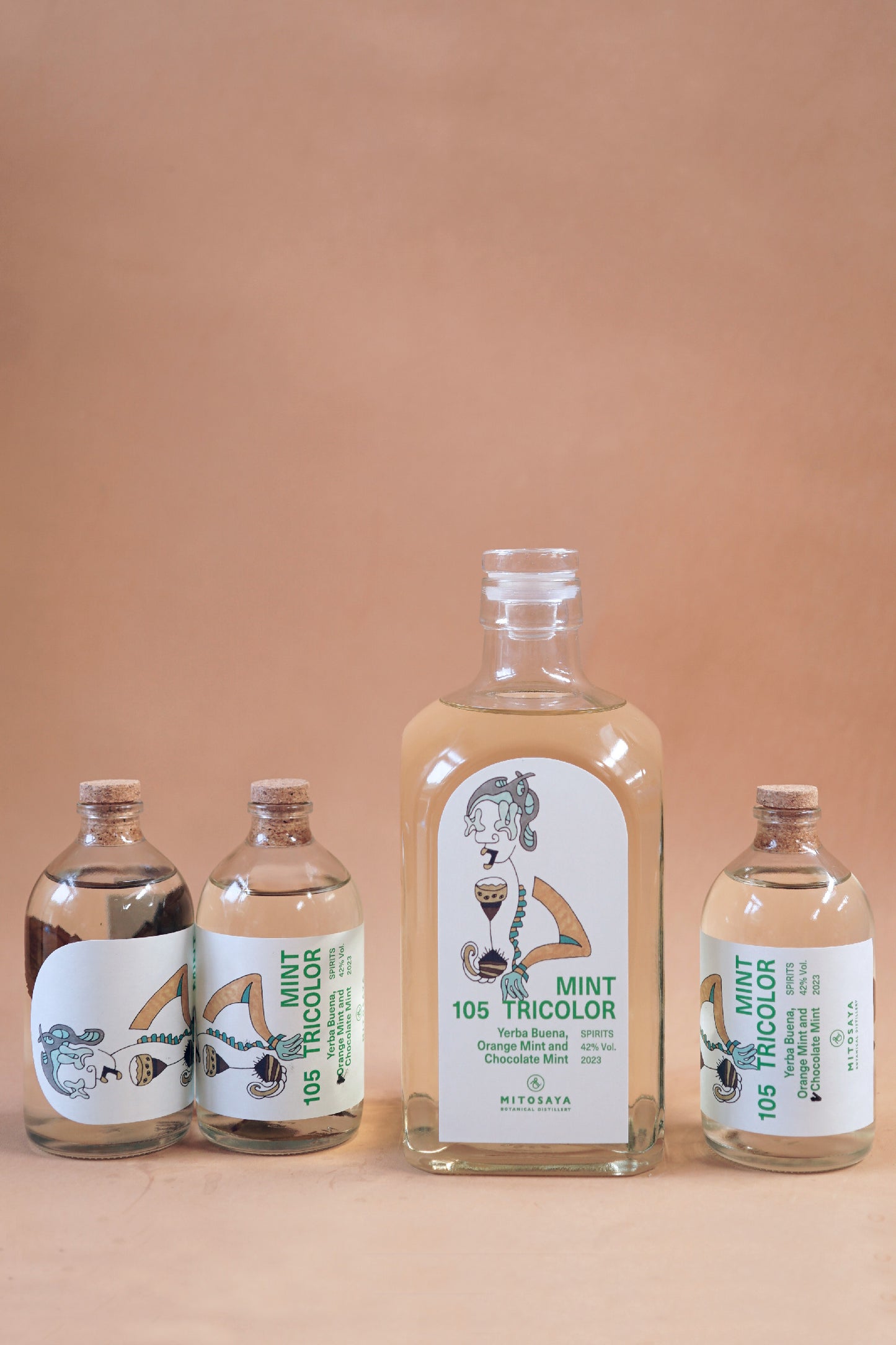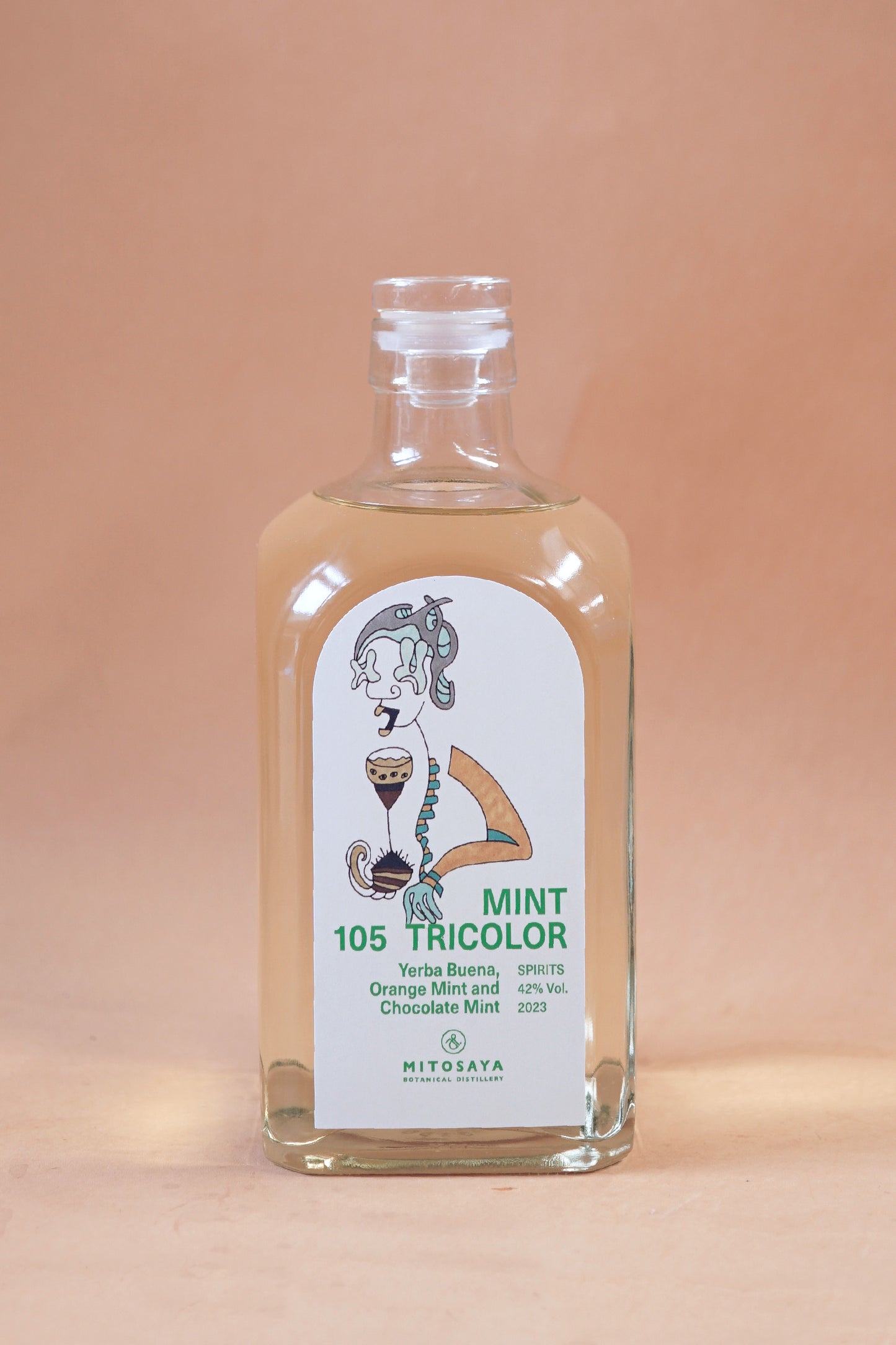 ---
mitosaya薬草園蒸留所
〒298-0216
千葉県夷隅郡大多喜町大多喜486
e-mail. cs@mitosaya.com
tel. 0470 64 6041
mitosaya botanical distillery
486 Otaki, Otaki-machi, Isumi-gun, Chiba 298-0216 Japan
e-mail. cs@mitosaya.com
tel. +81(0)470 64 6041