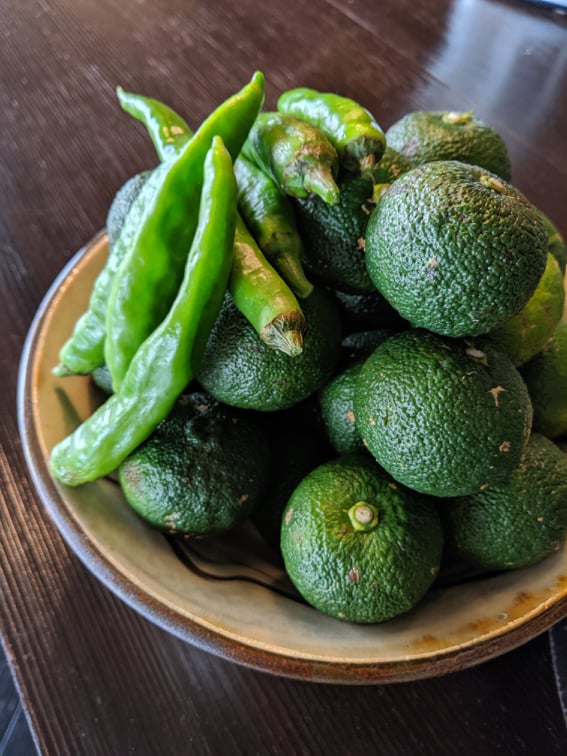 087 YUZU GOSHO
Chill and Yuzu Peel Condiment by Madam Yuzu
42.0% vol
100ml ¥2,200 Out of Stock
500ml ¥9,680 Out of Stock
大分県の北部、宇佐市院内。棚田だった場所に数十年前に植えられたゆずが、今や一大産地になっています。見晴らしのいい山の中腹に立つと、緑の階段のような見えるゆず畑が、ハンザキ柚子を栽培する佐藤さんの畑。ハンサキとは天然記念物のオオサンショウウオを指す方言で、農薬を使わないからオオサンショウウオの住む川を汚すこともない。その代わり佐藤さんの畑にはとにかく虫がたくさん。女郎ぐもが巣を作り、幹にはセミの抜け殻。ゆずの木の長いとげもあって刺激に満ちています。
熟した黄色いゆずが収穫のピークを迎える前、秋分の日の前後二週間が青ゆずのピーク。教えてくれたのは「マダムゆず」こと神谷禎恵さん。本来は摘果のために実を間引くタイミングをギリギリまで遅らせることで、柚子胡椒に最適の青くて瑞々しいゆずが採れる。皮に爪を立てると果汁が霧状に弾けとにかくフレッシュ。
一方の柚子胡椒のこしょうは青唐辛子。地元の青い唐辛子と青ゆずの収穫期が重なるのがポイントで、一年のその二週間を選び、神谷さんは柚子胡椒を作ります。塩を加えて、フードプロセッサーをかけ、さらにすり鉢で潰していく。全体が馴染んで少し粘りがでてきたら完成。
マダムゆずに青柚子と青唐辛子を送ってもらって、教わった通りにゆずごしょうを仕込み、できた柚子胡椒をライススピリッツに十分に漬け込んで蒸留しました。ゆずの香りは鼻から抜け、とうがらしの刺激が弾けます。 香りで楽しむ飲む柚子胡椒を食卓にどうぞ。ソーダで食中にも。
品目:ブランデー
内容量:100ml / 500ml
原材料:みかん(岡山県産)、ゆず、青唐辛子(大分県産)、ライスピリッツ、水
アルコール度数:42%
Artwork by Ryota Nishimoto
In the northern part of Oita Prefecture, there is a town called Inai, Usa City. The yuzu that was planted decades ago in what used to be terraced rice paddies has now become a major production area. Standing on a mountainside with a great view, the yuzu field that looks like a green staircase is the field of Mr. Sato, who grows Hanzaki citron. The word "hanzaki" is a dialect word referring to the Japanese giant salamander, a protected species, and because he does not use pesticides, he does not pollute the rivers where the salamanders live. Instead, Mr. Sato's fields are filled with insects. A widow spider has built a nest, and there are cicada shells on the trunk. The long thorns of the yuzu tree are also a source of irritation.
The peak season for green yuzu is the two weeks before and after the autumnal equinox, before the ripe yellow yuzu is harvested. Sadae Kamiya, aka "Madam Yuzu," taught me how to grow them. By delaying the thinning of the fruit until the very last minute, she is able to produce fresh green yuzu that is ideal for yuzu kosho. When you run your fingernail over the skin, the juice comes out in a mist and is just so fresh.
On the other hand, the pepper for yuzu kosho is green chili pepper. The key to making yuzu pepper is that the local green chili peppers and green yuzu peppers are harvested at the same time. He adds salt, runs it through a food processor, and crushes it further in a mortar. When the whole mixture is blended and a little sticky, it is ready.
Madam Yuzu sent me some green yuzu and green chili peppers, and I prepared the yuzu gosho as she taught me, and distilled the resulting yuzu kosho by soaking it thoroughly in rice spirits. The aroma of the yuzu comes through the nose, while the stimulation of the togarashi pops. Enjoy the aroma of yuzu kosho at your table. It can also be enjoyed with soda.
Item:Brandy
Contents: 100ml / 500ml
Ingredients: mandarin oranges (Okayama Prefecture), yuzu, green pepper (Oita Prefecture), rye spirit, water
Alcohol content: 42%.
Artwork by Ryota Nishimoto
Regular price
Sale price
¥2,200
Unit price
per
In Stock
Out of Stock
View full details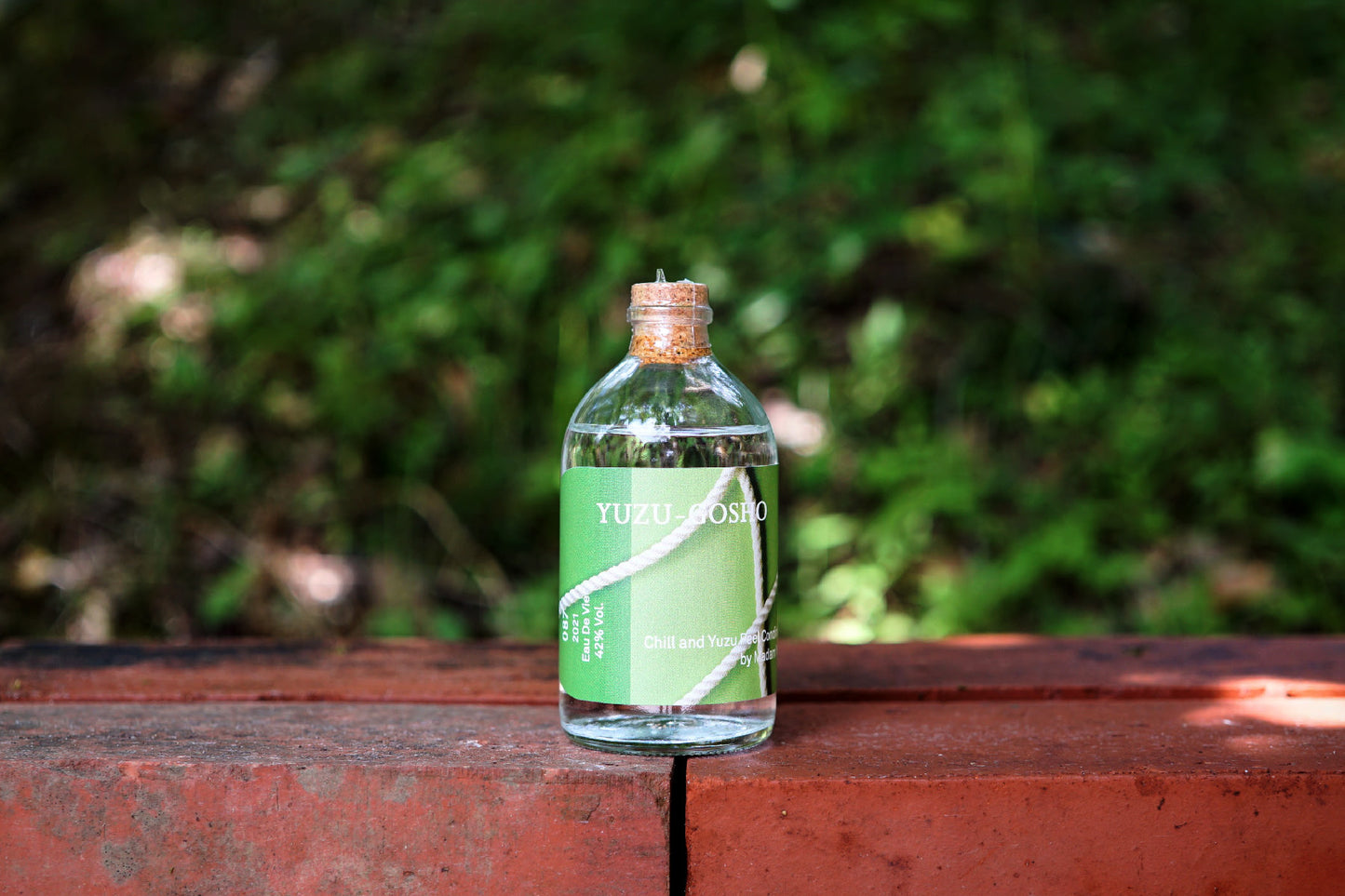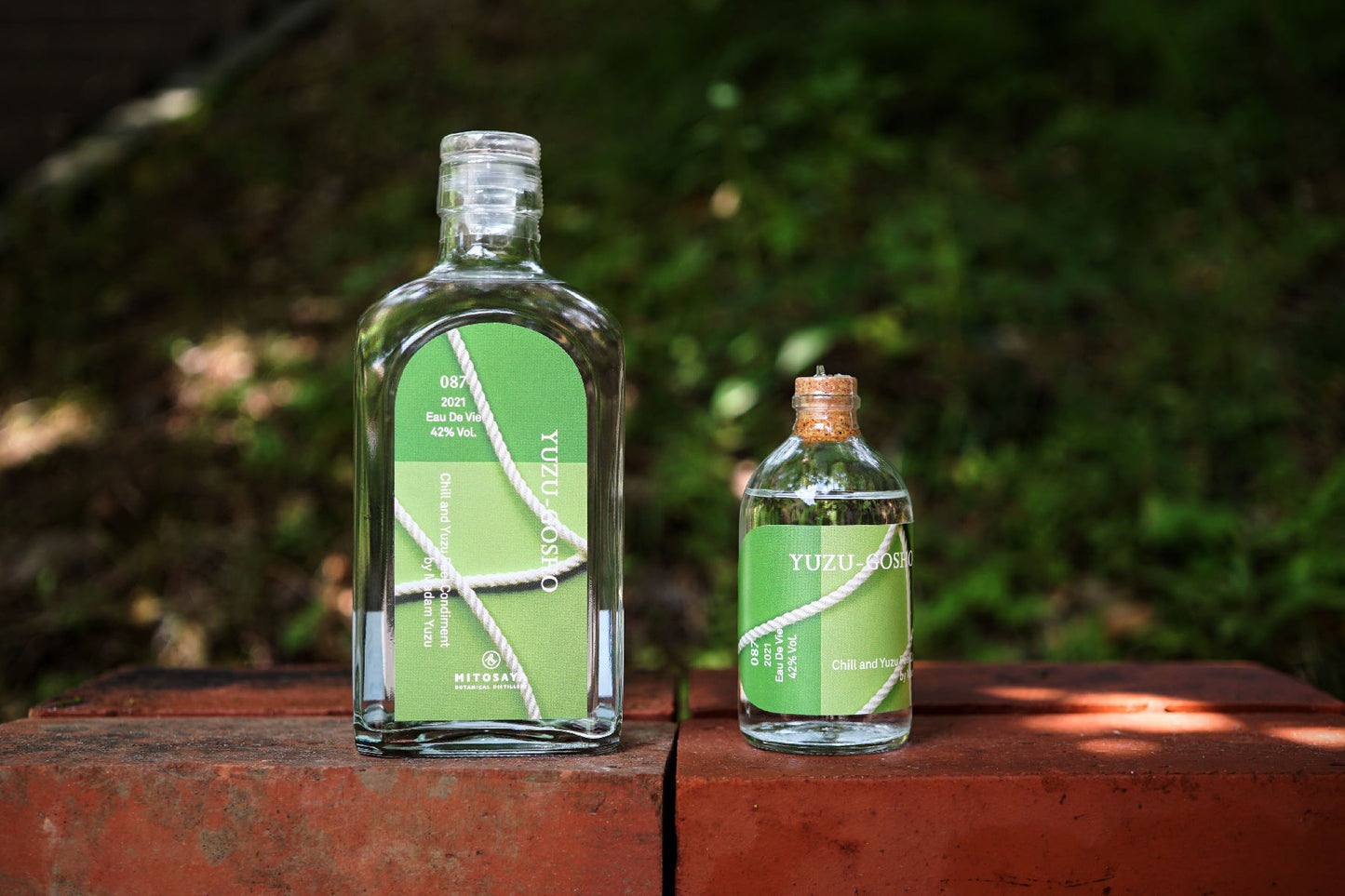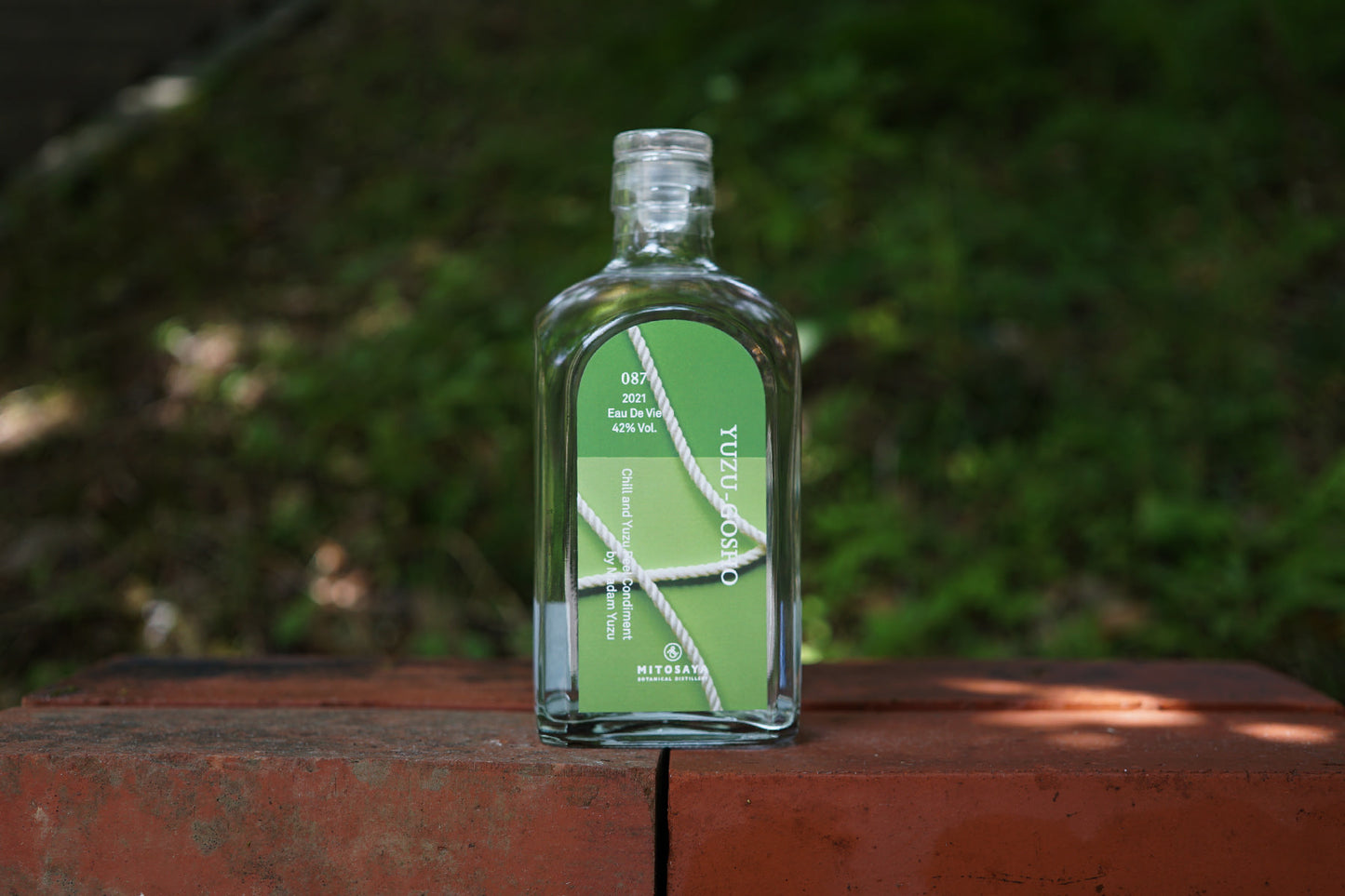 ---
mitosaya薬草園蒸留所
〒298-0216
千葉県夷隅郡大多喜町大多喜486
e-mail. cs@mitosaya.com
tel. 0470 64 6041
mitosaya botanical distillery
486 Otaki, Otaki-machi, Isumi-gun, Chiba 298-0216 Japan
e-mail. cs@mitosaya.com
tel. +81(0)470 64 6041