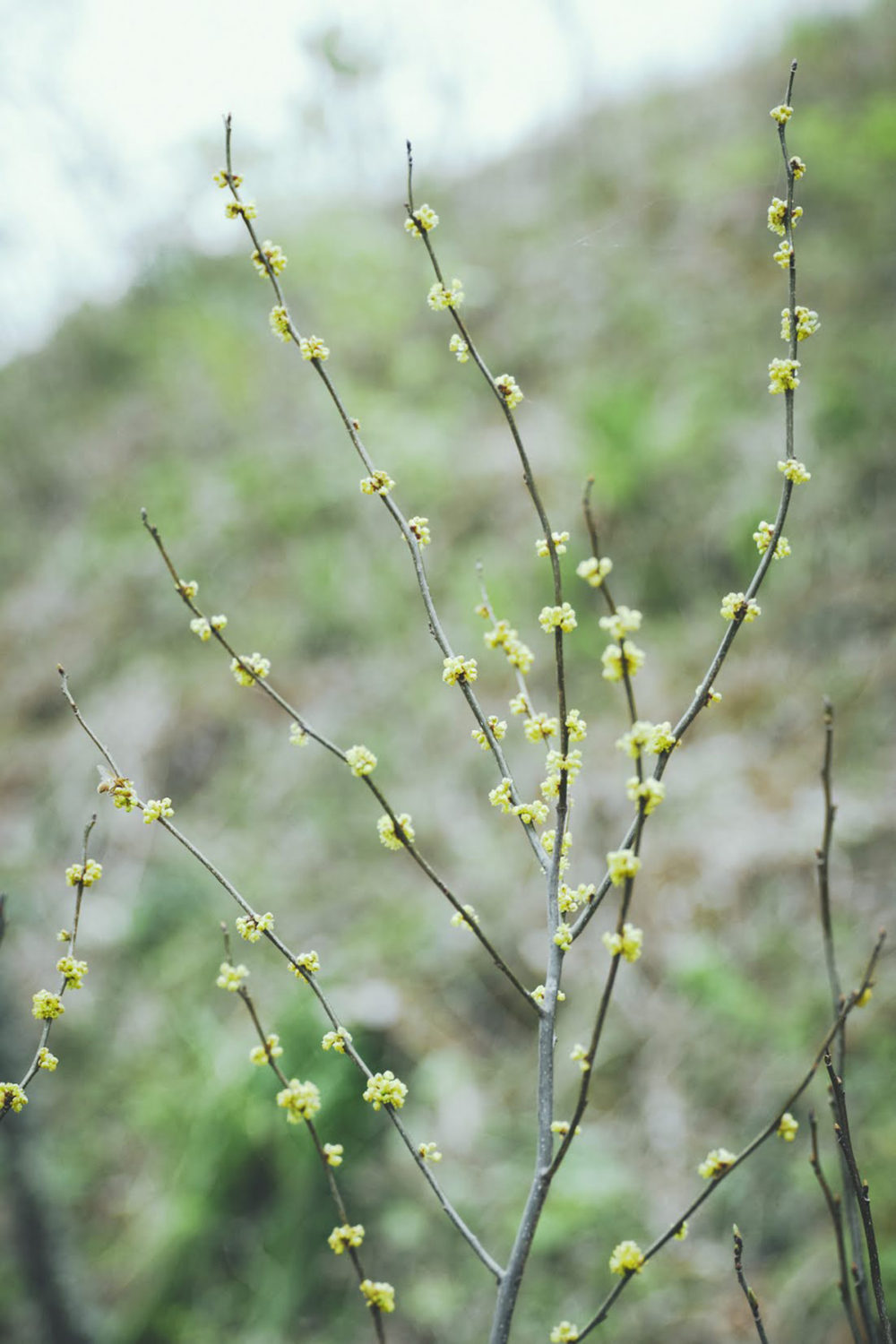 085 IROMOJI
Varieties of spicebush from Mt. Hakusan
100ml ¥2,420 Out of Stock
500ml ¥9,680 Out of Stock
霊峰白山の大自然と共生しながら、その地の樹木やハーブからアロマを作る EarthRing から分けていただだいた黒文字。古くから茶や香につかわれてきた黒文字は、樟脳の清涼感と山椒のスパイシーさが入り混じったような甘く爽快な香りが特徴です。
この黒文字の枝と葉から作った蒸留酒に、さらにmitosayaで育つ、青文字と白文字という同じクスノキ科でありながら微妙に香りの異なる二種を浸漬しました。黄緑色の枝色に浮かぶ黒い斑紋を文字に見立て、黒文字と呼んだ先人のセンスに経緯を払いつつ、IROMOJIと名付けました。
木桶で熟成した和梨のブランデーとブレンドした後、仕上げには長い年月をかけて磨き上げられた白山の天然水で希釈しました。
土さえも感じる、深い森の中に迷い込んだような味わいをお楽しみください。
仕様
品目:ブランデー
内容量:100ml / 500ml
原材料:梨(豊水)(千葉県産)、黒文字(石川県産)、青文字、白文字(千葉県産)、ライスピリッツ、水
アルコール度数:42%
アートワーク:藤田 佳子
お一人様あたり1商品(1サイズ)につき2点まで。
EarthRing produces aromas from local trees and herbs in symbiosis with the nature of Mt. Kuramonji, which was shared with us by EarthRing. Kuromoji has been used for tea and incense since ancient times, and is characterized by a sweet, invigorating aroma that is a mixture of the coolness of camphor and the spiciness of prickly ash.
To the distilled spirit made from the branches and leaves of the Kuromoji tree, we macerate two more species of camphor trees grown at mitosaya, Aomoji and Shiromoji, which belong to the same family but have slightly different aromas. We named it IROMOJI, paying homage to the sense of our ancestors who called it KUROMOJI, referring to the black spots on the yellow-green branches that resemble letters.
After blending with Japanese pear brandy aged in wooden vats, we diluted the finished product with natural Hakusan water, which has been polished over many years.
Enjoy the taste as if you were lost in a deep forest, where you can even feel the earth.

SPECIFICATIONS
Item:Brandy
Ingredients: Pear (Hosui) (Chiba Prefecture), Kuromoji (Ishikawa Prefecture), Aomoji, Shiroomoji (Chiba Prefecture), rye spirit, water
Alcohol content: 42%.
Content: 100ml / 500ml

Artwork by Kako Fujita
Purchase quantity is limited to two items per product, per size.
Regular price
Sale price
¥2,420
Unit price
per
In Stock
Out of Stock
View full details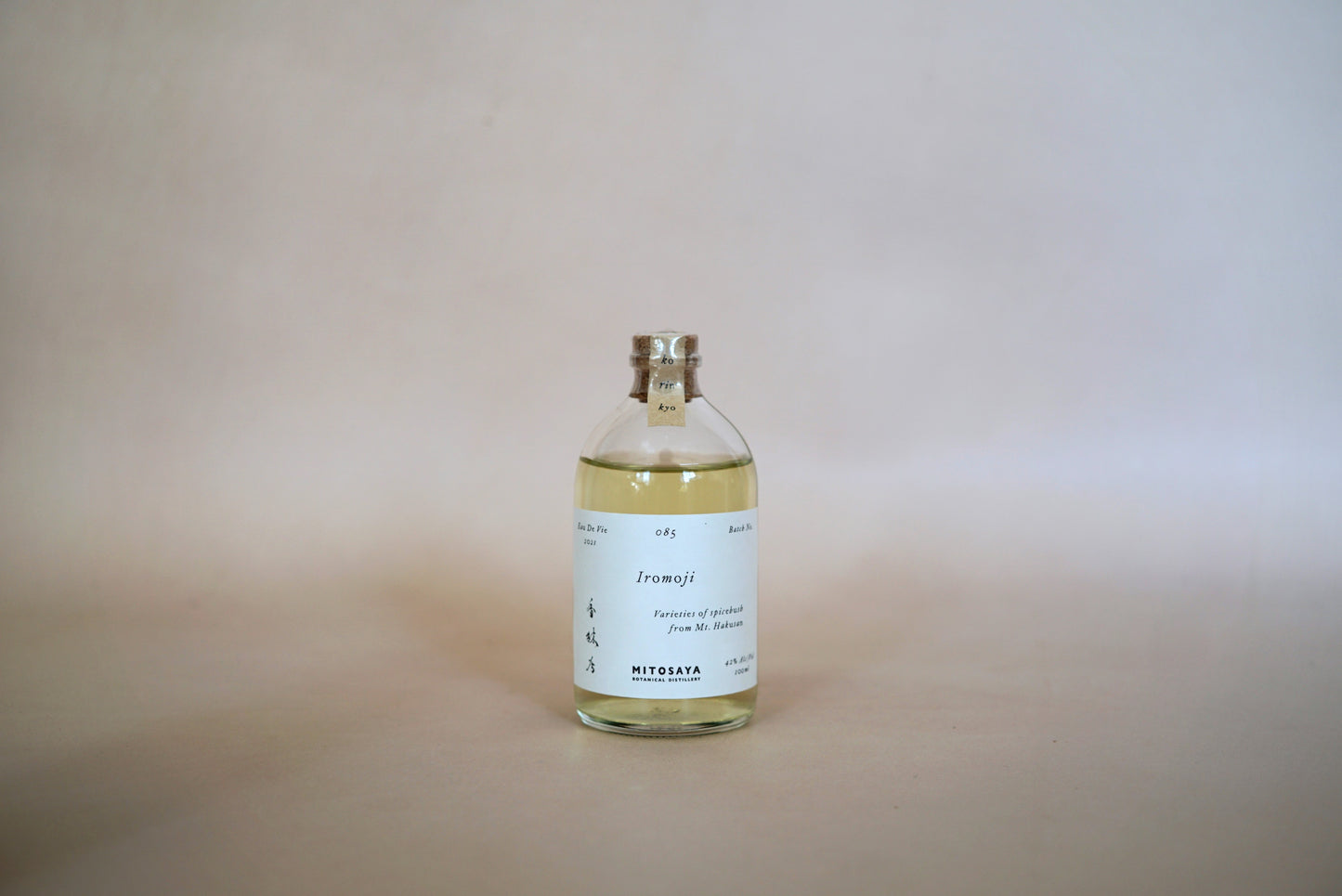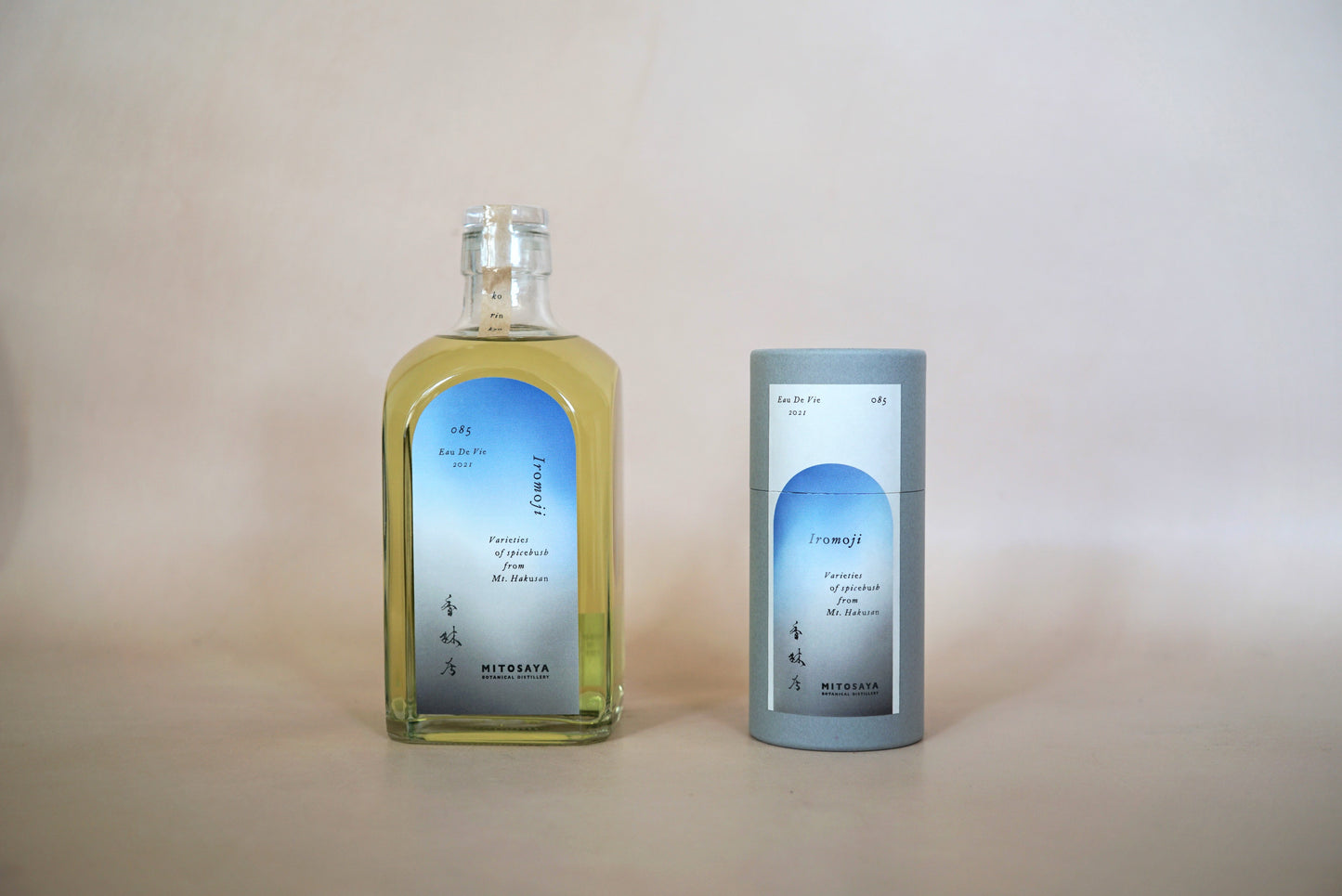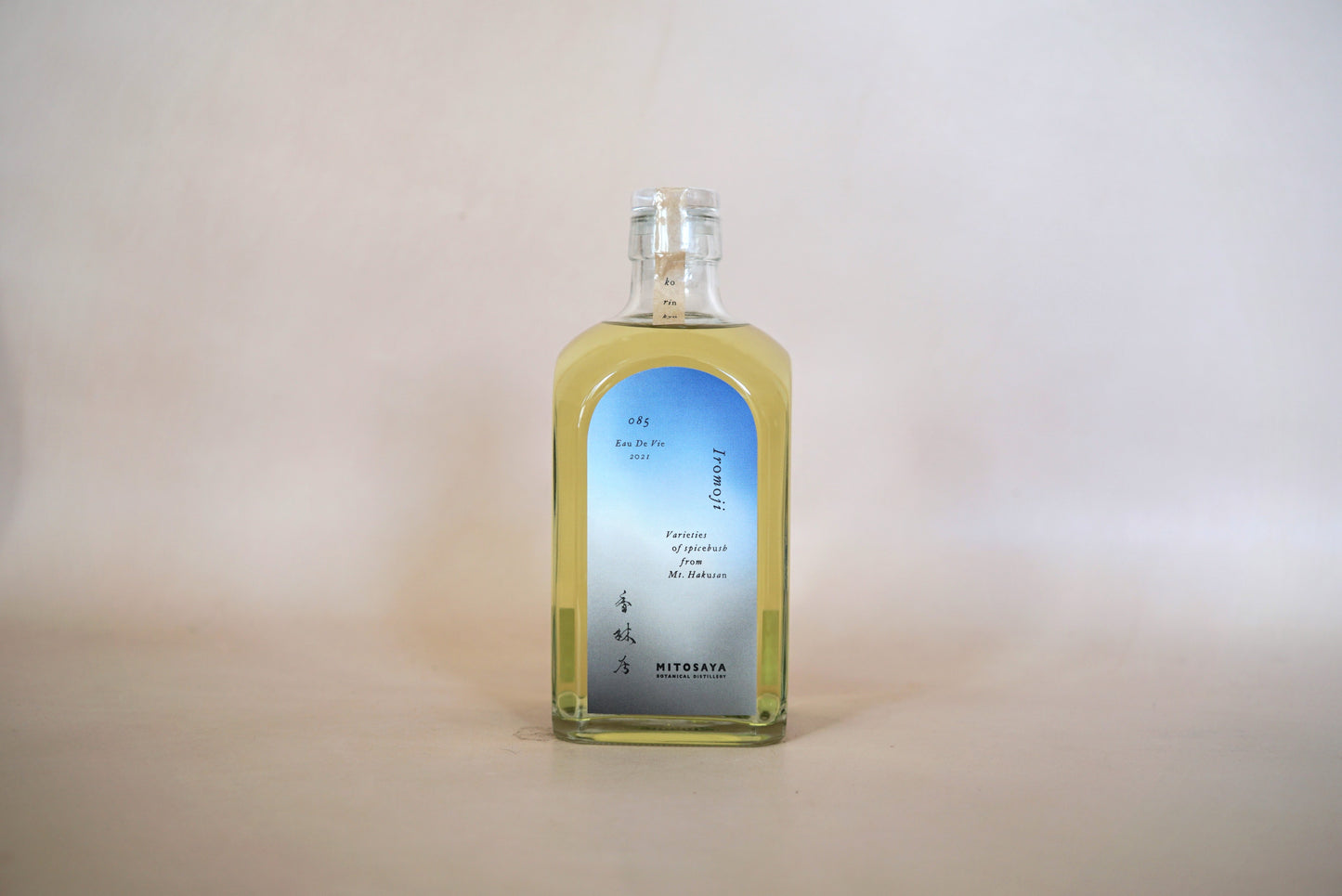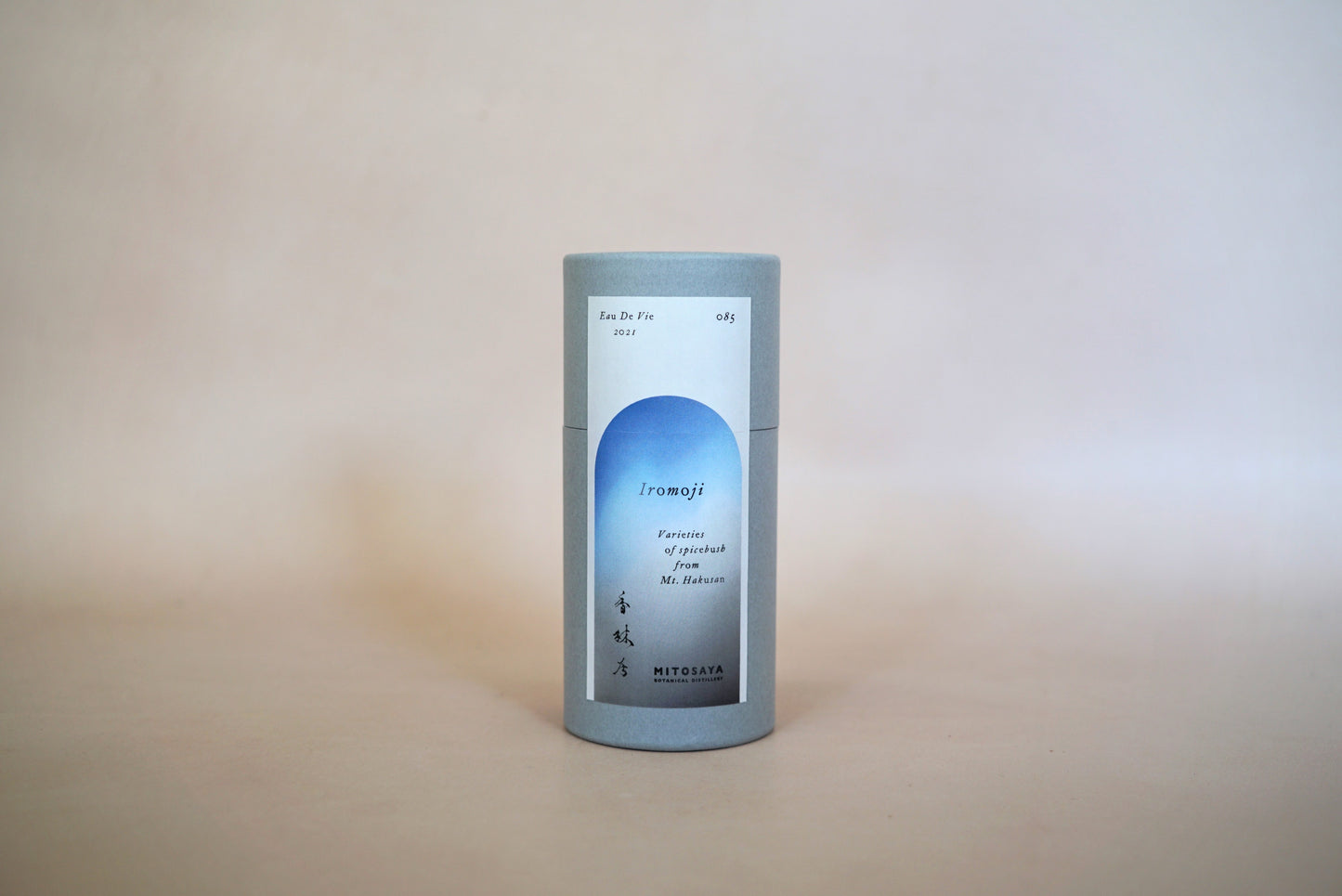 ---
mitosaya薬草園蒸留所
〒298-0216
千葉県夷隅郡大多喜町大多喜486
e-mail. cs@mitosaya.com
tel. 0470 64 6041
mitosaya botanical distillery
486 Otaki, Otaki-machi, Isumi-gun, Chiba 298-0216 Japan
e-mail. cs@mitosaya.com
tel. +81(0)470 64 6041