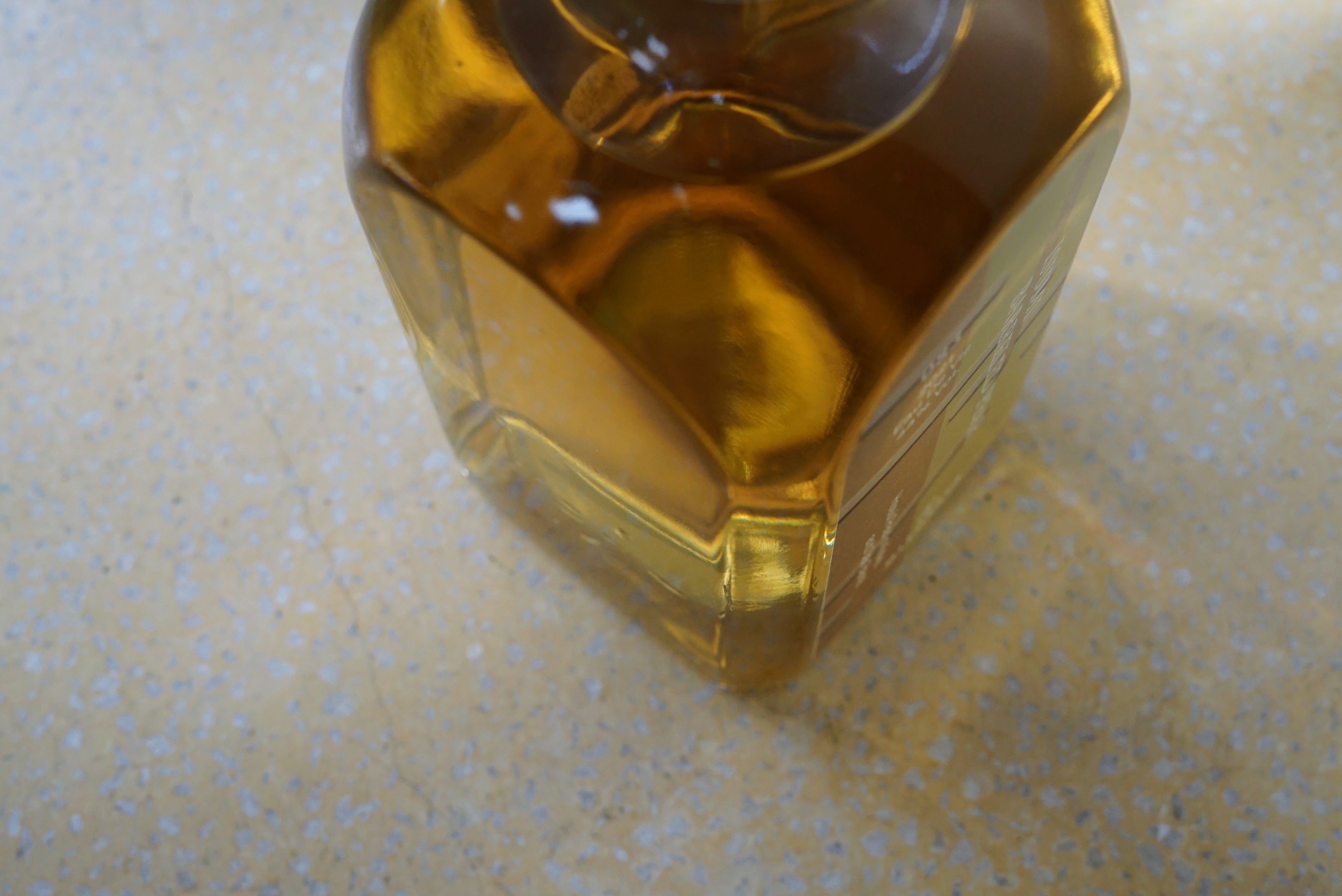 083 ISUMI BARRELED PEAR
Matured from Oak Barrel
44.0% vol
100ml ¥2,750 Out of Stock
500ml ¥11,000 Out of Stock
木桶で仕込んだいすみ市岬地域の梨・豊水のブランデーを、オークの樽で熟成しました。木桶と木樽、2つのバレルを使った梨のブランデーです。
海からも近い温暖な気候と豊かな土壌により梨栽培の盛んな岬の梨は、袋をかけずに栽培されるため、夏の陽の光を存分に浴びたみずみずしい味わい、高い糖度が特徴です。
若手農家が集まり、朝に収穫したものをコンテナに集め、夕方に運んでくれました。その量2トン超。杉野木桶に入れ、一ヶ月の発酵の後20回に分けて蒸留しました。フルーティーで甘い味わいと、木桶の杉香のバランスが特徴的です。
その内の50Lを小さなオークの新樽で約10ヶ月間熟成しました。杉とオーク、2つの強い個性を、梨のブランデーがふくよかにまとめています。
深い琥珀色に色づく、和梨の印象を裏切る力強い味わい。 優雅な食後の時間のお供にどうぞ。
品目:ブランデー
内容量:100ml / 500ml
原材料:梨(千葉県いすみ市産、豊水)
アルコール度数:44%
メタノール含有量:0.27mg/c㎥(ガスクロマトグラフ法)
※(メタノール含有量について)
Artwork by Ryota Nishimoto
Brandy made from Toyosui, a pear from the Cape area of Isumi City, prepared in wooden vats and aged in oak barrels. This is a pear brandy made with two barrels, one wooden and the other wooden.
Due to the warm climate and rich soil close to the sea, pear cultivation is thriving in the Cape area. The pears are grown without bags, so they are fully exposed to the summer sunlight and have a fresh taste and high sugar content.
Young farmers gathered together and collected the harvest in the morning into containers and carried them out in the evening. The amount was over two tons. It was placed in cedar vats and after a month of fermentation, it was distilled 20 times. The fruity and sweet taste is balanced by the cedar aroma of the wooden vats.
A total of 50 liters of it was aged in small new oak barrels for about 10 months. The cedar and oak, two strong personalities, are richly combined by the pear brandy.
Deep amber in color, the powerful taste belies the impression of Japanese pears. Please enjoy it as an elegant after-dinner companion.
Brand name: Brandy
Contents: 100ml / 500ml
Ingredients: Pears (from Isumi City, Chiba Prefecture, Josui)
Alcohol content: 44%.
Methanol content: 0.27mg/c㎥ (gas chromatography)
(About methanol content)
Artwork by Ryota Nishimoto
Regular price
Sale price
¥2,750
Unit price
per
In Stock
Out of Stock
View full details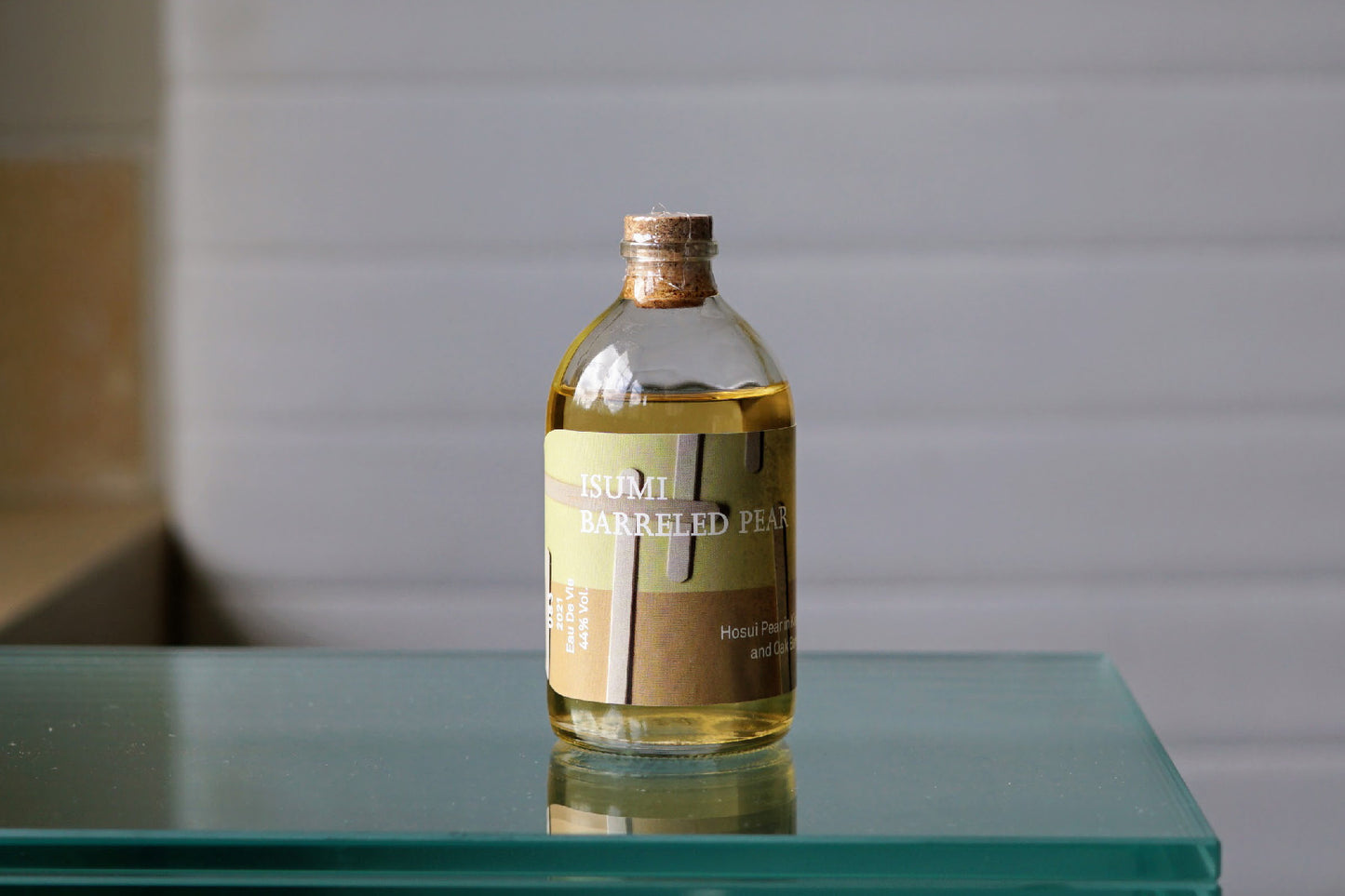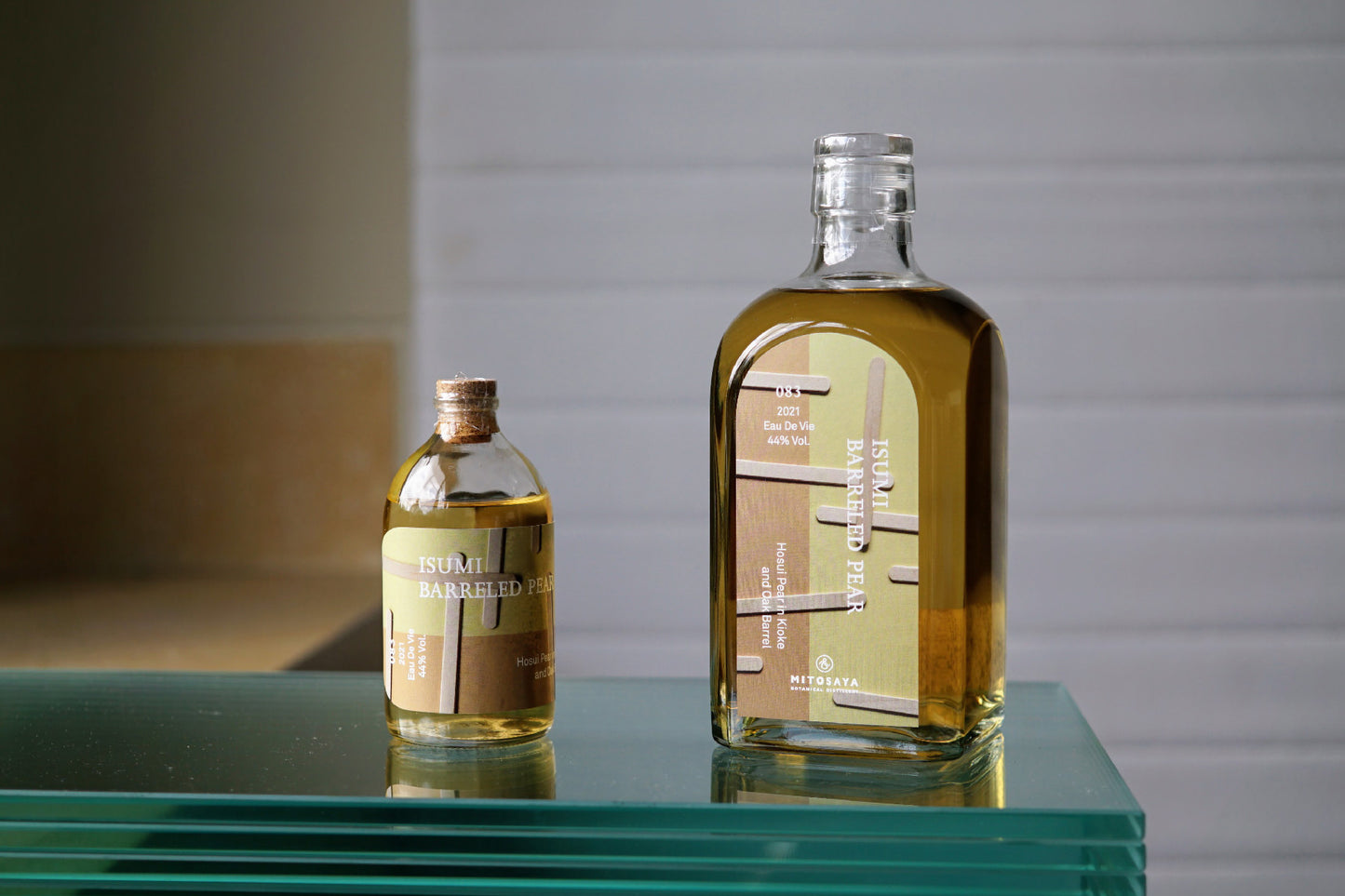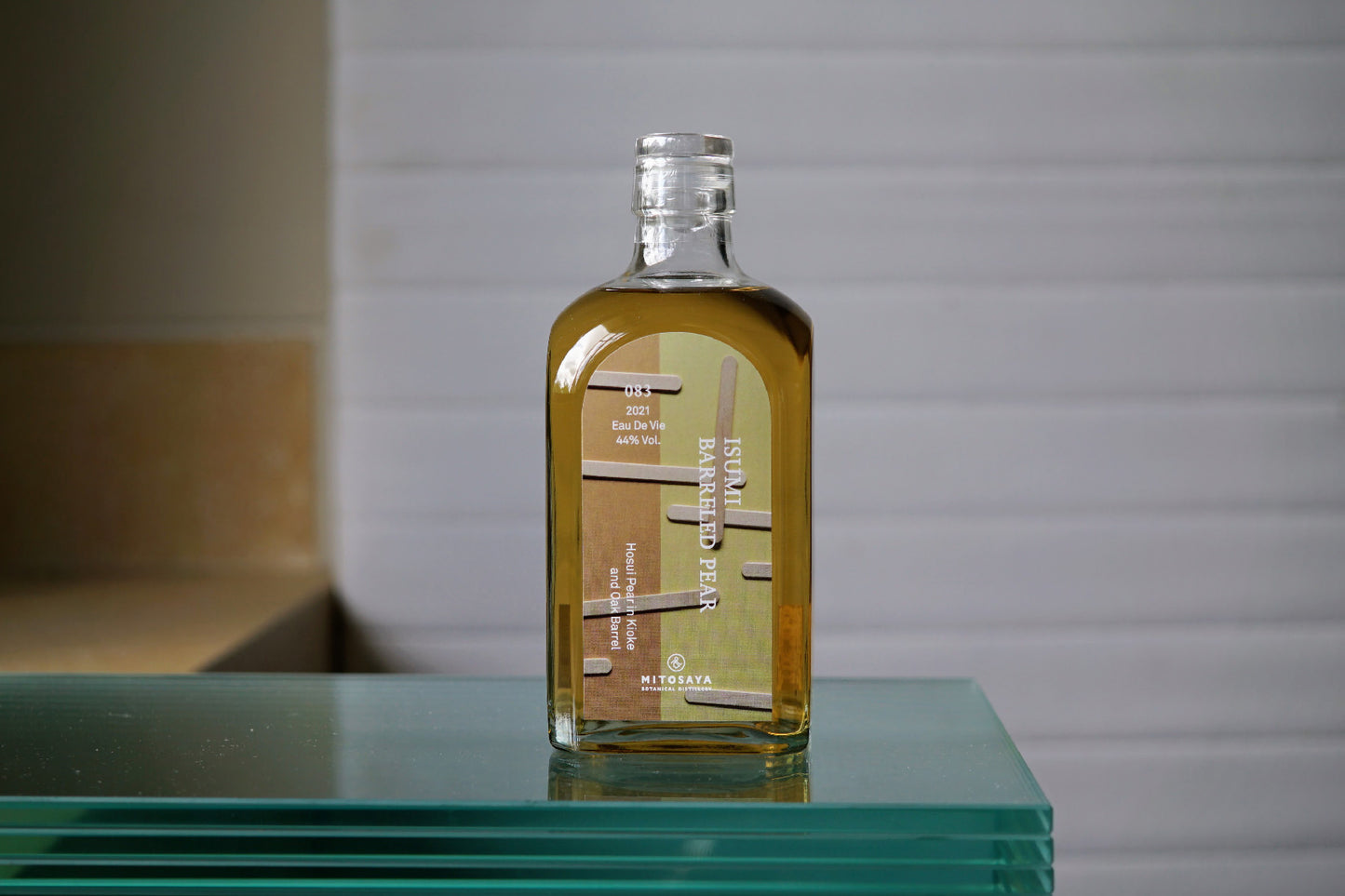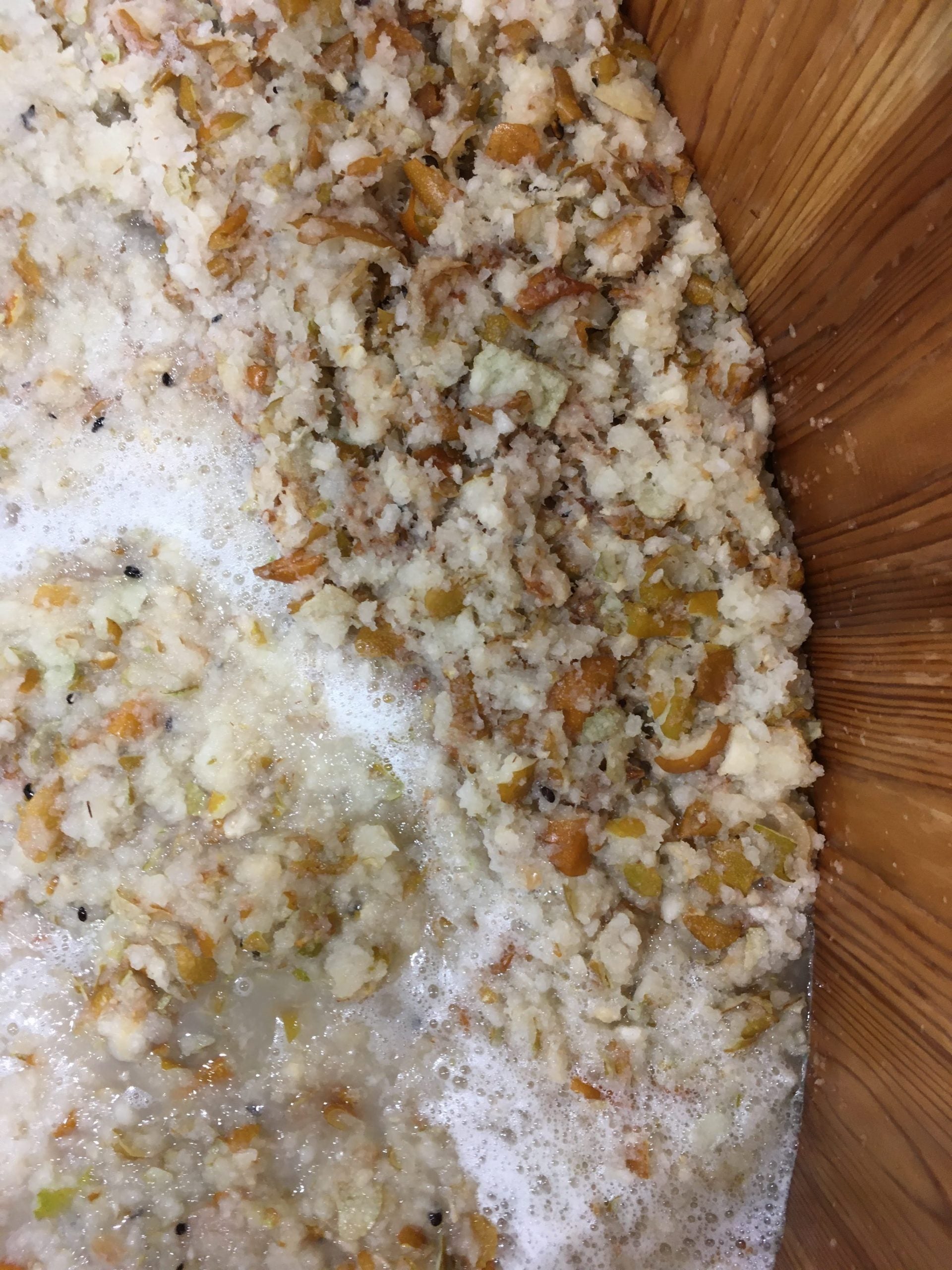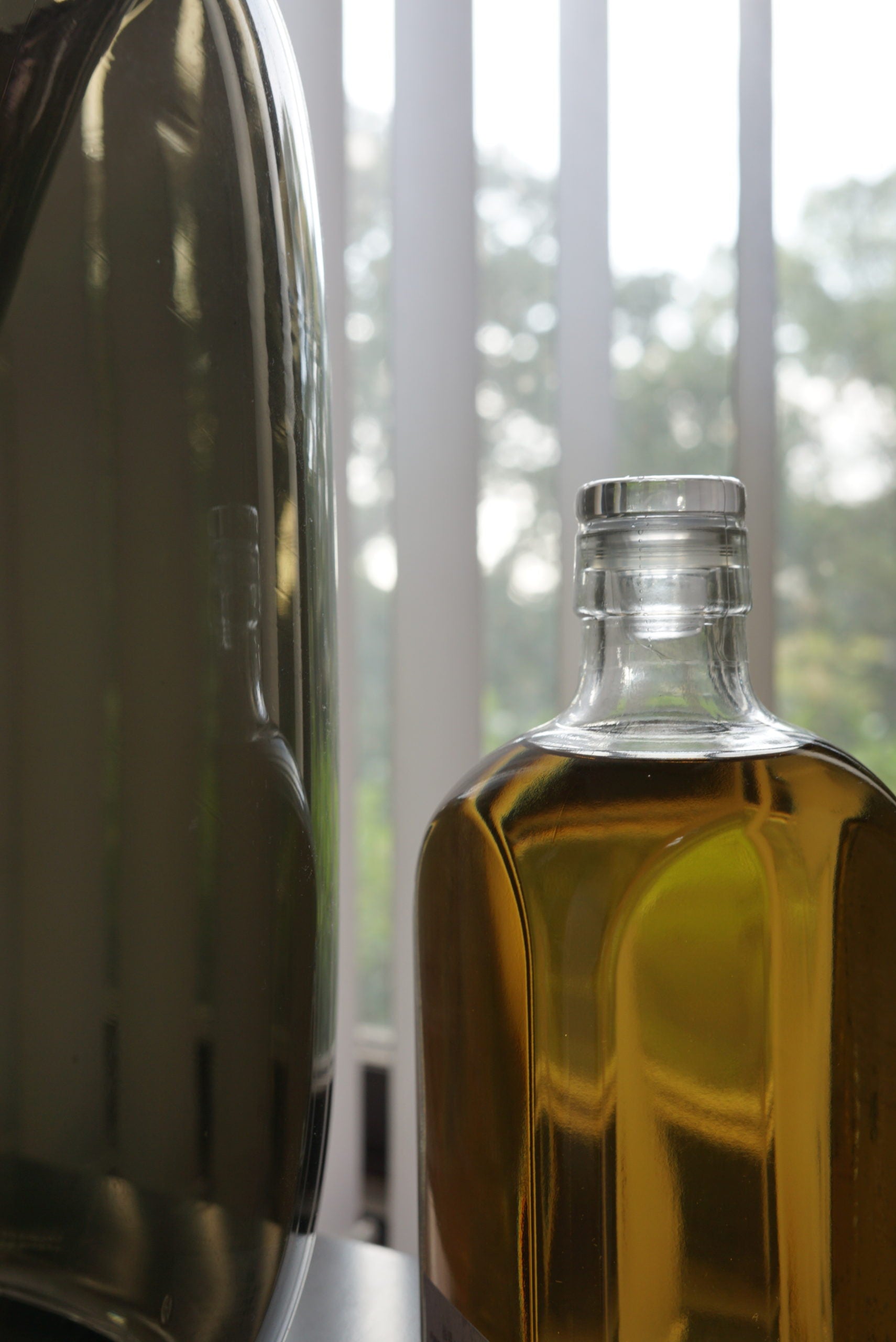 ---
mitosaya薬草園蒸留所
〒298-0216
千葉県夷隅郡大多喜町大多喜486
e-mail. cs@mitosaya.com
tel. 0470 64 6041
mitosaya botanical distillery
486 Otaki, Otaki-machi, Isumi-gun, Chiba 298-0216 Japan
e-mail. cs@mitosaya.com
tel. +81(0)470 64 6041